Note: This article is part of the StanGrad series highlighting Stanislaus State students who are part of the Class of 2020. Read more StanGrad profiles.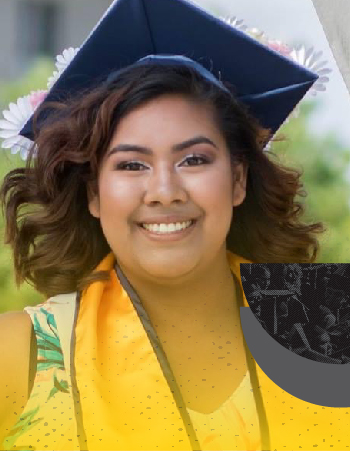 Once Arlen Lopez set her mind on earning a master's degree, nothing could stop her. Not thousands of miles of commuting to Stanislaus State's Stockton Campus, not hours of late-night driving, not being away from her family two days a week, not even the persistent pain of major injuries from a car accident.
A resident of the small Fresno County city of San Joaquin, Lopez earned a bachelor's degree from UC Merced three years ago and graduated this spring from Stan State with a master's degree in education with a professional clinical counseling concentration.
While she tenaciously pursued her dream, not everyone appreciated her resolve. She was occasionally told that she would probably fall short of her goals or drop out altogether. But Lopez knew the determination in her heart, leaned on supportive classmates and pressed on.
"I've learned that the best way to continue pursuing our goals is to turn negatives into positives," she said. "My classmates in the counselor education program at Stan State provided me the strength to be able to be positive."
Typically, Lopez's one-way commute took two hours. With classes and field work, it was common for her to leave home before 7 a.m. and not return until midnight. Whenever she had two consecutive days of classes, she would spend the night in Stockton instead of driving home.
"Because I am a wife and mom, the hardest part was not seeing my family for two straight days and having to spend the night away from home," she said.
After being injured in a car accident last year, Lopez found that even walking was a challenge that threatened to derail her plans.
"Between November and January, I was in excruciating pain. It was very difficult for me to move, and I couldn't walk a long distance without crying afterwards," she said. "I pushed myself, reminded myself that the pain was temporary, and I had to prove to myself that I really wanted my education."
Now that she has her master's degree, Lopez is ready for her next step. Fluent in Spanish and English, she sees a need for Spanish-speaking counselors in the Central Valley and plans to start a private practice in the Fresno area to work with families that have experienced loss and need grief therapy.
"I hope to give back to my community by providing needed services and promoting mental health awareness," she said.
---
#StanGrad File
Degree/Credential
Master of Arts in Education, Counselor Education
Concentration: Professional Clinical Counselor
What memories stand out most from your time at Stanislaus State?
"It is very difficult for me to pick the best memories because my entire time at Stanislaus State has been amazing! I remember the very first day, thinking it was going to be a long two years, but instead, it flew right past me."
Which faculty or staff member had the greatest impact on you, and why?
"Mira Mayer has been one of the most inspirational individuals I have met. She is very knowledgeable and adds her own twist to teaching. She won't stand any procrastination and would not allow any tardiness. She challenged me and inspired my future endeavors."
What advice would you give to current and future students?
"Being part of the counselor education program, I have learned that self-care is very important. Many of my classmates, including myself, experienced difficult situations that could have become obstacles in our education. I encourage current and future students to continue pushing forward and remember to put themselves first."