Note: This article is part of the StanGrad series highlighting Stanislaus State students who are part of the Class of 2019. Read more StanGrad profiles.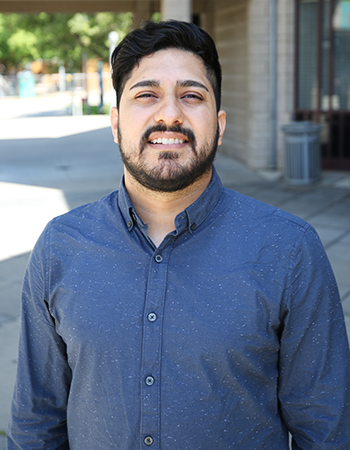 If experience is the best teacher, Moises Ramirez is highly educated for his role as a peer mentor in the College of Business Administration's Student Success Center.
Graduating with a bachelor's degree in business administration and a concentration in finance, Ramirez understands how students can become trapped in a cycle of unfinished assignments and poor grades. He understands because he was in that situation at Modesto Junior College.
"I hit a rough patch academically, almost getting disqualified from MJC because of a low GPA," said Ramirez, who is graduating from Stanislaus State with a GPA of 3.6. "How did I get myself out of that hole? It's pretty simple, actually. I got tired of working at my first job and realized that if I wanted better I was going to have to work hard. No one was going to hold my hand; it was on me."
Thanks to that realization, Ramirez was able to turn his grades around at MJC, transfer to Stan State two years ago and quickly land the peer mentor job, which allowed him to use his own experiences to motivate students, help them plan their classes and connect them with resources to be successful.
When he first applied for the part-time job, he was hoping it would "open doors" for him. Last spring, an important door did open for him at E. & J. Gallo Winery in Modesto. He was awarded a competitive six-month accounting internship in Gallo's corporate offices and considers it a highlight of his time at Stan State.
"It was a goal of mine since I began at Stan State," he said. "Being able to achieve that goal because of hard work and determination will be something I carry for the rest of my life."
Ramirez has also participated in activities outside of the classroom, engaging with the Accounting Society, Beta Alpha Psi Honors Society and the Finance Association, where he has taken a leadership role. This spring, after his Gallo internship came to an end, he returned to the Student Success Center to assist with a new peer mentor program and make presentations to students on academic probation, showing them how hard work can pay off.
After getting a rough start academically, it seems Ramirez has found a formula for success that will serve him well into the future.
"Moises has fully taken advantage of his two years on campus, getting involved in and out of class in order to secure a career after college," noted Cari Rumayor, coordinator of the Student Success Center.
---
#StanGrad File
Degree/Credential
Bachelor of Arts in Business Administration/Finance Concentration
Which faculty or staff member had the greatest impact on you, and why?
Cari Rumayor has had the greatest impact on me during my time at Stanislaus. When I transferred here from MJC, I applied to a position at the College of Business Administration Student Success Center and I was absolutely terrified. It seems silly now, but at that time I had no idea what to expect. I was hoping it would open doors for me in the future. Working with Cari, I have come to see her as a mentor, someone I could count on when I needed some advice. I am thankful to have been gifted the opportunity to work with her. I strongly believe that if it weren't for her and her guidance, I might not be where I am today, graduating with a degree that I never thought I would get.
What advice would you give to current and future students?
Never stop believing and pursuing your dreams. I know it may sound like a cliché, but it's how I've pushed forward, even through tough times, failures and difficult moments in life. I was able to accomplish so many things in the short time I've spent at Stanislaus. If I had given up when times were tough, I would not have been able to achieve the goals I set for myself when I transferred to this amazing institution.
What can you tell us about your student and life experiences at Stan State that could serve as an inspiration to current and future students?
The classmates and professors you meet and have the opportunity of working with should be a beacon of inspiration to everyone. Their accomplishments should be your driving force to better yourself and absorb as much as you possibly can from the people around you. Someday you may have the opportunity to work with them side by side. Surround yourself with people who are just as driven as you are in order to succeed.
How do you plan to use your Stan State degree to advance and/or improve life in our region?
I was born in Hayward and moved to Modesto when I was eight years old. Modesto has always felt like home to me. I hope I can give back to this community as much as it has given to me all these years, if not more. I am a huge soccer fanatic. Growing up in Modesto, I played soccer since I was nine years old. I hope that someday I can have an academy based in Modesto to help grow athletes and help them reach the next level, whether that be in college or at the professional level.