Note: This article is part of the StanGrad series highlighting Stanislaus State students who will graduate this spring. Read more StanGrad profiles.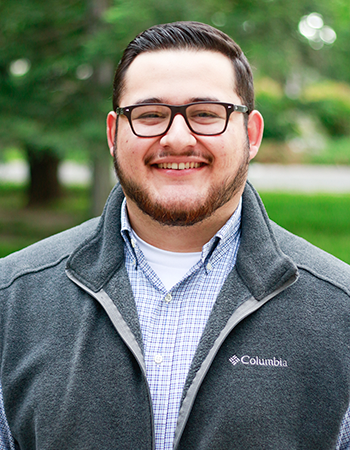 As a child, the farm was a magical place for Juan Rios. It meant he was visiting his grandfather in Mexico, chasing cows in the warm afternoons.
But when Rios enrolled at Stanislaus State four years ago, he did so with the intent of studying kinesiology. At the end of his freshman year, needing a summer job, he called back home to Hollister, where the father of a high school friend ran a large organic farm.
"I was told to show up the next day at 5 a.m.," Rios said. "We started treating the apricots first, and I was able to see the process of drying apricots, which was interesting to me. I got to be a supervisor and got to see the economics, biology and business side of the farm. I spent half the day in an air-conditioned office, then went outside and got dirty and got to fix things in the afternoon. I really liked the job."
Rios liked it so much that he decided to change his major to agricultural studies. Eventually he'd add sustainable agriculture as a concentration, but right away he knew he'd made the right decision.
"I saw how tight-knit the department was and I saw how people who were graduating in ag studies were getting jobs right away," Rios said.
Since then, Rios has thrived in his academic concentration. He was selected by the United States Department of Agriculture to participate in the 2016 Diversity Outlook Forum in Washington, D.C., in February, and he is president of Stan State's Agricultural Ambassadors. And despite changing majors and working full-time, Rios is on-target to graduate in four years.
Next for Rios is working with food companies to develop new methods of precision agriculture. He also vows to do what he can to see that Stan State has its own working farm in the near future.
"My parents never dissuaded me from the farm life, but they never portrayed it as glamourous, which I now think it is," Rios said. "It was fun for me to visit my grandfather on vacation and move the cows. You know, I'd like to go back to that farm in Hollister and live out the dream."
---
#StanGrad File
Degree/Credential
Bachelor of Arts in Agricultural Studies with a concentration in sustainable agriculture
What memories stand out most from your time at Stanislaus State?
"Growing as a person and being able to rise to the level of the students I saw when I first came here. I came in pretty immature. I give a lot of credit to Theta Chi. When I came in a lot of the older guys were leaving, so I had to grow up quick and I was named the vice president as a sophomore. I learned right away how to delegate authority, and that really helped me grow."
Which faculty or staff member had the greatest impact on you, and why?
"Dr. (Oluwarotimi) Odeh has helped me to realize what I could be doing in the industry, and to realize my potential within the Ag Ambassadors club. That's been a very beneficial experience for me."
What advice would you give to current and future students?
"Get involved, but make sure to set your priorities and stay organized so you can stay on top of things. That's the only way I've been able to take 20-plus units the last two semesters and work full-time to be able to graduate in four years."