Note: This article is part of the StanGrad series highlighting Stanislaus State students who are part of the Class of 2020. Read more StanGrad profiles.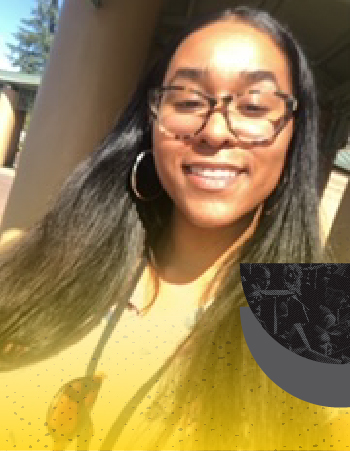 With a master's degree in social work and an interest in social justice, Derielle Coleman has set her sights on helping others in a hospice or other palliative care setting.
"My goals are to pursue a career in medical social work and eventually become a licensed clinical social worker," said Coleman, who plans to use her education and degree to "advocate for people who are disadvantaged and voiceless in our community."
Coleman grew up in Oakland and says she was attracted to Stanislaus State, because it offers quality educational programs on a spirited campus while being affordable. A first-generation college student, she graduated with distinction this spring as a member of the Phi Kappa Phi honor society with a 4.0 grade-point average.
As she pursued her master's degree, Coleman found herself especially interested in program curriculum that focused on social justice.
"It was powerful to be involved in classroom discussions about power, privilege and how to navigate systems of oppression," she said.
In December, she was one of 12 graduate assistants to receive a grant from the Student Engagement in Research, Scholarship and Creative Activity (SERSCA) Program. The grants allow students to work alongside faculty and engage in meaningful activities, such as research, creative projects and professional development.
For Coleman, it meant she could work with Sevaughn Banks, assistant professor in the Master of Social Work Program, leading an international collaborative to create an eight-segment training program for social work field instructors in Ghana, West Africa.
The assignment was especially meaningful for Coleman, the descendant of slaves from four countries along the coast of West Africa. It required her to coordinate a team of faculty from two West African universities and two American universities, write learning objectives and curriculum and make presentations. Due to travel restrictions imposed in response to the COVID-19 pandemic, Coleman was unable to travel to Ghana and relied mostly on email to complete her work.
Praising Coleman's overall professionalism, contributions and perseverance on the project, Banks predicted she will excel in her chosen field. "Derielle will be an asset to the profession," she said.
---
#StanGrad File
Degree/Credential
Master of Social Work
What memories stand out most from your time at Stanislaus State?
"The times I walked through the Quad and saw all the active student life. It was always so refreshing to see students so passionate about their on-campus community."
Which faculty or staff member had the greatest impact on you, and why?
"I learned something valuable from each of the MSW faculty members I worked with."
What advice would you give to current and future students?
"Make the most of your college experience by getting out of your comfort zone, taking risks, accepting challenges and, of course, following the free food."