Note: This article is part of the StanGrad series, highlighting CSU Stanislaus students who will graduate at commencement ceremonies May 29 and 30. Click here for more.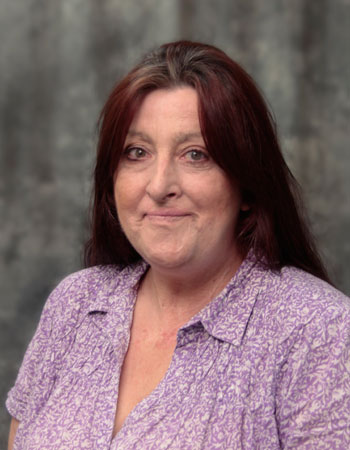 It was Thanksgiving Day, November 2006. Terri Carpenter went to sleep in an empty home, while her two children spent the holiday with their father.
She awoke in a hospital bed 14 weeks later, confused and disoriented, with burns over 63 percent of her body and brain damage from smoke inhalation. Carpenter, who had previously worked as a counselor for victims of domestic violence and sexual assault, now needed support of her own.
Her most basic mental and physical functions were a challenge — motivation, however, was far easier to come by. She found that the day she returned home.
"I will never forget these two kids, my kids, sleeping next to my bed on the floor," Carpenter said. "It was in that moment that I knew, they needed me. I would somehow lead this family once again."
That meant going back to school. In spite of her severe daily difficulties — and the cosmetic effects of her burns — Carpenter enrolled at CSU Stanislaus. She got on the bus in Planada and walked into her first class with an anxiety that was nearly overwhelming but soon faded.
"I can't remember the last time I ever felt so apprehensive and afraid," she said. "But the young students I had feared turned out to be my best allies during this journey. I will always be grateful to them for allowing me access and for believing in me when I could not."
This week, Carpenter will graduate from CSU Stanislaus with her bachelor's degree in sociology. She next plans to apply to the university's Master of Social Work program, and she will continue to be a devoted advocate for battered women and children.
Carpenter still feels the effects of the fire every day. Her lungs and kidneys are problematic, her left hand has permanent damage, and she will need additional surgery to repair her vision. She cannot drive, but that hasn't stopped her yet.
"The CSU Stanislaus campus is where I first believed I would be able to earn a living, take care of my family and be recognized as an equal contributor to society again," she said. "Yes, it has been hard, but here I am. My children have catapulted themselves out into the world, and they are thriving. I am OK."
---
#StanGrad File
Degree/Credential
Bachelor of Arts in Sociology
What memories stand out most from your time at CSU Stanislaus?
"The students here have taught me so much about inclusion and not being afraid. I have learned to laugh and share and become engaged in life again because of the atmosphere here on campus. These young students are our future leaders, and they have shown and taught me that wisdom comes in many forms."
Which faculty or staff member had the greatest impact on you, and why?
"The sociology department teaches students about the deep-seeded need of every human being to belong and to be an accepted member of a group, and the secretary of this department, Ashlea Eaton, is a strong proponent of this. She is giving, smart and loyal, and she will not tolerate inequality or actions that separate anyone in their pursuit of education."
What advice would you give to current and future students?
"I would encourage students to relax and enjoy this experience, enjoy the faculty, and enjoy themselves. There may be a time when you believe everything is finished, like I did, but it will only be the beginning. Don't expect others to act first — be the one who makes a positive change. And if we want to be accepted as we are, we have to be willing to accept others as they are."