Note: This article is part of the StanGrad series highlighting Stanislaus State students who are part of the Class of 2020. Read more StanGrad profiles.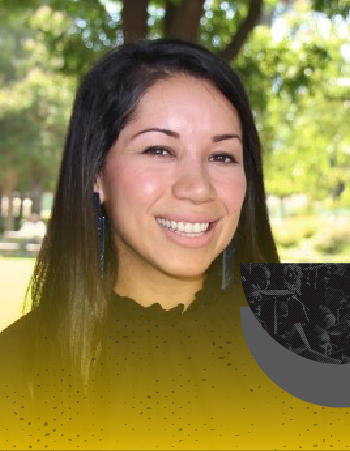 Returning to her Modesto home to earn a master's degree in public administration, Diana Avalos packed more into her three years in the Stan State graduate program than some students do during their work toward a bachelor's degree.
As the Governmental Relations Coordinator for Associated Students, Inc. at Stan State, Avalos led advocacy efforts for the student body and created, managed and prepared lobbying visits to local, state and federal legislators. She managed "Lobby Corps," a volunteer advocacy group that results in professional development opportunities for students interested in policy and advocacy careers, and she acquired a Census 2020 Grant from Communities for a New California (CNC), to bring external funding for student-led census outreach on campus.
Avalos partnered with University departments to advance civic engagement on campus, and she launched a social media marketing and advocacy campaign to engage students on the importance of civic engagement.
She's a member of the board of directors for the California State Student Association (CSSA) that represents nearly 500,000 students across the 23 CSU campuses.
She took her passion, knowledge and tireless work ethic to her role as a student representative on Stan State's Council for Sustainable Futures and in fall 2019, and co-founded Eco-Warriors, the Stan State student sustainability organization that has played a crucial role in student outreach and education during the past year.
"Stanislaus State was not my original choice, however, it was the most affordable," said Avalos, a graduate of UC Davis. "Looking back at my experience now, I know without a doubt that Stanislaus State is where I was meant to be, and I would not trade my experience here for any other school."
Her activism on campus, which also resulted in a room in the Library dedicated to graduate students, introduced her to almost every leader on Stan State's campus. Her relationship with President Ellen Junn, she said, is humbling.
Her association with leaders, staff members, students and faculty taught Avalos one of the most important lessons as she heads for what she hopes will be a career in sustainability and public policy.
"I learned that no matter how high of a position you are in, always stay humble and be kind to everyone," Avalos said.
---
#StanGrad File
Degree/Credential
Master of Public Administration
What memories stand out most from your time at Stanislaus State?
"The memories that stand out the most from my time at Stanislaus State are the ones I made with fellow students. Seeing all of us connect and come together to work toward the betterment of our lives is truly inspiring and gives me motivation in my role as a student representative. Having the opportunity to represent Stanislaus throughout various committees and councils on campus will be a memory I will never forget."
Which faculty or staff member had the greatest impact on you, and why?
Wendy Olmstead has never given up the fight to promote sustainability on our campus; she has rallied relentlessly for the inclusion of sustainability throughout Stanislaus State. She empowers students and encourages them by connecting them with resources on and off campus. For me, Wendy has been one of the most supportive mentors in my graduate career. President Junn is also someone I admire and have unconditional respect for. Even though she is president of the University, she still makes time for students. I've had the pleasure of getting to know her throughout my career at Stanislaus, and my relationship with her is one that is extremely humbling. I will never forget what she taught me."
What advice would you give to current and future students?
"I would tell current and future students to get involved on campus, even if they commute! There is a whole world of possibilities on our campus and so many ways to get involved. Whether it is ASI or clubs and orgs, I would highly encourage students to find what they like and look to see how they can meet or network with other students who share the same passion."