Note: This article is part of the StanGrad series highlighting Stanislaus State students who are part of the Class of 2019. Read more StanGrad profiles.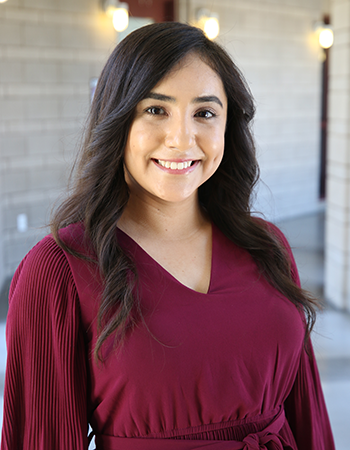 Maria Torres works in words, infusing language lessons for English learners with her love of learning and belief in education to transform lives.
She finishes her master's degree in English at Stanislaus State with a 4.0 GPA, having taught English 1001 for two semesters and serving as graduate assistant director of the Central Valley Writing Center on campus.
Torres also earned her bachelor's degree in English at Stan State and served as a student tutor in the Writing Center. She teaches English as a second language at Modesto Junior College and plans to pursue a Ph.D.
"I want to teach because my English teachers have done so much for me, and I want to do the same for my students," Torres said. "Things were challenging as a graduate student, but I always persevered. In difficult times, I thought about how far I've come and my end goal."
A first-generation, multilingual college student, Torres co-presented with Writing Center Director Paula Barrington-Schmidt at the Northern California Writing Centers Association (NCWCA) conference. She has also presented her research at regional conferences of the NCWCA and the Central Valley Writing Center, and received a grant to attend the International Writing Centers Association conference.
---
#StanGrad File
Degree/Credential
Master of Arts in English
What advice would you give to current and future students?
"Make connections with your professors. Go to their office hours, and if you're struggling in a class, communicate with them. Know that you're not alone in this journey."
What can you tell us about your student and life experiences at Stan State that could serve as an inspiration to current and future students?
"Work hard for what you want regardless of the obstacles. I also learned about the importance of seeking resources on campus. The great thing about Stan State is that there will always be someone who can help in difficult times."
Which faculty or staff member had the greatest impact on you, and why?
"I've been very fortunate to have met great professors in the English Department, but Paula Barrington Schmidt, our Writing Center director, has had the greatest impact on me. She encouraged me to present at an academic conference with her. I became a writing tutor and she trained me to take on a leadership role. I am always going to be thankful for her because she believed in my potential. She is a great mentor and role model."