Note: This article is part of the StanGrad series, highlighting CSU Stanislaus students who will graduate at commencement ceremonies May 29 and 30. Click here for more.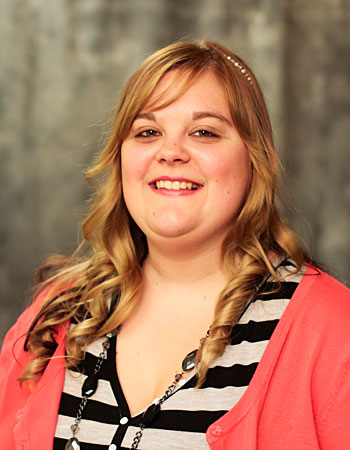 ​Had her parents not been so adamant about keeping her close to home, Kayla Seabourn might be graduating from an Ivy League college this semester.
A Modesto native, Seabourn earned three associate's degrees in Oregon before her family moved back to the San Joaquin Valley in 2010. She was accepted to Columbia University but heeded her parents' wishes and attended CSU Stanislaus. She also took their greatest lesson to heart.
"My parents never sought a college education, but they made sure that I understood the consequences of their decision every day," Seabourn said. "They are the real reason I am here, the reason I have always loved school, and the reason I am now seeking to become a part of education for the rest of my life."
Seabourn will graduate this month with a bachelor's degree in English, and she plans to pursue her teaching credential in hopes of landing a job at a Stanislaus County high school.
In addition to her parents, Seabourn credits her fiancé of eight years with helping her realize that her niche was in teaching.
"I always valued my teachers deeply and connected with them on levels my fellow students never understood," she said. "We need educators who are willing to put the students first, and that is why I am going into the profession. Every child deserves the same opportunities and experiences I had, because those students are the ones who never question the value of education."
Though initially disappointed about passing on her Ivy League dreams, Seabourn has fully embraced her opportunities at CSU Stanislaus. She is president of the university's chapter of Sigma Tau Delta, the International English Honor Society. She also serves as editor-in-chief of Penumbra, the university's art and literary journal.
After obtaining her teaching credential and starting her career, Seabourn hopes to eventually pursue dual master's degrees in Literature and in Writing and Rhetoric, all at CSU Stanislaus.
"I have truly come to love this campus with all of my heart," she said. "I feel at home here."
---
#StanGrad File
Degree/Credential
Bachelor of Arts in English
What memories stand out most from your time at CSU Stanislaus?
"The most memorable time was working on Penumbra as executive editor and having the chance to be published, helping to organize the reading event, and reading one of my accepted pieces at the event. But this memory will soon be surpassed by the work I have been doing this year as editor-in-chief as our reading event approaches. I had the privilege of having my photograph selected for this year's cover, and that is something I will remember forever."
Which faculty or staff member had the greatest impact on you, and why?
"I would have to say: John Carroll, because of his wit, intellect and immense care for his students; Jesse Wolfe, because of his commitment to continuous improvement in all things he takes part in and the wonderful support he has offered me and all of his students; and Rachel Grimshaw, because of her immense feedback and inspiring words of wisdom that pushed me to get involved with Sigma Tau Delta and Penumbra."
What advice would you give to current and future students?
"Get involved! There is nothing more rewarding than being involved in your education. Find a club that interests you, and go into it full throttle. There is so much to experience here at CSU Stanislaus. If you are just taking classes, you are truly missing out on what it means to be a Warrior."