Note: This article is part of the StanGrad series highlighting CSU Stanislaus students who will graduate this spring. Read more StanGrad profiles.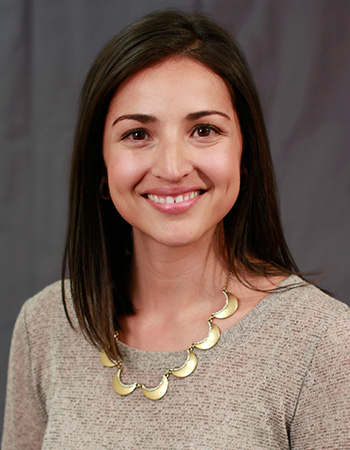 Lisa Maldonado took a risk and it paid off. She realized she was unhappy with the career she had begun in San Francisco, so she quit, moved back home to Turlock, relied on savings and applied for scholarships to redirect her career. She was among 10 credential students and 33 undergraduates awarded this year's prestigious Mary Stuart Rogers Scholarship.
"Lisa is a charming and intelligent young woman, one of those students a teacher remembers long after they complete our course," said Elmano Costa, chair of the Department of Teacher Education. "She is a disciplined and dedicated student."
Maldonado's initial plan was to be a substitute teacher during the last half of the school year to begin laying groundwork for a teaching career. While substituting at Dennis Earl Elementary School in Turlock, she so impressed the administration that she was offered a temporary position to replace a teacher who was retiring mid-year. Later, she interviewed with Ceres School District and was offered a position for the upcoming school year.
"I hope to make a difference in at least one child's life, but will shoot for a hundred," she said.
Looking back on the major change she made leaving her job and taxing her financial assets to start a new career, she is grateful for the support of her family, particularly her mother who is a retired teacher.
"It was a hard decision to make, she said. "I wanted to make sure I wasn't letting my parents down."
---
#StanGrad File
Degree/Credential
Bachelor of Science in Business Administration with a concentration in marketing and Multiple Subject Teaching Credential
What memories stand out most from your time at CSU Stanislaus?
"Receiving the Mary Stuart Rogers Scholarship was a highlight. I never thought I would be selected and was very grateful. Also, meeting some new and lifelong friends. I was a bit nervous about going back to school after originally graduating six years prior. I wasn't sure what it would be like, but it was an excellent experience and I found great support along the way."
Which faculty or staff member had the greatest impact on you, and why?
"There are three who made the most impact: Al Silveira, Elmano Costa and Mary Borba. They were wonderful role models who encouraged me through the process. They are also outstanding teachers I know I can turn to if I ever need advice or help."
What advice would you give to current and future students?
"Take the time to substitute teach if you aspire to be a teacher. Make sure that this is what you want and can do. If you can walk into an unknown classroom with a bunch of kids you don't know and are able to manage and survive the day, then you are ready. My advice for college students in general is that it is never too late to pick a new career. It won't be easy and you will need to make sacrifices, but 30-plus years is a long time to be unhappy with what you do for a living."