Note: This article is part of the StanGrad series highlighting CSU Stanislaus students who will graduate this spring. Read more StanGrad profiles.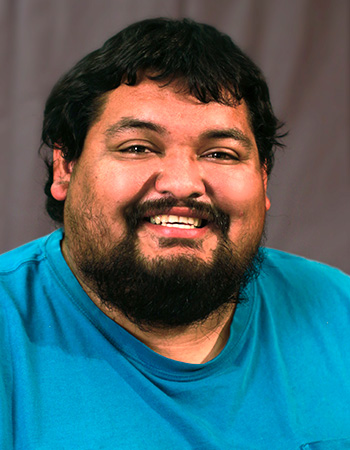 Antonio Alvarado struggled as a young student, believing he did not always have the support of his teachers to succeed in school. He is now planning to become a teacher with a passion to change that experience for students in similar situations.
"It was disheartening to me as a student to not always get the same attention from my teachers who did not see any potential in me. I want to change that as an educator," Alvarado said.
He said he was inspired by programs that provided school supplies such as notebooks and pencils to students who did not have access to these basic tools. He gained another boost in the eighth grade when he did well in honors courses after having to talk his teachers into letting him enter the challenging program.
"One of my dreams has been to work with at-risk youth and to create programs that will provide them with the right tools for success — sometimes that is as simple as having a backpack and pencils so that you feel like you fit in," he said. "I would also like to create academic based programs that give students encouragement and show them that they can do well academically."
Alvarado said he never really envisioned himself in college, but that changed when his high school theatre and English teacher encouraged him not to limit himself and ultimately inspired him to become a teacher.
The reputation for exceptional teacher education programs drew Alvarado to chose CSU Stanislaus, where he will graduate with dual degrees in theatre arts and English this spring. But the path to graduation was not an easy one.
"After I started college, two years of depression really affected me academically — I just could not pass my classes and I got behind," Alvarado said. "I was finally able to take advantage of the resources here on campus to get the help I needed. The support system here at CSU Stanislaus is amazing — my professors and staff members on campus encouraged me along the way whenever I was having a tough semester."
Alvarado has been active in Alpha Phi Omega, a service fraternity, as well as Tau Kappa Epsilon fraternity and many other activities in the theatre department.
"Antonio Alvarado is one of my heroes," said Laura Dickinson-Turner, a staff member in the Department of Theatre. "He has come so far, and he is destined to go on to make this world a better place."
Dickinson-Turner noted that Alvarado already is using his skills to make a positive impact for drama club members at Denair High School, where he has worked this year as a mentor.
"Antonio is eager to take his skills and his passion for theatre/English into high school classrooms so that he can help a new generation of students find their strengths, find their voices, and follow their dreams," Dickinson-Turner said. "He has a tremendous ability to inspire others."
Alvarado plans to pursue master's and doctoral degrees in literature, and hopes to serve as an example to his future students that they can accomplish anything, regardless of their circumstances. He also is interested in serving as an activist and advocate for civil and human rights.
"I have learned that you have to adapt — adaptability is a huge part of succeeding both in school and in life," he said. "Also, it's important never to give up."
---
#StanGrad File
Degree/Credential
Bachelor of Arts in Theatre Arts and
Bachelor of Arts in English
What memories stand out most from your time at CSU Stanislaus?
"My work in the theatre department stands out the most for me. Being a part of the theatre teaches you how to work in a team, how to manage and how to organize. Those experiences really helped me to organize my life. The culture here at CSU Stanislaus has also been very memorable—there are many people here who are proud of their heritage and that has made me embrace my own culture. I have a newfound respect for people of all cultures."
Which faculty or staff member had the greatest impact on you, and why?
"One is Laura Dickinson-Turner in the theatre department. Anytime I need encouragement, she is always there for me and helps me to find a positive solution. She goes above and beyond to help students. Another is Dr. Molly Crumpton Winter in the Department of English. Whenever she sees that a student is struggling, she makes an effort to help them. She has taught me so much about compassion — I strive to emulate her as a teacher, friend and person."
What advice would you give to current and future students?
"No matter how stark your life might seem at any point in your education, you just need to find your light — you can't give up. You have made it this far in life, who knows how far you might go if you persevere?"