Note: This article is part of the StanGrad series highlighting Stanislaus State students who are part of the Class of 2020. Read more StanGrad profiles.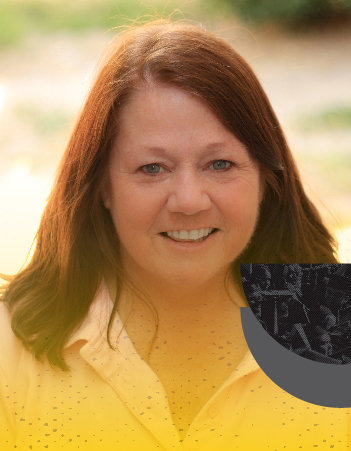 Having enjoyed her time as an undergraduate at Stanislaus State, Sharon Drueen chose the University when she decided to pursue a master's degree in counseling, pupil personnel services (PPS) credential and professional clinical counseling (PCC).
She wasn't disappointed.
"The students in my cohort are amazing. They are diverse, welcoming and open to new ideas," said Drueen who admits to being a bit apprehensive about returning to a college full of students younger than she.
Her concerns were immediately quelled, and she made a positive impact.
"She offers incredibly insightful feedback in classes, works above and beyond the required assignments, is extremely creative in developing and researching techniques to utilize with her clients and always lends a helping hand to her classmates," said Suzanne Whitehead, counselor educationprogram coordinator. "Sharon is not afraid to take on challenges, whether that is with assignments, research or working with her clients. She has developed worksheets, brochures, webinars, trainings and YouTube videos for area schools and colleges to utilize now and in the future with their own students."
If Drueen demonstrated a desire to help others as a student, she points to it as her passion going forward.
"I would like to work both as a school counselor and a clinical counselor," Drueen said. "I plan to help people with mental health needs. I would also like to promote mental health awareness."
---
#StanGrad File
Degree/Credential
Master of Arts in Education, Counselor Education Concentration: Pupil Personnel Services (PPS) Credential and Professional Clinical Counselor (PCC)
What memories stand out most from your time at Stanislaus State?
"I remember walking in to my first graduate class after being away from school for many years and thinking that I didn't fit in because everyone was so much younger. Everyone was really welcoming, and it didn't take long to feel accepted."
Which faculty or staff member had the greatest impact on you, and why?
"Dr. Whitehead, Dr. Vargas and Professor Staggs. I had all three my first semester in the graduate program and all three impacted me greatly throughout my studies. Their compassion, wisdom and vast knowledge taught me more than anything I could read about. They are amazing professors and so vital to our program! They pushed me to go beyond what I thought possible."
What advice would you give to current and future students?
"Reach out to your professors. They have so much information to share. They teach because they care and truly want to know you, guide you and help you. And don't be afraid to ask questions in class."