Note: This article is part of the StanGrad series highlighting CSU Stanislaus students who will graduate this spring. Read more StanGrad profiles.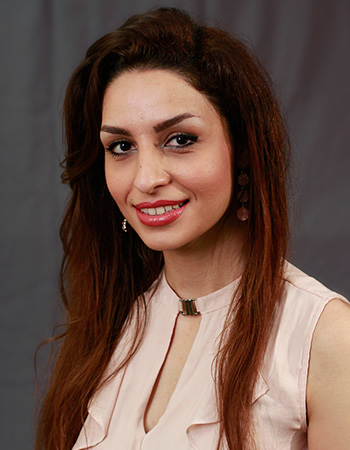 For 13 straight years, a Gallup poll has identified nursing as this country's most honest and ethical profession.
According to Mahsa Takhsha, students are not strongly encouraged to pursue nursing in her native Iran, and one of her major career goals is to change that. A significant step in Takhsha's plan is earning her Master of Science in Nursing with a concentration in nursing education at CSU Stanislaus.
"I wanted to have the knowledge and experience to change the perception of nursing in my home country," she said. "I believe that the standard of practice for nurses in my home country can also be improved. My education will allow me to make a mark in the professional world."
Takhsha earned her nursing degree in Iran in 2007 and worked as a cardiac care unit staff nurse at Shahid Rajaee Heart Center in Tehran. Even with that experience, she came to this country as a student, without a U.S.-recognized nursing license. She credits Carolyn Martin in the School of Nursing and Marge Jaasma, former executive in charge of international education, for helping her to navigate the legal and residency requirements in order to qualify for the registered nurse license exam in 2013. Since passing the exam, Takhsha has been working as an intensive care registered nurse at Emanuel Medical Center.
"Her graduate project, 'Incorporating Cultural Content in the Nursing Simulation Scenarios,' is very important to nursing," Martin said. "When finished in May, she will have developed a simulation template that is worthy of publication."
Takhsha hopes to continue her postgraduate studies and is leaning toward earning her doctorate in education.
"I want to teach — helping new nurses to be better and to improve their skills is my passion," she said. "I love to share my experiences with them and walk them though their challenges. It is very rewarding to see their confidence improve."
---
#StanGrad File
Degree/Credential
Master of Science in Nursing with a concentration in nursing education
What memories stand out most from your time at CSU Stanislaus?
"One of the best experiences I had was a group research project to Seattle for the Western Institute of Nursing Conference. Dr. Marla Seacrist was our faculty advisor for the project, and she was very supportive and encouraging. We gave a poster presentation for our research project called 'More than a CAP: Adolescent Perceptions of the Image of Nursing' which examined the changing perception of the nursing profession in youth. It was a wonderful opportunity to connect with my peers and I felt that we were contributing something important to our professional field."
Which faculty or staff member had the greatest impact on you, and why?
"Carolyn Martin is my role model. She is an amazing person who is always there for me and even though she is an incredibly busy person she always makes time for her students."
What advice would you give to current and future students?
"I am living my dreams because I envisioned what I wanted to do and who I wanted to be. It's so important to picture your dreams and where you want to go in life. Believing in your ability to achieve your goals will help you achieve them. You have a valuable contribution to make to the world — think positive and you can make your dreams a reality."