Note: This article is part of the StanGrad series, highlighting CSU Stanislaus students who will graduate at commencement ceremonies May 29 and 30. Click here for more.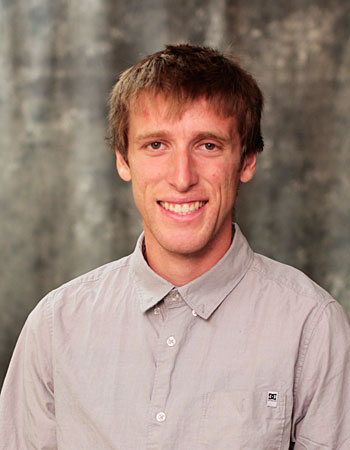 Anthony Fagundes had a vision for the CSU Stanislaus campus, and when he graduates next week, he'll leave knowing that his vision is well on its way to becoming a reality.
Fagundes, who grew up in the Sacramento area, loved the university's spacious campus but was hoping to see more resources for bicyclists — and he suspected he wasn't alone. So the geography major conducted a study to find out why CSU Stanislaus was missing the bicycle culture common at other universities.
"The results showed that there were a lot of people who lived close to the university but drove to campus instead of riding a bicycle," Fagundes said. "The study also indicated that there is a wide range of support and interest in this project, both on campus and in the surrounding community."
Fagundes wasn't satisfied with mere research, though. With findings to back up his hunch about the widespread desire for a more bikeable campus and community, he made presentations both to the Turlock City Council and to CSU Stanislaus administration.
And both the city and university are now making strides toward becoming more bike-friendly. Fagundes, who will graduate with a bachelor's degree in geography from CSU Stanislaus, hopes to eventually earn a master's degree with a focus in urban planning and transportation infrastructure — and to continue pursuing his favorite cause.
"I feel this is an important topic to pursue, because bicycling has many benefits both environmentally and physically," Fagundes said. "My long-term goal would be to become a city planner and hopefully help cities better plan and integrate bicycle transportation systems to alleviate congestion and other problems." 
In addition to his research and classwork, Fagundes competed in both cross country and track and field while at CSU Stanislaus. He made the dean's list three times, won two Academic Excellence awards and served as vice president of the Bicycle Advocacy Club.
"My experiences here at CSU Stanislaus have helped prepare me for whatever comes next," he said. "They gave me chances to test my problem-solving capabilities, challenge my creativity and think outside my comfort zone."
---
#StanGrad File
Degree/Credential
Bachelor of Arts in Geography
What memories stand out most from your time at CSU Stanislaus?
"The memory that stands out the most was actually at orientation. I saw a class called 'Geography of North America' and saw that it was part of the geography major. This was also the day I met Professor Jennifer Helzer, who encouraged me to try the geography major. I switched my major that day, and the rest is history."
Which faculty or staff member had the greatest impact on you, and why?
"The person who had the greatest impact on me was Jennifer Helzer. Her outgoing personality made geography really fun and opened my eyes to a different way of looking at everything around me."
What advice would you give to current and future students?
"The advice that I would give to other students is to have an open mind when you enter college. You may have a set plan on what you think you want to do but then see or take a class that completely changes your mind about the direction that you want to go."