Note: This article is part of the StanGrad series highlighting CSU Stanislaus students who will graduate this spring. Read more StanGrad profiles.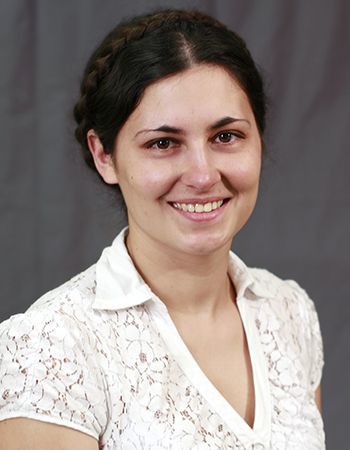 Yuliya Gerasimchuk does not remember a time she didn't want to be a teacher.
Growing up in Donetsk, Ukraine, where she was raised by her grandmother — a high school teacher of Russian languages and literature — the 10-year-old Gerasimchuk would triumphantly correct the essays of her grandmother's students. Turning her sights on students her own age, Gerasimchuk prepared and delivered lectures on every classroom subject, even assigning grades.
About that time, Gerasimchuk discovered a knack for picking up foreign languages. In addition to the Russian and Ukranian languages of her own land, she dived into and gained fluency in English, German and Spanish.
"I witnessed many classrooms where students were paralyzed by the omniscient power of their instructors and could not develop their communicative skills," she said. "My goal is to make the process of language acquisition less painful and more rewarding for my future students."
Gerasimchuk migrated to America seven years ago, graduating with honors from Modesto Junior College while acquiring associate's degrees in English and humanities.
At CSU Stanislaus, she has earned membership in the Phi Kappa Phi honor society and is the English undergraduate program's Outstanding Student this year. She also tutors at the Writing Center.
"Yuliya is quiet and soft-spoken, but really focused and engaged. She really is an amazing talent," said Scott Davis, chair of the Department of English.
Her volunteer work as a translator in an orphanage in Donetsk allowed Gerasimchuk to develop additional empathy for children, and her work with youngsters continues in her role as a Sunday school teacher at a church in Modesto.
This fall, Gerasimchuk will begin graduate studies at CSU Stanislaus, yet she'll always remember the difficult transition of being an immigrant, leaving behind all that was familiar.
"Looking back at where I started — lost, confused, unsure, and ambiguous about my future and education — I'm amazed to see the progress I've made," she said.
---
#StanGrad File
Degree/Credential
Bachelor of Arts in English,
concentration in TESOL
What memories stand out most from your time at CSU Stanislaus?
"I've had many memorable moments, but tutoring is the brightest among them. Tutoring challenges, raises questions, and sometimes brings disappointment after an unsuccessful session, but it also inspires, reassures and promotes metacognition, reflection and self-growth. I'm grateful for the opportunity to work in the Writing Center before teaching a class of my own because I can learn what works and what does not. What is the most rewarding about being a tutor is seeing students succeed. I'm inspired when they beat the odds and pass a writing proficiency test after multiple unsuccessful attempts. I'm proud when they start fixing the most salient issues in their writing without relying on me. And I'm deeply touched when they develop self-confidence as writers."
Which faculty or staff member had the greatest impact on you, and why?
"The greatest impact on me was made by Professor Don Miller, who demonstrated his unparalleled teaching, elements of which I've readily incorporated into my own teaching philosophy. When I was still insecure and uncertain in my choice of major, he inspired me to believe in myself and move forward with my master's degree. After taking five classes with Professor Miller, I have improved my grammar skills, found my research interest in linguistics, and become a better writer."
What advice would you give to current and future students?
"College years are passing by with dazzling speed, so delve deep into your studies, enjoy your learning process, explore your interests, and take advantage of all the resources available. Do not hesitate to ask for help, whether it be academic or psychological counseling, tutoring or healthcare services. Do not be afraid to seek assistance from your professors; all of them are genuinely interested in helping and seeing you succeed."