Note: This article is part of the StanGrad series highlighting Stanislaus State students who are part of the Class of 2020. Read more StanGrad profiles.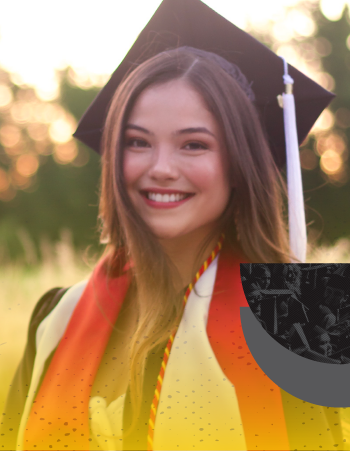 When Mary Cruz Arellano started her freshman year at Stanislaus State in 2016, her dream of becoming a teacher and role model for young people was quickly transformed into an attainable reality.
"I entered a program called California Mini-Corps and tutored migrant students in elementary schools during the school year and in summer," said Arellano, a first-generation college student who graduated in May with a bachelor's degree in Spanish. "The hands-on experience I gained by working with students assured me that I wanted to become a teacher."
While she loved teaching young children, she found it was her assignments tutoring older students that cemented her career choice.
"That is where I found a passion for teaching Spanish," said the Ceres resident who plans to be a high school Spanish teacher. "I realized that teaching at the high school level felt just right."
As a tutor, Arellano made home visits and built meaningful relationships with her students and their families. She added a personal touch to her tutoring and enjoyed connecting with her students as they progressed.
"What most excites me about teaching is building student relationships and making a difference in their lives," she said. "I want to inspire students and help them succeed in life. I want to be a role model for my community."
Family oriented and happy to be living at home, Arellano says she chose Stan State after graduating from Central Valley High School, because the teaching credential program is "amazing," and the "beautiful" campus is close to Ceres.
"I feel so blessed to have supportive parents that are helping me pay for school and focus on my career. They give my siblings and me unconditional love," she said. "My parents never got the opportunity to go to college, so they want to give my siblings and me the best gift they can, which is an education."
Looking to the fall semester, she is entering Stan State's single-subject credential program and has a student-teaching assignment at Ceres High School. She is well on her way to becoming a high school Spanish teacher in the immediate region and looks forward to helping her students reach their goals.
---
#StanGrad File
Degree/Credential
Bachelor of Arts in Spanish
What memories stand out most from your time at Stanislaus State?
"Memories of attending fun events, like Stan Fest and Warrior Day, stand out to me because different artists attend the events and fun activities are included. Also, being involved in clubs. I was involved in C.U.A.A (Chicanos Unidos for Academic Achievement) and found many friends there."
Which faculty or staff member had the greatest impact on you, and why?
"There were a couple of professors that had a great impact on me. The first being Brett Ashmun in liberal studies. He is inspiring and truly motivates his students to do their best. The next being Sandra Garcia Sanborn in the Spanish program. She is knowledgeable and makes her classes fun and informative. She went out of her way to give us the best learning experience."
What advice would you give to current and future students?
"Have fun, live in the moment and enjoy every step of the way. Before you know it, you will be graduating."