Note: This article is part of the StanGrad series highlighting Stanislaus State students who are part of the Class of 2017. Read more StanGrad profiles.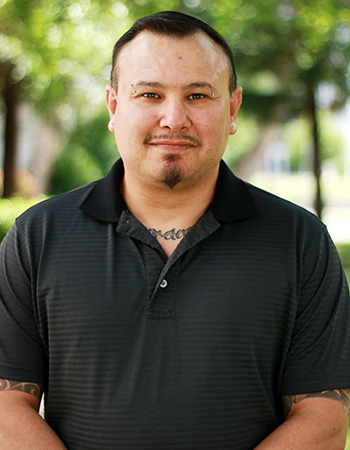 Jose Feliciano, 42, overcame hardship, ridicule and alcoholism to find success at Stan State. With his degree, Feliciano hopes to turn his experiences into learning opportunities for others.
For Feliciano, school always felt impossible. He remembers being called stupid while struggling with learning disabilities.
"For a long time, I let those words define me," he said. "I thought that I had no kind of future except for meaningless, menial jobs. I never felt good enough, and this brought me to a place of despair. I thought that my life had no meaning."
After struggling with alcoholism, Feliciano wanted to do better for himself, so he embarked on the 12-step recovery program.
"Other members in the 12-step program told me to do some basic things in the meeting that paved my path for success," Feliciano said. "They told me when I went to a meeting to sit in the front, to do the work and to participate. I took those concepts and applied them to my collegiate life."
At Stan State, Feliciano didn't shy away from asking questions as he had in the past. Before, he had assumed he was the only one who didn't fully grasp the concepts being taught, but by taking his experiences in recovery and applying them to the classroom, Feliciano found that he could be successful in college.
Feliciano is now in a place to give back to the community he feels he took so much from during his battle with alcoholism. Just nine years ago he was homeless and finding many of his meals in garbage cans. Today, he's prepared to graduate and help others who lack confidence achieve greatness.
"I felt alone in my situations as if I didn't have anyone who understood or cared about a poor, Hispanic, kid who was not considered very smart. My goal is to be there for kids like me, to let them know that there are others like them, that they don't have to be defined by what others say or think about them," Feliciano said.
---
#StanGrad File
Hometown
Colorado Springs, CO
Degree/Credential
Bachelor of Arts in Psychology
What memories stand out most from your time at Stanislaus State?
"The memory that stands out the most for me at Stan State is how welcomed I felt during orientation. As soon as I arrived I felt nervous, yet I found comfort when I realized that there were lots of students that looked just as nervous as I was. For the first time, there in the Quad, I didn't feel alone."
Which faculty or staff member had the greatest impact on you, and why?
"Every professor that I have had class with has been more than willing to help me along my path. Any questions or any concerns I had they were ready to help with and they made time for me if I needed it. Being a student with learning disabilities I needed it quite often and they were more than accommodating."
What advice would you give to current and future students?
"If I was to leave any advice to current or future students it would be to ask the question because nine times out of ten there are several others that have the same question as you. I knew the only way I could learn was by asking questions. I thought I was unique in not understanding, but came to find out there were many others that also did not understand."