Note: This article is part of the StanGrad series highlighting Stanislaus State students who are part of the Class of 2020. Read more StanGrad profiles.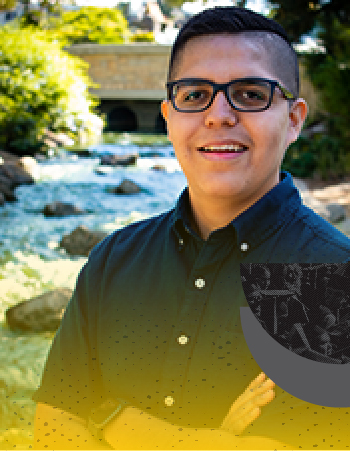 Embraced by Stanislaus State from the day he arrived, Jorge Kevin Avila is determined to reach out to those students who follow in his footsteps.
"I hope to get accepted into the counselor education program at Stan State and become an academic advisor," said Avila, a graduate with a bachelor's degree in social sciences with concentrations in criminal justice, sociology and political science
"I'm eager to pay it forward by helping students navigate college the same way I was helped," Avila said.
A product of Huntington Park in Southern California, Avila chose Stan State because of its small classes and the opportunity to engage with professors. Even though he found what he was hoping for, he experienced the natural pangs of separation that often come with going away to college.
"Living on campus really helped me kick off my college career and let me feel independent and supported at the same time" Avila said. "At first, you might feel homesick, but as time goes by, you get to know new people and make lifelong friendships."
In addition to being welcome in the on-campus housing community, Avila also found a family in the Office of the Provost, where he worked for several years as a student employee and left a positive impression.
"Jorge is committed to helping others, which has guided his decision to go into school counseling," said Erin Littlepage, student success and community partnership specialist in the Office of the Provost. "Jorge has a passion for giving back to the community and, particularly, to other students who face barriers in their education, whether it be food insecurity or immigration status. I am glad to know him and look forward to seeing how he continues to grow and contribute after graduation."
Littlepage knows her long-time staff member, a first-generation student, well.
"After earning my degree from Stan State, it's my goal to work with first-generation students here in the Central Valley to increase the number of those students obtaining degrees," Avila said.
---
#StanGrad File
Hometown
Huntington Park, Ca
Degree/Credential
Bachelor of Arts in Social Sciences
What memories stand out most from your time at Stanislaus State?
"I will always remember the staff from the Office of the Provost. They made my senior year one of the best. From my very first day, they supported me and pushed me out of my comfort zone. The most memorable moments during my time with the office have to be the potlucks, because we all came together and shared great times."
Which faculty or staff member had the greatest impact on you, and why?
"Dr. Ann Strahm has had the greatest impact on me, because she helped me navigate the process of applying to graduate schools and even wrote letters of recommendation for me. She has shown that she cares and believes in her students."
What advice would you give to current and future students?
"Do not be afraid to ask questions, especially of your professors, because everyone is willing to help! Also, make sure you utilize all the resources the University offers, like the Tutoring Center, the Warrior Food Pantry and the Academic Success Center."