Note: This article is part of the StanGrad series highlighting Stanislaus State students who are part of the Class of 2017. Read more StanGrad profiles.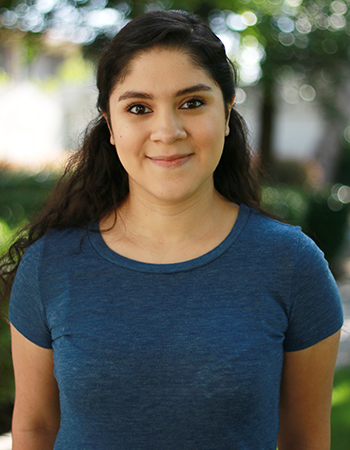 Angela Pimentel comes from a working-class family of immigrants. She is a traditional first-generation college student, the first in her family to attend a university. Her mother never made it past elementary school.
Despite a family that did not understand the pressures and expectations Pimentel faced in college, she said it was her family's support of her pursuit of education that inspired her to do well in school. She was named valedictorian of her high school class, maintained As throughout her time at Stan State is graduating with a double major and a near-perfect GPA.
"I'm not what you call a prime candidate for graduating college," Pimentel said. "I have always viewed my academic achievements as a way to honor all of the sacrifices that my parents made for both myself and my younger brother."
In 2014, when Pimentel first came to Stan State, she struggled.
"I was not really sure of what I was doing. The application process, financial aid, registering for classes, all of this was new for me. I did not have a single family member I could ask for advice," Pimentel said. "I have to admit that I was a little intimidated at first and I felt like I was lost a lot of the time."
She joined the Educational Opportunity Program on campus and that helped her through. Then, Pimentel decided to become a peer mentor in the Academic Success Center, passing on her knowledge to incoming first-generation freshman from low-income backgrounds in the same program.
"My experience as a mentor has taught me that it is always important to give back to a community that has helped you achieve your dreams," she said. Erlynn S. Johnson, Pimentel's supervisor in EOP, praised Pimentel's dedication to the program.
"Angela wanted to support students who traditionally don't feel they belong in the University, and/or don't have the support needed to be a success at the University," Johnson said. "She has been able to share her experience as an EOP student and she is a role model for other students."
After earning dual bachelor's degrees in political science and history, Pimentel is unsure of her next step; she is weighing options between several graduate programs and law schools. One thing, however, is certain: Pimentel wants to use her knowledge to make a difference in her own backyard.
"I very much want to have the capacity to one day give back to the community," she said.
---
#StanGrad File
Degree/Credential
Bachelor of Arts in Political Science and Bachelor of Arts in History
What memories stand out most from your time at Stanislaus State?
"Working in the Academic Success Center has been hugely rewarding. The people who work in the office are wonderful and have been fantastic guides throughout my time here."
Which faculty or staff member had the greatest impact on you, and why?
"Dr. Marjorie Sanchez-Walker in the Department of History has always been a professor that I have admired, both for her incredible knowledge and for the support that she has always shown for students like me. Dr. Stephen Routh is a fantastic professor who has helped me throughout my time at Stan State. And Erlynn Johnson in the Academic Success Center has also been hugely supportive of my development both as a student and as a young professional."
What advice would you give to current and future students?
"It might sound cliché but the right attitude makes all the difference. A student who believes that they can make it to graduation is more likely to make it, so do not doubt yourself!"