Note: This article is part of the StanGrad series highlighting CSU Stanislaus students who will graduate this spring. Read more StanGrad profiles.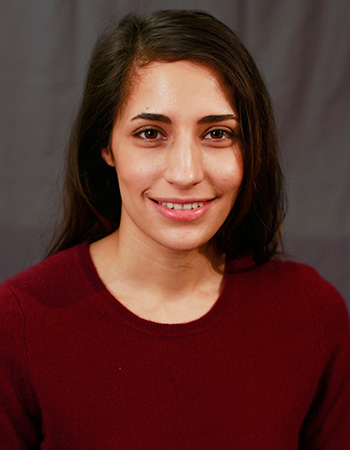 Like so many students entering college, Marlin Rosales had to survive the early semesters of searching for a major that would capture her interest.
A graduate of Manteca's Sierra High, Rosales began her student career at CSU Stanislaus as a pre-nursing major and quickly found out it wasn't meant for her.
"I like to be outdoors," she said.
She took a semester of business classes before discovering that was another line of study she didn't love.
Then she stepped into biology.
"I've always been interested in the sciences, but never considered myself a scientist," said Rosales, who has earned her degree in biological sciences. "I guess I didn't have the confidence to think I could pursue such a tough subject. But I decided to do it because I'm passionate about it."
Her passion has carried her to a research project in the Sierra Nevada and a six-week summer biology program in Costa Rica.
"Costa Rica was great," Rosales said. "It was my first time out of the country except for trips to Mexico. We did two research projects in six weeks — it was intense. You would think that CSU Stanislaus wouldn't have a lot of opportunities for students to go into research, but there are a lot. You just have to look for them and apply."
Rosales plans on working for a year before attending graduate school, where she hopes to study in fields that will prepare her for a career involving conservation and management of protected areas.
But the first step, for Rosales, was the most important — coming to CSU Stanislaus and finding her passion.
"What you can expect at CSU Stanislaus is small classes and professors who really do care about your success as a student," she said. "It's a small campus and you can really grow here as an undergrad."
---
#StanGrad File
Degree/Credential
Bachelor of Science in Biological Sciences
What memories stand out most from your time at CSU Stanislaus?
"I have a lot of fond memories at CSU Stanislaus. One of those was the time we had to do a project in one of my Biology courses that required us to document different plants and animals around campus. It was a lot of fun exploring this beautiful campus and taking pictures of the things that you would normally not notice. Other fond memories were during my freshman and sophomore years, when I was able to meet up with friends on campus in between classes and have lunch. It was nice just being able to bond and make lifelong friendships with people I had met in college who were also facing similar career worries and life choices."
Which faculty or staff member had the greatest impact on you, and why?
"The faculty member that had the greatest impact on me was Dr. Matthew Cover. During my junior year, I began doing research with other students as part of a Central Valley Math and Science Alliance program. This research focused around freshwater ecology and genetics, and was led by Dr. Cover. Through this research, I was able to get hands-on experience outside of class and I became aware of the world of ecological research, and the impact it has on our understanding of the natural world. I wouldn't find myself where I am today if it wasn't for his influence."
What advice would you give to current and future students?
"Look at the things that interest you and take a couple classes that relate to those subjects. Try and find something that truly makes you motivated to learn more. Start now, have confidence in yourself and seek advice from the many professionals available throughout campus — there are experts in all sorts of subjects. The undergraduate years are probably the hardest years in academic life but they are also the years where you will learn the most about yourself."