Note: This article is part of the StanGrad series highlighting Stanislaus State students who will graduate this spring. Read more StanGrad profiles.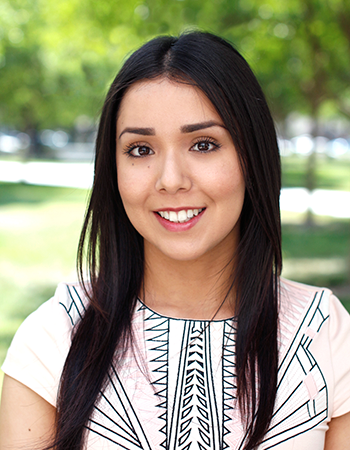 As Maria Palomares was going through Ceres schools, she harbored a secret not even her best friend could know. And that was only a small part of her fear as an undocumented resident.
"There is a lot of fear," said Palomares, who will graduate this spring with a Bachelor of Arts in Criminal Justice, concentrating in criminal legal studies, and a minor in speech communications. "I knew growing up that I didn't have citizenship papers but I didn't know until later what that meant. When I turned 16 and my friends started driving, they'd ask me when I was going to get my license. It wasn't that I didn't know how to drive or didn't want to drive, it was that I wasn't allowed to get a license."
Palomares' journey has left her with reminders of what it means to be a non-citizen. She left her job at a local restaurant when it responded to a complaint about hiring undocumented workers.
"When I told my manager that the document check was the reason, she said she was surprised because I didn't look like one of those people," Palomares said. "I didn't fit her stereotype."
Palomares has DACA (Deferred Action for Childhood Arrivals) status, which allows her to apply for a work permit every two years. With that work permit comes the ability to get a driver's license. But with all immigration regulations under heavy Congressional review, her legal residency status could change with the stroke of a presidential pen.
She also knows that by speaking up for undocumented residents she could become a target for those who believe that "undocumented" automatically equals "illegal."
"With everything going on nationally, I realize it's something I should be talking about," Palomares said. "My story, I hope, can have an impact on those who have a negative image of us. I'm an example that we're not all bad, that we do work and are productive. We're good members of society."
Palomares is planning to attend Santa Clara University School of Law this fall to begin her formal legal training. Unlike her school years in Ceres, this time she plans on being heard.
"I want to be a prosecutor because I want to give back to society and help crime victims, but first I want to be an educated voice. I can be vocal now but I know I don't understand the law like someone with a law degree. I want to be able to use my story and my knowledge of the law to be a voice for my community. We need a change and the only way that's going to happen is for us to stand up and make our feelings known."
---
#StanGrad File
Degree/Credential
Bachelor of Arts in Criminal Justice, minor in speech communications
What memories stand out most from your time at Stanislaus State?
"I really enjoy my classes. Criminal justice always was something new and interesting. The professors are really helpful and always available. If you email them, you know you'll get an email right back. If you drop in on them, they're there for you.
I will forever cherish the opportunity to intern at the San Joaquin County District Attorney's Office through the criminal justice department internship program. At SJCDA I have been given the opportunity to learn and work in the two areas of law I am most passionate about — criminal law and immigration law — by working closely with deputy district attorneys to prepare cases for court and by processing U-Visa certification requests for undocumented crime victims. This internship is very rewarding and has strengthened my determination to specialize in criminal and immigration law."
Which faculty or staff member had the greatest impact on you, and why?
"I've taken something from all of them, but I'd have to say Dr. Charlotte Paden. I had her for classes my first three semesters. She was a prosecuting attorney and I can look up to her for the knowledge I know I'm going to need. I have no attorneys in my family, so she has helped me find the pathway to get where I would like to go. She's pushed me a lot, especially in the quality of my writing. I feel a bond with her."
What advice would you give to current and future students?
"Take advantage of everything here at Stanislaus State. Take advantage of the professors. This is a small school so they're available. Get to know them because they can help you start your career. Simply, work hard and do not give up."