Note: This article is part of the StanGrad series highlighting Stanislaus State students who are part of the Class of 2020. Read more StanGrad profiles.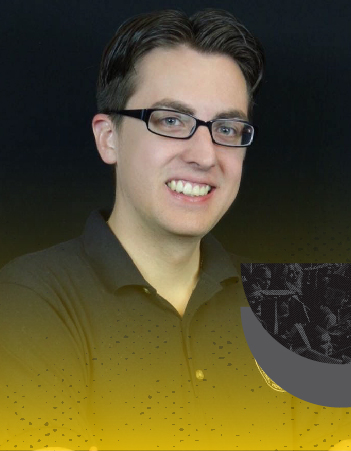 A student for nine years — earning a bachelor's degree in psychology and a master's degree before attaining his doctorate — Joshua Palmer also proved to be a teacher.
"Joshua provided critically important perspective from the community context," said Debra Bukko, director of the Doctoral Program in Educational Leadership. "Because of his input, educational leaders' knowledge of the reality of the lived experience of students and their families became much more real. We are so proud of Dr. Palmer's academic performance and so thankful for the contributions he made to the program, to his fellow students, and to the University. What a point of pride to have such an exceptional scholar who has completed all three levels of higher education at Stan State. He truly epitomizes #StanGrad2020!"
Palmer attained his advanced degree while working at the non-profit Haven Women's Center of Stanislaus, which counsels and supports victims of domestic violence.
"Now that I have my doctorate, I can do more to help survivors of intimate partner violence," Palmer said. "I can contribute to our understanding of the needs of survivors and help make their voices heard and their experiences validated. My future has many new doors to open thanks to my time at Stan State and I am looking forward to opening them."
While at Stan State, Palmer said he walked through many new doors that were open to him, including student leadership programs, campus jobs, student government and clubs. All, he said, allowed him to expand his skills.
A native of Hilmar, Palmer stayed close to home in choosing Stan State, and leaves with no regrets.
"I am so glad I made that choice," Palmer said. "I cannot imagine having as much of a rewarding experience as I had during my time at Stan State. The University embraced me for who I was and provided paths that led me to who I could become."
---
#StanGrad File
Degree/Credential
Doctor of Education in Educational Leadership
What memories stand out most from your time at Stanislaus State?
"My first memory at Stan State stands out the most. It was my orientation. I was very nervous, shy and just wanted to get it over with. The staff at the orientation opened my eyes to the experiences I could potentially have during my time at the University. I met incredible people, many still friends to this day. That was the moment that really jump started my journey."
Which faculty or staff member had the greatest impact on you, and why?
"I have been fortunate for the opportunity to have a variety of mentors to look to for support and guidance. However, three stand apart from all the others. Alissa Aragon and Megan Rowe took a chance on me and gave me my first opportunities to expand my leadership skills. They provided a level of guidance that allowed me to grow and find my way. I cannot thank them enough and greatly value our continued friendship over the years. Of course, my dissertation chair, Dr. Virginia Montero-Hernandez, has made a tremendous impact on my life. Her guidance and wisdom through the dissertation process were invaluable. I could not have made it through without her support."
What advice would you give to current and future students?
"I have taken away two important lessons during my time at Stan State:
First, it is okay to make mistakes. There are many challenges and barriers along the path of knowledge. There were a number of situations I wish had a different outcome or that I did something different, but I came to understand those situations. They only added to my experience.
Second, I learned to trust my work as a student. We are our own worst critics and there were times when I lost faith in myself when it came to submitting my work for review. Trust that the hard work and dedication you put forth in your endeavors is valid and worthy of attention."