Note: This article is part of the StanGrad series highlighting Stanislaus State students who are part of the Class of 2017. Read more StanGrad profiles.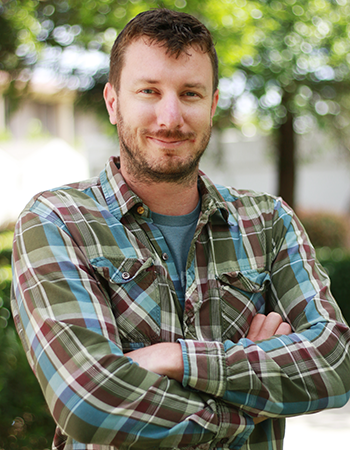 For Luke Castle, education is about the future, and not only his future. As a father and a husband, the Australia native said he is constantly reminding himself that earning a degree is bigger than himself.
"With all the situations that come with having a family and a huge work load, I am constantly reminding myself that I am not only doing this for myself, but for the future of my family," Castle said.
Balancing family life with school isn't easy, but Castle said they are in it together. His struggles are his family's struggles, just as his triumphs will be theirs, too.
As an older student, Castle came to Stan State as a last resort. He had attended other universities in the past, but hadn't found a degree program that offered the type of future for which he was searching.
"He immediately flourished at Stan State, getting as much as he could from his courses, doing extra readings or performing research tasks with several members of the faculty," said Horacio Ferriz, a geology professor at Stan State.
Perhaps most significant is the fieldwork he completed with Professor Julia Sankey at Turlock Lake. It's work that falls in line with his future goals to pursue geology as it relates to water resources. In a way, his education will benefit not just the lives of his own children, but future generations, as well.
"California has experienced a significant drought and it is important that we maintain good science and monitor our consumption and keep water properly regulated so that we have plenty of clean water to support our growing population," he said.
---
#StanGrad File
Hometown
Melbourne, Australia
Degree/Credential
Bachelor of Science in Geology with a concentration in applied geology
What memories stand out most from your time at Stanislaus State?
"Spending time working hard out in the many beautiful, but challenging, locations in California doing science is the best part about what we do as geologists. Those days started when the sun rose and ended when the sun set. It was a unique combination of professional development in the field of geology and adventure."
Which faculty or staff member had the greatest impact on you, and why?
"I spent most of my time interacting with Dr. Horacio Ferriz, whether it was in his office gaining knowledge or out in the field doing research. We both related to school life in conjunction with raising a child at home and the struggles that come with that experience."
What advice would you give to current and future students?
"Stay focused on the task at hand. College is not easy and there are going to be challenges in school and in your personal life, but this has been and can be done. This great opportunity to grow and learn should not be taken for granted."