Note: This article is part of the StanGrad series highlighting Stanislaus State students who are part of the Class of 2020. Read more StanGrad profiles.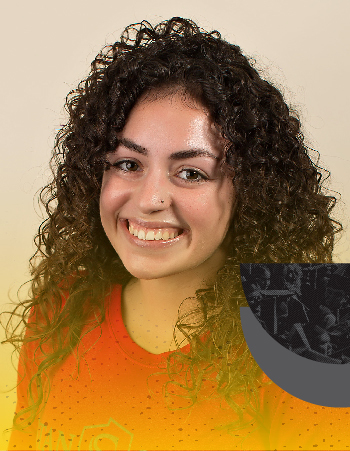 Michaella Pisciotta's time at Stanislaus State exemplifies how athletics and academics can work together to achieve success both on the track and in the classroom.
A native of Pueblo, Colorado, Pisciotta came west with the intention to further her track career. She felt compelled to attend Stanislaus State when she recognized the unique opportunity to live in a new state. Pisciotta set out to relish every moment her University experience and to achieve personal growth in her education and athletics.
"I strived to make my time here the best time," Pisciotta said. "I met new people and never took any opportunity for granted. I feel this is how any student should act. Life is never promised, no matter where you are from, so live each day to the fullest."
Pisciotta applied this philosophy to live each day to the fullest and her track career flourished during her four years on the team. As a freshman, she started out as a sprinter. Since, she has competed in the outdoor heptathlon and the indoor pentathlon. Earlier this year she propelled herself into the Warrior's career top 10 list at No. 6 in the pentathlon.
"Michaella has been an outstanding student-athlete whose determination, dedication, work ethic and academic achievement are what we'd like for all of our student-athletes to strive for," said track & field Head Coach Troy Johnson.
This spring, Pisciotta will obtain her bachelor's degree in child development while being named as the Child Development Graduate of the Year. She is also a top-3 finalist for the Stan State Female Scholar-Athlete of the Year.
"No matter the challenge, Michaella gave her all to succeed," said Johnson. "Michaella competed in the heptathlon, which is seven events over two days. She would spend 20 hours a week training in different events while maintaining her exceptional studies in child development. I couldn't be prouder of her for achieving this award as the program's top graduate."
Pisciotta said she aspires to become a pediatric speech-language pathologist so that she can help children in need.
"I plan to use my degree to get into graduate school and further my education," she said. "I love to learn, so if I can continue to build my knowledge that is what I will do."
---
#StanGrad File
Degree/Credential
Bachelor of Arts in Child Development
What memories stand out most from your time at Stanislaus State?
"The memories that stand out most to me are working hard with my track and field teammates and being a part of Athletics as a whole. I think being able to work hard for something makes achievements more meaningful. Track and Athletics brought me so many new friends and relationships. I am extremely thankful for so many great people that have impacted my life at Stan State."
Which faculty or staff member had the greatest impact on you, and why?
"The person who had the greatest impact on me was my coach, Troy Johnson. There was not a day that Coach Johnson didn't believe in me and my abilities. He would always set high expectations for me and made me the best version of myself. He always supported me, and I know he will continue to do so. I am forever thankful for all the life lessons he has taught me."
What advice would you give to current and future students?
"My advice for current and future students is to have fun. Get your work done, but don't forget to do things that you love and make the most of your time at Stan State. Build relationships with friends, faculty and the community. These will help you in the future and set you up for success."