Note: This article is part of the StanGrad series highlighting Stanislaus State students who will graduate this spring. Read more StanGrad profiles.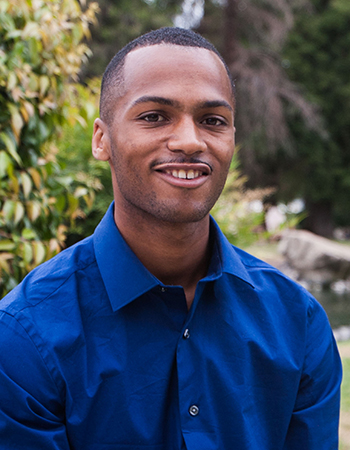 Jordan Elzie's story to this point in his young life could be a novel, and here's a short summary. He never knew his father, who bolted when Jordan was two months old, and he was in and out of foster and group homes throughout the Bay Area after his mother spent time in jail. One of his foster families locked him in his bedroom. Another forbade him from going outside, sending him after homework to the garage, where he'd spend hours in front of a tiny television hooked up to a PlayStation before it was time for bed.
"I was in maybe 15 different houses — some I'd walk in and be told immediately I wasn't staying," Elzie said. "Only two were stable, but I was in all the others."
Despite getting into trouble at school, generally for talking too much, his grades always were good, and a foster home he entered in Pittsburg while a fifth-grader finally saw his potential.
"My last foster family believed in me and that made all the difference," he said. "I don't remember the names of all the other foster parents, but I still talk to my last foster family. Everything I am today is because of the way they treated me."
He moved to Galt to attend high school while living with his grandmother and got into athletics, including track and field. At one meet he was spotted by a coach putting together a regional elite team, and became part of a relay team that finished seventh at a national-level Amateur Athletic Union meet. His grades were strong enough to qualify him for almost any college, but every Division I school balked at admitting Elzie because of trouble he got into while a sophomore in high school.
At that point, he applied to every college with a track team, vowing to attend the first one that offered enrollment. That was Stanislaus State, where — because of his grades and foster family background — he qualified to become a Promise Scholar.
From that background, Elzie graduates with a 3.1 GPA in criminal justice with a concentration in criminal legal studies. He has been accepted to several law schools and will start attending one this fall for the purpose of becoming a prosecuting attorney.
"I was told in the second grade by a teacher not to become a statistic, and she wrote that on a progress report," Elzie said. "I still have that progress report, and I always will remember that."
---
#StanGrad File
Hometown
Pittsburg/Galt High, CA
Degree/Credential
Bachelor of Arts in Criminal Justice with a concentration in criminal legal studies
What memories stand out most from your time at Stanislaus State?
"My first memory of the school stands out. All I knew about the school when I got dropped off was the location of the track because I had run a meet here. But I immediately saw people I had run track against, so I had friends right away."
Which faculty or staff member had the greatest impact on you, and why?
"I have to mention three, and each of the three will know why I mentioned them: Wanda Bonnell (Promise Scholar coordinator), Troy Johnson (head track and field coach), and Timothy Helfer (criminal justice lecturer). All three had high expectations of me. They all saw potential in me, and because of the confidence they had in me I felt obligated to live up to those expectations."
What advice would you give to current and future students?
"People say years after graduating that college is greatest time of their life, and it is. Make sure you live life during college. Make the most of it and above all, leave your mark on the campus. Then when you turn around and show pride in Stan State, people will know why."