Note: This article is part of the StanGrad series highlighting Stanislaus State students who will graduate this spring. Read more StanGrad profiles.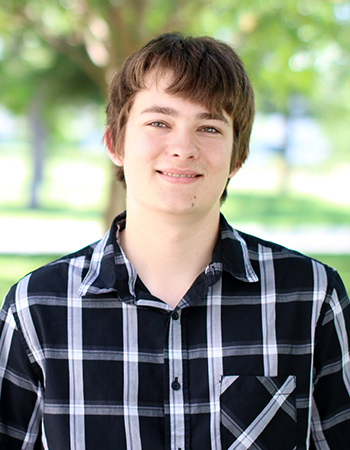 It was at some point in a chemistry course at Modesto's Johansen High School that all the symbols and all the abbreviations on the periodic table began to make sense to Forrest Kohl.
"I was turned-on to chemistry while in high school," Kohl said. "I had a chemistry class with Mr. (James) Creech and got OK grades, but learning the basic things about chemistry clicked with me. I've always been interested in the way things work."
After choosing Stanislaus State for its proximity to his home over UC Merced and the University of the Pacific, Kohl's interest in chemistry never waned. In fact, under the eye of assistant professor Elvin Alemán, it flourished beyond regular coursework and into research. Kohl won the Stanislaus State Student Research Competition in March and went on to earn second place in the Physical and Mathematical Sciences Undergraduate category of the 30th Annual CSU Statewide Student Research Competition at Cal State Bakersfield in late April.
And despite finishing his bachelor's degree studies in chemistry this spring, Kohl is nowhere close to completing his work. He's been accepted into a graduate assistant program at Ohio State University, a fully-funded position that will cover his expenses while he pursues his doctorate in chemistry.
"I always knew I was going to go on somewhere to get a master's, but the idea of going beyond that got into my head as soon as I started doing research," Kohl said. "The lab work I'll be doing and the opportunity to go to Ohio State to do my own thing in a Ph.D. program really interested me."
Kohl remains very much up in the air as to what he'll be doing after earning his Ph.D., but he knows there will be at least one huge adjustment he'll have to make in his move to the upper Midwest.
"I've lived in California my whole life," he said. "I like cold weather, but I've never experienced the extreme cold I'll get in Ohio."
---
#StanGrad File
Hometown/High School
Modesto/Johansen, CA
Degree/Credential
Bachelor of Science in Chemistry
What memories stand out most from your time at Stanislaus State?
"The opportunities to go to conferences. I've had a lot of fun presenting my own work. If I hadn't been pushed to do public speaking I wouldn't have done it.
In the research I've presented, we shine light through a solution and look where and how the energy is being absorbed. A better understanding of that could be applied to things like solar energy."
Which faculty or staff member had the greatest impact on you, and why?
"Dr. Aleman. He pushed me to go through these conferences and he got me on the research path."
What advice would you give to current and future students?
"Know your interests. I see a lot of students coming to school without any idea about what they want to do. I think it's important to have a general idea about that. If you don't know, it might be a good idea to step away from your bounds and try a lot of things."