Note: This article is part of the StanGrad series highlighting Stanislaus State students who are part of the Class of 2020. Read more StanGrad profiles.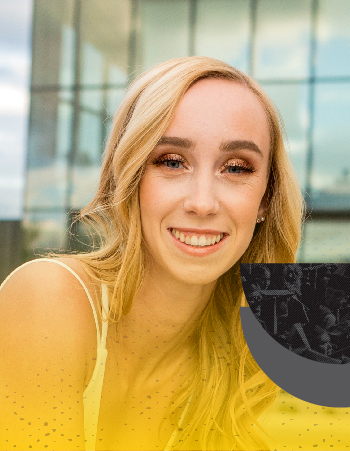 Caitlin Sanders was a competitive gymnast who wanted to be a competitive cheerleader in college, so she chose Stanislaus State to become one. And she got a full college life experience by being involved on campus.
A first-generation college student from San Diego, Sanders was a four-year member of the Warrior Cheer Team. She was one of the top flyers on the team and was part of three national championship qualifying teams. The squad would have made a fourth consecutive appearance at Nationals this spring before athletics competitions were cancelled due to COVID-19.
"I was able to get the full college experience by really immersing myself into all the school events and everything college had to offer," Sanders said.
The cheer team attended many athletics contests, took part at numerous campus spirit activities, appeared at a number of special events and volunteered at community fundraisers.
As a kinesiology major, Sanders was part of the KINS Fit program, where seniors in the program designed and planned weekly workout classes for students, staff and faculty held in front of Fitzpatrick Arena.
Sanders was a finalist for the Kinesiology Department's Outstanding Exercise Science Student Award.
Sanders also volunteered as an intern in the Athletics Department, both in communications and athletic training, where she ultimately found her career path.
"I am attending Point Loma Nazarene University to work on a Master of Science in Athletic Training starting this summer," Sanders said. "After I graduate from PLNU, my goal is to be a full-time athletic trainer at a university."
"Caitlin has always been very dedicated to school spirit and participated in campus events as a cheerleader and as a student as much as possible," said Assistant Athletics Director Hung Tsai. "As a flyer on the cheer team, Caitlin is usually near the top of the pyramid. With her determination and her passion in athletics, I have no doubt she will be near the top as she becomes a successful athletic trainer."
---
#StanGrad File
Degree/Credential
Bachelor of Science in Exercise Science
What memories stand out most from your time at Stanislaus State?
"The memories that stand out the most from my time at Stanislaus State are the ones from being on the Stan State cheer team. I was on the team for four years and cheered at a lot of the sporting events. We also competed at the national championships three times. I am glad I was able to be involved in student life and the events at school."
Which faculty or staff member had the greatest impact on you, and why?
"The staff member that had the greatest impact on me is Assistant Athletics Director Hung Tsai. He was the most supportive of our cheer team and I was also able to be his intern and learn all about college athletics. I learned what I am truly passionate about while being his intern. He also helped me through a lot of different situations during my four years at Stan State. He made a huge impact on my life to helped me become who I am today."
What advice would you give to current and future students?
"My advice for current and future students is to get involved in athletics, your major, clubs, and organizations, whatever it may be. There are so many different ways to become involved and it really changes your college experience. To me it was really important to live in the moment and experience everything to the fullest because it will all be over before you know it."