Note: This article is part of the StanGrad series highlighting Stanislaus State students who are part of the Class of 2020. Read more StanGrad profiles.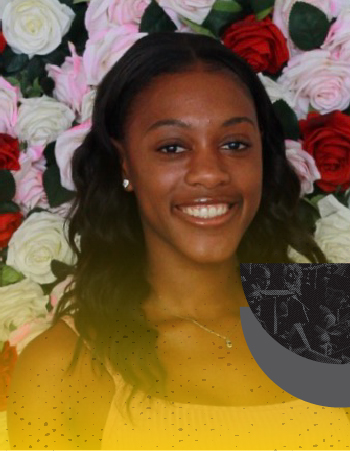 A shy, quiet student from Los Angeles, Christen Wynne blossomed into a student leader in the nurturing atmosphere at Stanislaus State.
"I didn't know anyone, and I was hesitant to put myself out there until I joined the Black Student Union," said Wynne, who earned a bachelor's degree in communication studies with an emphasis in public communication and media. "Getting involved opened the doors to so many opportunities like being crowned Ms. Warrior in 2019 and being elected BSU President."
Her BSU experience prompted Wynne to speak up on behalf of herself and others, and broke down some of the inhibitions that held her back.
She became a student assistant in the University's Office of Communications and Public Affairs and again, thrived, providing a strong student voice.
"Christen was instrumental in raising the profile of Warrior Weekly video updates among students this year," said Rosalee Rush, senior associate vice president for marketing, communications and media relations. "She developed a marketing plan and survey to increase student awareness and viewership. Her motivation to learn as much as possible while interning within the Office of Communications and Public Affairs led her to take on additional responsibilities and to successfully produce a video blog during the COVID-19 pandemic. It served as a source of encouragement and information for all students."
Wynne hopes to take the skills she acquired in her job into the marketing field, where she dreams of working for a large company or sports franchise.
She isn't leaving Stan State completely behind, though.
"I plan to return to support the Black Student Union as well as to encourage the incoming freshmen," Wynne said. "I want to leave my mark, and to do so I need to support my fellow Warriors in all that they do. I plan to be an active alumna, sharing my experience to help inspire future college graduates to choose their career path. I want to encourage students to step outside their comfort zone to become great members of society."
---
#StanGrad File
Degree/Credential
Bachelor of Arts in Communication Studies, concentration in public communication and media
What memories stand out most from your time at Stanislaus State?
"I've had the best time at Stan State, and the most memorable part was joining the Black Student Union (BSU). I was able to find a group of students that shared my interests, hobbies and morals. Through my work in the BSU, I have grown so much as a person! I used to be a little shy and allowed others to run the show, but this year I became the BSU president and a role model to others. Meeting individuals with similar goals helped motivate me to conquer any obstacles that stood in my way, and I am forever grateful."
Which faculty or staff member had the greatest impact on you, and why?
"Jennifer Pace-Wittman was my English professor my freshman year, and her energy was something I've never seen before. She encouraged me to come to class each day with a positive attitude. Dr. Pace-Wittman wanted to better know her students and had us keep a journal. That allowed me to share information I wasn't comfortable sharing with anyone else. Dr. Wittman has been my cheerleader all four years. Her energy, positivity and encouraging words pushed me to get involved in campus activities."
What advice would you give to current and future students?
"Never give up! It might seem like things are extremely difficult, but keep going. If you are not involved on campus, you need to get out there; it is essential to your overall growth. I strongly believe that doing something outside of going to class is very important, because you will meet people with similar interests, learn more about yourself and grow."