Note: This article is part of the StanGrad series highlighting Stanislaus State students who are part of the Class of 2017. Read more StanGrad profiles.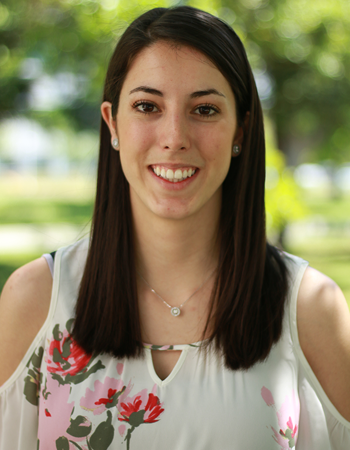 Mariah Gonsalez always was confident in her abilities as a student, but it wasn't until she got involved in research projects at the University that her academic skills became a springboard to graduate school.
"Mariah has worked with me as an undergraduate research assistant for a project on John Steinbeck in war and cultural life," said Communications Professor Michael Tumolo. "Through this work, I've seen Mariah develop as an independent scholar who is poised to continue her studies at San Francisco State."
The research performed by Gonsalez on the rhetorical strategies of recruitment by extremist organizations was honored as an award recipient at the Stanislaus State Research Competition, and she went on to present her work at the statewide competition.
"Not only was I able to build friendships with students from other disciplines at my school, but I was able to meet outstanding students from every other CSU," she said. "I was able to see the different research that students were doing statewide. The overall experience was unforgettable."
Gonsalez, who will begin her graduate studies in communications this fall, has become a staunch believer that it is within the ability of every student to succeed, and that developing a relationship with professors early in an academic career should be a priority.
"The faster you prove your commitment to academics and interest in gaining a mentor, the more opportunities you will be given," she said. "The professors at Stanislaus State are committed to the success of their students and are always looking to provide guidance."
Pull Out Quote: "I believe in the power of communication and I intend on using my degrees to advocate for social issues."
---
#StanGrad File
Degree/Credential
Bachelor of Arts in Communication Studies
What memories stand out most from your time at Stanislaus State?
"The memories that I will forever cherish from my experiences at Stanislaus State are the ones with my professors and friends. I will never forget how committed the professors are to their students in the Communication Studies Department. I will always remember the annual kickball matches between the professors and their students. Another memory that stands out was the time I got to travel to San Louis Obispo to compete in the 31st annual Statewide Research Competition. I met nine other top scholars who attended Stanislaus State. It is very likely that I would have never met them if I was not selected to represent Stan State in this competition."
Which faculty or staff member had the greatest impact on you, and why?
"Communication Professors Marcy Chvasta, Michael Tumolo and Department Chair Keith Nainby had the greatest impact on my Stan State experience. Dr. Chvasta is the kind of professor who fills her classroom with unconditional love, laughter and support. Dr. Tumolo acted as a mentor to me throughout my journey at Stan State, guiding me through the application process for graduate school and helping me revise my personal statement more than six times before sending it in. Dr. Nainby has been a huge support to me in my search for graduate programs. He is the kind of professor who hopes every one of his students will go on to grad school, and he works extremely hard to support them in doing so."
What advice would you give to current and future students?
"Get involved with the campus community and professors. All of the amazing experiences I have had at Stan State are the result of my connections with my professors and friends. Build a connection with your professors at the beginning of the semester rather than waiting until the end."