Note: This article is part of the StanGrad series highlighting Stanislaus State students who are part of the Class of 2020. Read more StanGrad profiles.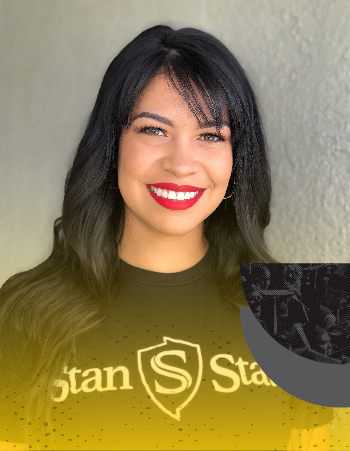 There's an old saying, "The harder I work, the luckier I get," but Stan State graduate Aysha Valdivia's lesson is "The harder I work, the more I realize I can achieve."
The single mom took the chance of attending the University, and in doing so set an example for her son, her siblings and her parents. She also took the first steps toward changing the lives of others.
"I want to transform the stigma associated with mental health while improving the cognitive, behavioral and emotional well-being of the individuals in our region," Valdivia said.
Having earned a bachelor's degree in psychology, Valdivia is already looking ahead to graduate school with a dream of opening her own practice and specializing in marriage and family counseling.
Those who have seen her pursue her degree don't doubt her ability to succeed.
"Aysha has determination to make a difference in the lives of others," said Justine Borba, executive assistant to the vice president in University Advancement at Stan State. "Her outgoing personality, emotional maturity, ability to listen and express ideas is exceptional. She believes in working hard and that was evident when she jumped in with little or no training to assist in the management of community engagement sponsorships and other projects."
Among her roles as a student employee in the Division of University Advancement was assisting with the setup for Stanislaus State Foundation Board of Directors meetings, and she also volunteered at the Alumni Association's annual fundraising event, Vines.
"Many donors asked me who she was, because they were so impressed by her," Borba said.
Working in University Advancement was just one of the positive experiences Valdivia had during her time as an undergraduate student. Growing professional relationships is something she hopes to build upon as a graduate student, but mostly, she relishes the idea of continuing her education.
"There is magic in learning and serving others," Valdivia said.
---
#StanGrad File
Degree/Credential
Bachelor of Arts in Psychology
What memories stand out most from your time at Stanislaus State?
"Besides having to deal with the changes associated with COVID-19, obtaining a position in the University Advancement office as a work-study student was an experience I am forever grateful for and will never forget. It not only gave me an opportunity to financially support myself but also allowed me to connect and build friendships with the amazing people who work there. They all have positively impacted my life."
Which faculty or staff member had the greatest impact on you, and why?
"Stanislaus State has so many incredible faculty and staff members. I have had the privilege of encountering many of them and they all hold a special place in my heart, because they each have contributed to my growth and success not only as a student but also as a person. However, two amazing women that have had the greatest impact on me are Justine Borba and Michele Lahti. From the very beginning, they embraced me, supported me, encouraged me and went above and beyond to facilitate my success. They are exceptional woman with incredible work ethic. They are women who I look up to and admire."
What advice would you give to current and future students?
"Get involved! Stanislaus State has so much to offer and is very diverse. There is something for everyone. In my experience, everyone has been kind and helpful. The difficult part of getting involved is having the courage to approach people, but when you do, it is worth it and not as scary as you might have thought."