Felice Angelica Dacpano and Eli Frazer Share Enzyme Research; Nahui Gonzalez Millan Presents Ongoing Effort to Aid Undocumented Students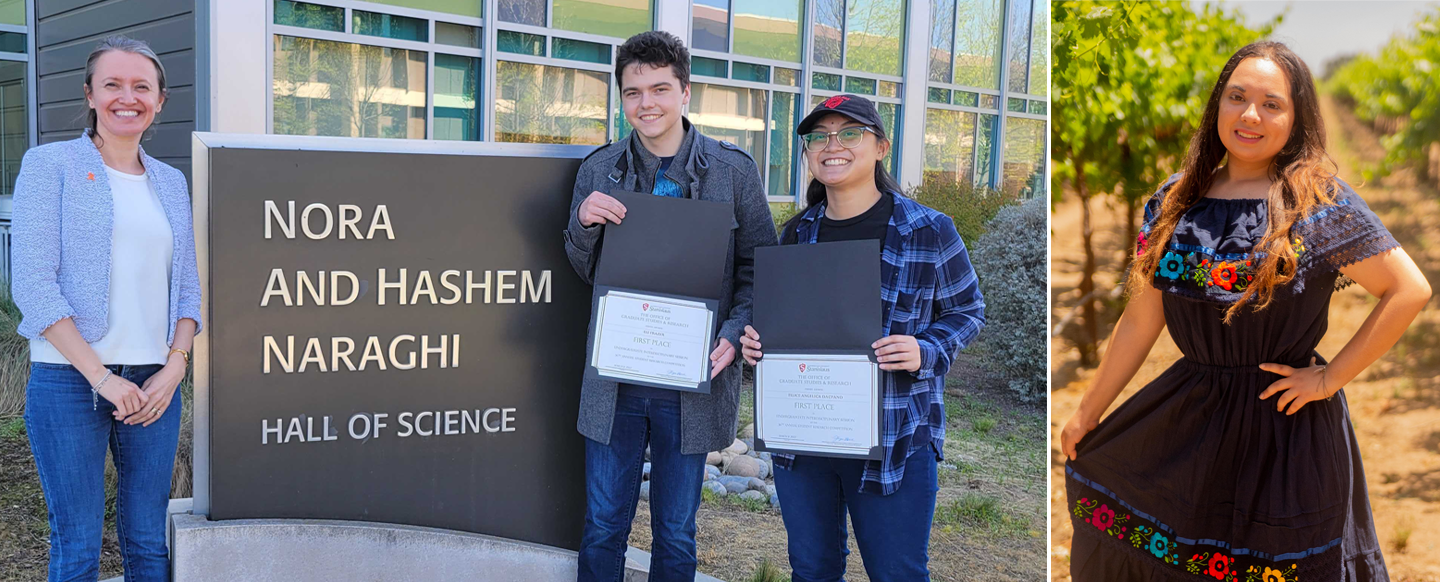 Stanislaus State's Nahui Gonzalez Millan wasn't thinking about a research competition when she created a questionnaire last year.
As a student leadership fellow with the organization Immigrants Rising in summer 2021, the questionnaire she created with two group members — undocumented college students from Reedley College and Bakersfield College — was meant to elicit information from undocumented high school and college students for a proposed mentorship program.
The data gathered through those 12 questions not only guided the mission forward but became the basis of a presentation that earned Gonzalez Millan second place in the undergraduate education division of the 36th Annual CSU Student Research Competition held virtually and hosted by San Francisco State.
Fellow Stanislaus State students Felice Angelica Dacpano and Eli Frazer finished second in undergraduate physical and mathematical sciences. The chemistry majors shared how the drug acetanilide, banned as a pain reliever because it causes liver enzymes to produce the toxic aniline, behaved when introduced to an engineered enzyme.
Their work is a continuation of research guided by biochemist Gönül Schara, a Stan State professor who received a $408,000 four-year grant from the National Institutes of Health to hire Stan State students to research the enzyme's ability to synthesize high-value drug metabolites and use protein engineering to generate further improvements.
Students have studied the ability of the enzyme, toluene o-xylene monooxygenase, to metabolize different drugs.
Dacpano and Frazer engineered the enzyme to test it against acetanilide.
"This whole experience made me realize I really do like working in the lab," said Dacpano, a student from Discovery Bay who just graduated and hopes to one day work in a hospital research laboratory. "All of the chemistry is really cool and getting to test it yourself is different from lecture."
"It's been a more rewarding experience than any other job I've had," said Frazer, of Oakdale, who transferred from Modesto Junior College in fall 2020 and would like to attend medical school. "I learned a lot about the research process, how most of the time you go in with a planned procedure, and it tends to not go right the first time, which isn't necessarily a bad thing. It can prevent you from making other mistakes in the future."
Those are just some lessons Schara wants her students to gain.
"I hope they realize that research requires hard work, patience and dedication," Schara said. "They have been working on this project for about a year, full time during the summer and part time during the semester, so they could obtain this data to present. I believe they will further appreciate scientific research and understand it even better after they graduate."
The CSU Research Competition featured 21 categories for undergraduate and graduate students, with students having first presented at their own campus.
Gonzalez Millan's undergraduate research is personal.
The daughter of a single mom who brought three children from Mexico, Gonzalez Millan endured the challenge of being an immigrant child and wants to help others like her, just as her teachers helped when she was growing up in Stockton.
A double major in childhood development and psychology, she loves her job teaching in a pre-school classroom, but her fellowship with the Central Valley-based Immigrants Rising led her and fellow students to create Rooted in Education Mentorship (REM), which seeks to connect undocumented college students with undocumented high school students.
When the Immigrants Rising fellows showcased their work in December 2021, Gonzalez Millan invited Executive Director Anysia Mayer and Faculty Fellow Steven Drouin from Stan State's Community Equity Research Center (CERC), housed at the Stockton Campus.
Drouin said they were so impressed with her presentation that CERC agreed to support her team's continued work on REM after the Immigrants Rising fellowship ended. It will continue its support in the fall.
"The first time I saw her presentation, she was sharing a summative presentation for Immigrants Rising and she was part of a team," Drouin said. "She still considers herself part of a team. She seemed hesitant to take ownership as leader of the team. In her presentation for Stan State and for the CSU system, it was really her taking ownership of being the leader, saying 'I am the voice. I am somebody that is helping this population.' It's kind of her coming into her own as a researcher and leader in the community.
"She's fighting to get funding, fighting to understand. As her advisor over the course of the semester, I saw her come into her own as someone who understands how to talk to people, share knowledge, be a researcher and be a leader."
Connecting with CERC was the best thing that could have happened to the project, Gonzalez Millan said.
"If we say we're sponsored by CERC at Stanislaus State, it legitimizes the whole thing, not to mention getting guidance from Dr. Mayer and Dr. Drouin," Gonzalez Millan said. "It pushes us forward in ways we may not have been able to imagine when it was just the three or four of us."
They plan to launch the mentorships in fall 2022. Gonzalez Millan has connected with the Warrior Cross Cultural Center and Undocumented Student Services to recruit Stan State students as mentors.
Aware that some undocumented students are afraid to reveal their status, REM is planning videos, brochures and pamphlets and virtual workshops to reach them.
Those plans and data already collected made up Gonzalez Millan's presentation.
"What set me apart from other people was how passionate I was about the project," Gonzalez Millan said. "I really care about this. I get excited. I get emotional. I understand, because it's a lived experience that I go through every day. It's something that still affects me even though I'm close to getting my permanent residency."
Gonzalez Millan's mother was the victim of domestic violence, and the two are now set to receive U visas, which are nonimmigrant visas reserved for victims of crime who assist law enforcement.
"I once was an undocumented high school student. I wish I'd had someone helping like this."