As Superintendent, Rob Pecot to Pursue His Passion, Make a Difference in the Lives of Students
Stanislaus State alumnus Rob Pecot hoped he was ready for the responsibility after serving as a vice principal at Delhi High.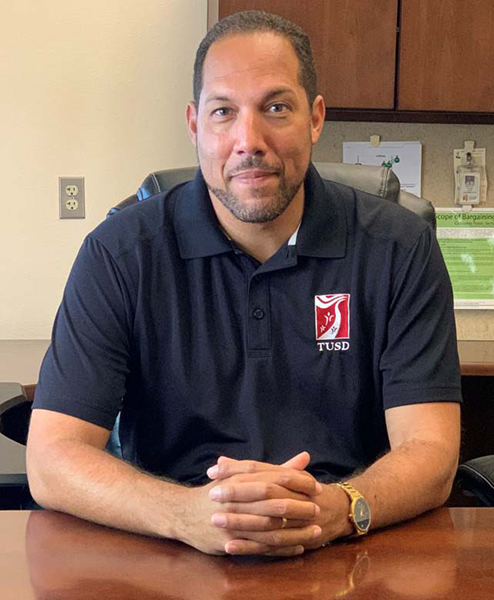 "My only goal was to be good enough to survive," Pecot said. "When you're the vice principal you're like the backup quarterback. There aren't many expectations. Once you are the principal, everything is your responsibility. Decisions you make will make one side happy and another side unhappy. It requires learning how to deal with people who aren't happy, trying to make the right or fair decision." 
Pecot not only survived, but he'll put those skills to use on a higher level when he becomes superintendent of the 14,000-student Tracy Unified School District beginning July 2022. Pecot will succeed Brian Stephens, who will retire after the 2021-22 school year. 
The job of superintendent is very complex," Pecot said. "I have a lot to learn. My supervisor and our superintendent, Brian Stephens, has been, and continues to be, an excellent mentor for me." 
Pecot will continue as associate superintendent for businesses services, a role he assumed last July after serving two years in the district office as director of student services.  
Stephens was superintendent of the Delhi Unified School District when Pecot worked there as a counselor and vice principal at the middle school and later, the high school. 
Pecot applied for the principal's job at Kimball High School, because Stephens was superintendent of the district. He didn't expect to become his mentor's successor and rise to the top of the K-12 hierarchy.  
Education wasn't exactly Pecot's first career choice. He started working at Stan State while pursuing a master's degree in communication studies/interdisciplinary studies. He was hired as a student advisor and within a year, oversaw new student orientation. He became director of Student Activities and Leadership Development. 
Pecot thought he might spend his career at his alma mater, a place he loved. 
He met his wife there, a fellow resident assistant, who became a math teacher and with whom he has two daughters. He played basketball as a freshman, became involved in student activities and he found mentors. 
Specifically, Pecot was guided by Mark Erickson, director of student housing, Lee Renner, director of student affairs, Fred Edmondson, associate vice president for student affairs, Ron Noble, director of the Educational Opportunity Program and then dean of students and associate vice president for student affairs, and basketball coach John Jones. 
They urged him to pursue a doctorate and associate vice president position at Stan State. While he later earned a doctorate in educational leadership from Grand Canyon University, Pecot saw a different path forward when he began volunteering as a basketball coach, first with the Ripon High freshmen girls, then the Orestimba varsity boys. 
"I loved working with kids," Pecot said. "I was doing it for free, and I thought, 'If I could do this as a job, it would be wonderful.'" 
He earned a counseling credential from the University of La Verne and left Stan State for Delhi Middle School. He became vice principal there and after a year, moved to Delhi High School. He also coached the varsity boys' basketball team. 
He took the principal's job in Tracy in December 2014 and moved to the district office as director of student services in 2018, because, Pecot said, he saw "an opportunity to make decisions to influence more kids in a positive way." 
Soon he'll be in position to make even more such decisions. 
"We'll have to deal with the ramifications of COVID," Pecot said. "Technology has changed drastically. How do we keep up? Because of COVID, student mental health and societal mental health are going to continue to be a challenge. How do we meet those needs, focus on academics and not be pulled back by other social issues?" 
Pecot will have the advantage of observing Stephens maneuver the first year of returning to fully open schools after the pandemic. Then, it will be time to make his mark, and he's not naïve about the work ahead of him. 
"I don't think people realize a school district is tens of millions of dollars in facilities, 2,000 employees and 14,000 students," Pecot said. "It's like running a little city. It's sports teams, transportation and feeding students. You're weaving through different areas." 
He'll begin by listening to find out what staff, teachers and parents expect of him as he guides four high schools including one continuation school, two middle schools and four K-8 elementary schools. 
To succeed, Pecot will rely on working hard and showing kindness — simple practices that have carried him to this point in his career. 
"I would hope when I walk out the door, they'll say I brought a level of professionalism and competence, that I was fair and the decisions I made were in the best interest of kids."