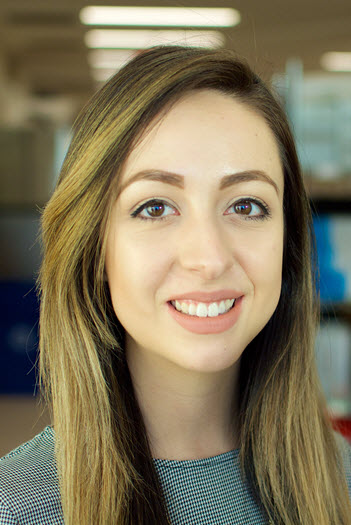 If someone told Celeste Diaz in high school that she would someday work side-by-side with world-renowned inventors, cancer researchers and students from Massachusetts Institute of Technology and Harvard, she would have said, "You're crazy. That's impossible." But that's exactly what she is doing now. 
Diaz, a first-generation college graduate who received her bachelor's degree from Stanislaus State in 2018, is a Broad Cancer Genomics Scholar (BCGS). The Broad Institute of MIT and Harvard began the BCGS Program, a two-year post-baccalaureate program, in 2004 in the hopes of improving health through genomics and new therapies. Broad Scholars work as paid, full-time associate computational biologists or research associates. 
Diaz came from humble beginnings. Her family moved from Mexico to San Jose before she was born, and initially struggled to afford basic necessities like food and clothes. She left high school feeling as though she hadn't learned as much as she would've liked to, and transitioning from this experience to a college environment at Stan State was a culture shock. 
"I was afraid of college because I was scared of failing," she said. She felt behind everyone else, but she worked hard to catch up. 
"I was motivated by being the first in my family to go to college and wanting to make my family proud," Diaz said. "I also wanted to prove to myself that I was capable of accomplishing something I never imagined I was capable of." 
While she originally intended to major in sociology to become a social worker, she switched gears when she took her first biology class and discovered a love for the subject. 
Diaz became motivated to get involved in cancer research when her aunt was diagnosed with breast cancer. With the help of medication from Genentech, a biotechnology company that develops and manufactures medicines that treat life-threatening diseases, her aunt's cancer went into remission. Inspired by her aunt's recovery, Diaz interned at Genentech's manufacturing facility in Vacaville for three summers, where she worked in the facilities and engineering department.  
She enjoyed learning about drug manufacturing and she felt she wanted to gain more experience in the lab working directly with cancer. However, Diaz found it difficult to find extra time to spend in the lab, as she was working outside of school in order to pay for tuition and all her living expenses. 
"There was a point during my senior year where I couldn't afford food due to financial circumstances," she said. 
Looking back, Diaz says that learning how to support herself financially while pursuing her passion was an investment worth making, and she ended up graduating with honors. 
Diaz discovered the BCGS program while applying for post-baccalaureate programs. Although she had an excellent GPA and some research experience, she wasn't convinced she would be accepted to such a prestigious institution, but she applied anyway. To her surprise, she was called for an interview and was later accepted. 
With the Broad Institute's robust support, the BCGS participants are given projects that foster the learning of independent work skills. 
Diaz currently works in the cancer department in the Neal Lab, which focuses on technology development. She is working on optical profiling techniques, which uses images to observe cells with different mutations in a variety of genes. Specifically, she is looking at different cancer genes and how the forms of mutations impact cell structure and function. 
She also utilizes the frequent seminars conducted by scientists, some of whom are internationally recognized for their research in the field of science or creating ground-breaking technologies. 
"I feel extremely thankful for the opportunity to be surrounded by scientists who are the leaders in the field and I hope to be able to follow in their footsteps in the future," Diaz said. 
Once her time with the Broad Institute comes to an end, she aspires to earn a Ph.D. in cancer biology and continue cancer research. Her career decision was largely influenced by her mentors at the Institute. 
"There are great mentors here who have guided me through this transition period and who continue to help me grow scientifically and professionally," she said. 
Diaz encourages Stan State students to go out and seek opportunities, and she says that it's okay to fail. Most of all, she stresses the importance of hard work and dedication. 
"Every struggle I've faced in my life — whether it was financially, academically or whether it was proving myself — it was all worth it in the end," she said. "You have to give yourself more credit than you think you deserve."