Emily Yonan Credits Undergrad Experience for Success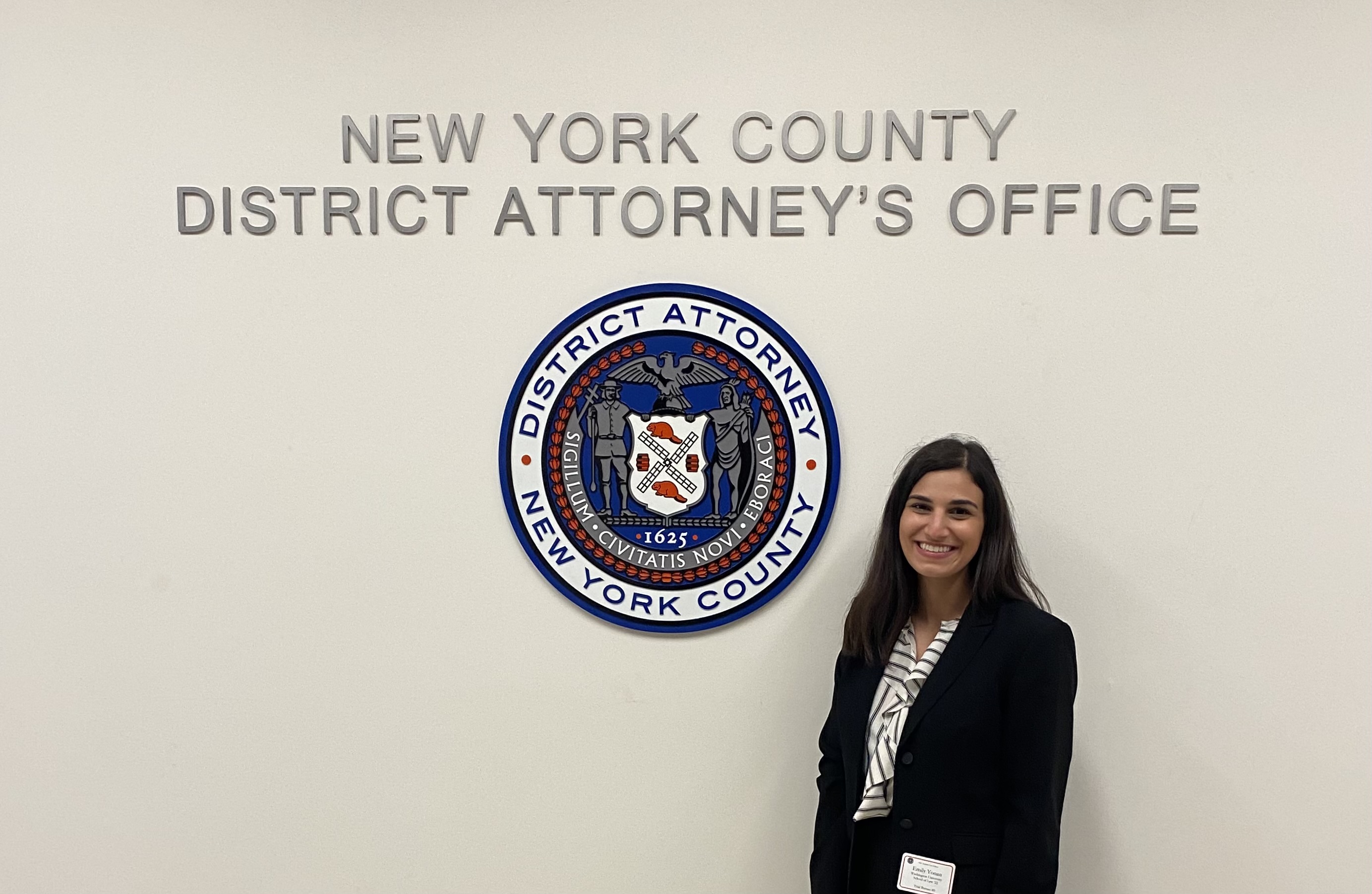 Emily Yonan has been hired as an assistant district attorney by the Manhattan District Attorney's Office and will begin her new role in September 2022, but that doesn't mean she'll be coasting through her final semester of law school at Washington University in St. Louis. 
The Stanislaus State alumna (B.A. in Political Science), who was the commencement student speaker at the University's 2019 College of the Arts, Humanities and Social Sciences ceremony, will be taking three classes, serving as the managing editor of Washington University's Law Review — the school's flagship journal — and working in the school's Wrongful Conviction Clinic. 
If that last task seems contrary to her future as a prosecutor, Yonan said it is not. 
"I think as somebody going into prosecution, it's important to realize the effect you can have on people's lives," Yonan said. "Doing this clinic and helping people in this way is an important service. Sometimes prosecutors do get it wrong. One person wrongfully convicted is one too many." 
Her interest in being an attorney began at a young age. 
"As I got older, I realized I enjoyed history, public speaking, writing and I cared about people and wanted to do something where I could help people," she said during a Zoom call from her residence in St. Louis. 
Yonan envisioned law school throughout her undergraduate days at Stan State. 
She became a Panetta Institute Congressional Intern in 2017 and found a passion for anti-human trafficking work while interning in the leadership office of a member of the United States House of Representatives in Washington, D.C. 
Policy work seemed to be in her future until the summer of 2020, after her first year of law school. She had an internship with the Department of Justice — working remotely because of the pandemic — assisting prosecutors with child sexual abuse cases. 
"I really enjoyed the prosecution side and I wanted to work with victims in my career," Yonan said. 
That led to her fellowship in summer 2021 with the Manhattan D.A., also done remotely, except for a couple of weeks in New York. 
It was while researching and drafting motions for assistant district attorneys there that Yonan applied for a full-time position in the office. The four-interview process ended with a final Zoom meeting with Manhattan District Attorney Cyrus Vance and a job offer. 
"He asked where Turlock is," she said. 
It's a question Yonan has heard a lot during her two and a half years in St. Louis, and she happily describes the location of her hometown, where she attended Turlock Christian High School. 
"The classes I took at Stan State made me realize how much passion I have for public speaking and for American government, political science and wanting to find a career where I could use all these things." 
- Emily Yonan
She's proud to represent Turlock and Stanislaus State, which she credits for much of her current success. 
"The classes I took at Stan State made me realize how much passion I have for public speaking and for American government, political science and wanting to find a career where I could use all these things," Yonan said. 
A first-year honors communication studies class with Professor Michael Tumolo provided Yonan with public speaking experience, and she found a valued mentor. A constitutional law course with Political Science Professor Stephen Routh prepared her for law school and Yonan said Routh continues to be an important mentor to her. 
Law school sharpened her career goals, but the lessons from her undergraduate days remain. It wasn't just the courses she took or participating in the Panetta Institute, which instilled in her the importance of being called to service. 
"It's being in a smaller environment, where the professors are able to show up for their students more." 
And, she said, "I don't know anybody who knows their University president on a first-name basis." 
Although she still can't bring herself to call Stan State President Ellen Junn by her first name, which the president prefers, Yonan was excited to let Junn know she'd been hired by the Manhattan D.A.
Yonan's parents — her dad Michael, a high school teacher in Stockton, and mom Polet, who works at the family's church — remain her main anchors in Turlock. Her older sister Ashley moved to Orange County, where she teaches and lives with her husband, and her younger brother Michael is about to graduate from Sacramento State's School of Engineering. Yonan considers her family her greatest support system. 
A part of her, it seems, will always be tied to Turlock and Stan State. 
"I'm very appreciative of Stan State helping me get this far," Yonan said. "There are people who continue to invest in me, people who still care and keep me going. Law school is hard, and not always fun. Knowing there's hometown support means a lot."