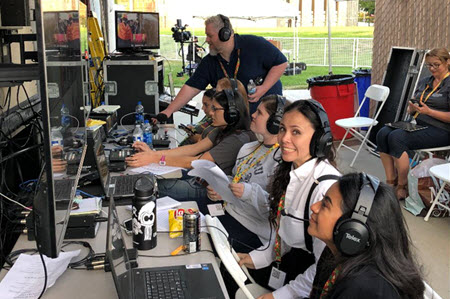 For most Stan State students, graduation is a time to sit back and enjoy the hard-earned fruits of one's labor. But during the 2018 commencement ceremonies, one robed student could be found working behind the scenes, in a chair marked "Director."
Megan Lavilla, graduating with a bachelor's degree in communication studies, sat in that chair, wearing a set of headphones under her graduation cap. Her mortarboard read, "I've got a dream that's worth more than my sleep," and featured paper cutouts of a clapperboard and a video camera emblazoned with the Warrior Rewind logo.
"That whole day was insane because I was doing the planning for commencement filming with Kevin Gasaway and Jerry Anderson (from Learning Services in the Office of Information Technology), and at the same time I was figuring out what I'm going to be wearing for my graduation," said Lavilla.
For Lavilla, the road to becoming lead director of the livestream and video recording of the 2018 commencement ceremonies was a rocky one.
Lavilla started attending Stan State in 2014. Three events solidified her decision to major in communication studies: watching a short student film about the Communication Studies Department (created by now-alumna Patricia Garcia), becoming a student journalist for The Signal and being introduced to Warrior Rewind, a regularly produced video highlighting Stan State athletics
Garcia was in charge of Warrior Rewind for several years, and when she graduated, Lavilla took her place.
Lavilla had to learn the ropes quickly. She would walk to Demergasso-Bava Hall every day and enter one of Stan State's hidden gems — the tech studio. The studio is a tiny room cluttered with computer towers, technical equipment and a several monitors. A window reveals a larger studio with a green screen, cameras and a variety of lighting equipment used to record Warrior Rewind.
She would go to the studio after her classes, take a seat in front of one of the monitors and edit videos there from 4-10 p.m. Her mentors, Garcia and Anderson, taught her how to use Adobe software and how to operate video cameras. For the next few years, she worked as a camera operator and then a technical director. She was excited to learn new editing techniques and film theory.
But in the spring of 2016, Lavilla began to face some unexpected personal challenges that caused her to move out of her parents' home. She lived alone and commuted to school from Atwater while taking a full course load. During this time, her grandmother also passed away. All the Warrior Rewind veterans left, and there was no money to advertise the program.
Warrior Rewind became a heavy burden for Lavilla, and she knew she had to let it go. As Warrior Rewind ceased production, Lavilla's grades and motivation dropped considerably.
"Battling depression was terrifying because I truly felt alone," said Lavilla.
After failing three courses within three semesters, she came to an epiphany. She sat in the studio and edited old Warrior Rewind footage. This took her back to when she first started working on the show, and a spark reignited. She knew this was her passion.
Lavilla became determined to restart Warrior Rewind. She designed and printed flyers using her own money and reached out to one of her best friends to broadcast for the show.
When Warrior Rewind came back in 2017, Lavilla became refocused and reinvigorated. Her grades and outlook on life improved. She saved up for a camera and started doing promos for Warrior Athletics and side projects that involved producing, filming and editing.
She thanks the professors in the Communication Studies Department for helping her through the most difficult time in her life.
"All the professors here care about their students. They were all there for me during the semesters that I needed the most help," Lavilla said.
Lavilla now sees herself in a new light, as someone who is resilient and powerful. She has decided that she wants pursue a career directing and producing videos for news television.
However, she has not always been so confident about her future in broadcasting. She said that people have questioned her editing techniques, work ethic and knowledge of sports because she's a woman and because she's of Asian Pacific Islander descent.
"I've felt the need to prove myself," she said.
Which she did, directing and leading a team of more than twenty people during the commencement.
"I want to break that glass ceiling," Lavilla said. "There's a lot of competition in this field, but it's not going to stop me. This is what I want to do for the rest of my life."