Alexia Estrada Embraces Opportunity with National Team of Father's Native Guatemala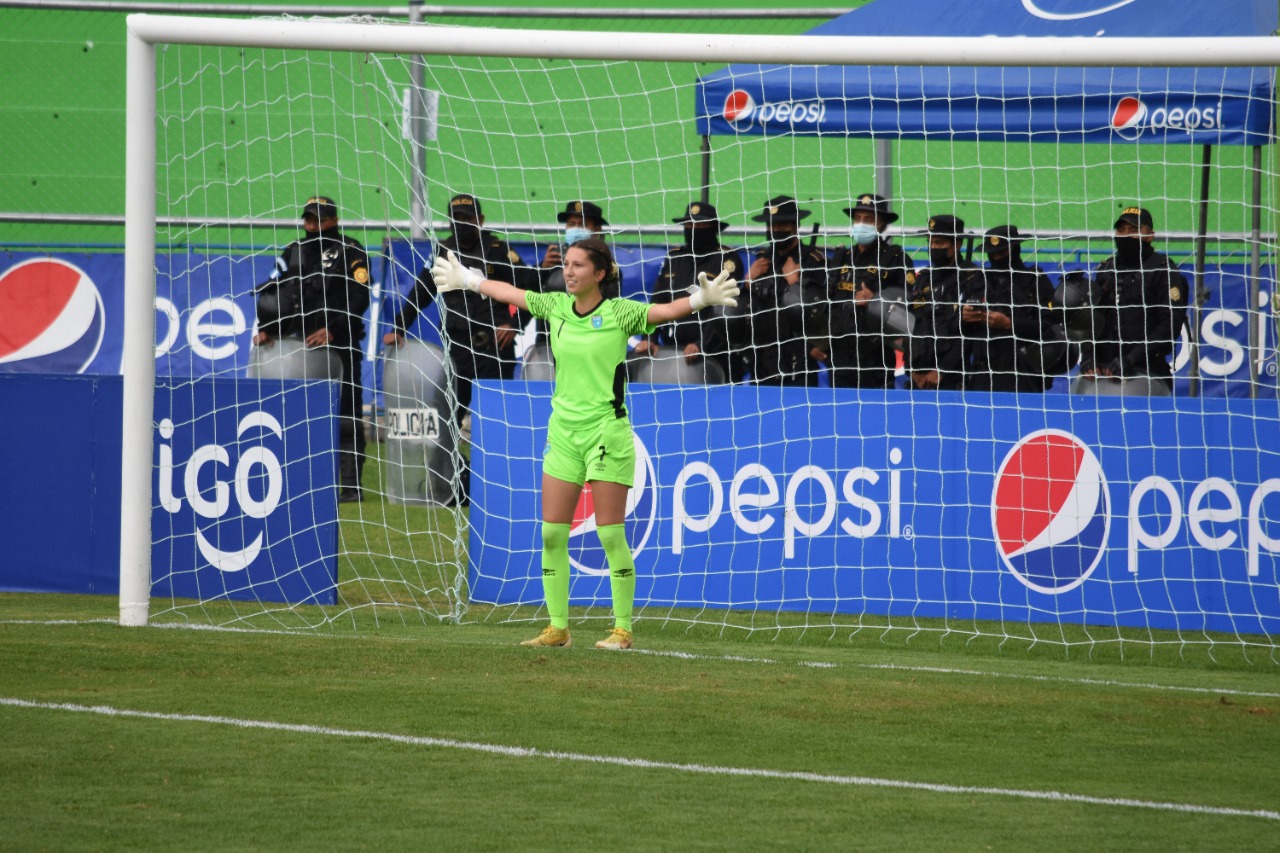 When she graduated from South San Francisco High School in 2019 without a college scholarship offer that was the right fit for her, Stanislaus State goalkeeper Alexia Estrada wondered if her soccer days were over. 
"I thought I wasn't good enough to play at the college level," she said, the self-doubt caused by negative assessments from youth coaches. "I went to City College of San Francisco and thought, 'If it happens, I can continue,' but I wasn't holding out for something more." 
There has been a lot more as Estrada regained her confidence and improved her skills. 
A goalkeeper coach built on the basics she'd learned from her dad, Hugo, a native of Guatemala who played goalkeeper on local teams until he was 18. 
Not only did Stanislaus State Women's Soccer Coach Gabriel Bolton want her to play on his team, so did the Guatemala National Team. 
She spent two weeks in December 2021 practicing with the national team of a country she had visited with her family. She was selected as one of two goalkeepers and played in three of Guatemala's four World Cup Qualifiers earlier this year. 
She'd barely begun classes in her political science major in February after transferring to Stan State for the spring semester when she traveled to Guatemala to play the U.S. Virgin Islands with extended family members in attendance. She was in goal for the shutout, and five days later, on the island of Curacao, when Guatemala again won by shutout. 
In April, the team lost to St. Kitts and Nevis in Guatemala and at Costa Rica, the only match in which Estrada didn't play. Their World Cup hopes were over. 
For Estrada, though, being a part of the national team was an enormous victory. 
"I was in the locker room as we were about to go out for our first game, and there was so much emotion," Estrada said. "As soon as you step out, you realize you're representing an entire country. It's amazing. All I could think about was my dad and how I wished he could see me wearing the jersey and everything. The emotions are unreal." 
Her dad started her on the road to goalkeeping when he volunteered her to replace her youth team's goalie, who had broken her collar bone. 
Hugo Estrada taught Alexia the position in the front yard of their South San Francisco home. 
"The main things my dad taught me were not to be afraid of the ball or of falling and feeling comfortable diving," Estrada said.  
She enjoyed playing soccer because she's competitive and relished the opportunity to get better, but it also forged a special bond with her dad. 
They watch soccer together at home, especially if Argentina is playing, because Hugo Estrada loves Lionel Messi.  
As a little girl, Alexia Estrada loved former U.S. National Team goalkeeper Hope Solo but was excited to play for Guatemala's national team. 
It's a small country, Estrada said, and her dad reached out to friends who connected her with the national team coach. That led to her tryout and invitation to play in the World Cup qualifiers. 
Her dad was working at his construction job when she took the field for the first time in a Guatemalan jersey, but uncles, aunts and cousins were in the stands to cheer for her. One uncle live-streamed it on Facebook, and Hugo took a break, went into the bathroom, and watched as his daughter took the field for the pre-game ceremony. 
"He started crying when they started playing the national anthem," Estrada said. "In that moment I was on the verge of tears knowing my dad wasn't with me but was a part of me. I knew he was so proud." 
She was able to play in those matches during the spring semester, because Estrada's professors helped her keep up with her schoolwork remotely. 
She's majoring in political science with dreams of becoming an immigration attorney. Both her parents are immigrants, her mom having been born in France. 
The political science program and soccer program both convinced her to accept Stan State's athletic scholarship. 
"She's very composed, a very smart, confident player and you could tell she's a good leader," said Bolton, who recruited her after hearing community college coaches speak of her and watching video of her. 
Estrada likes the team's style, building its offense from the goal out, or as Bolton said, "She's the first attacker and last defender," but she also was drawn to Stan State by the social justice work of the Women's Soccer Team. 
Its social justice committee reads books to area children about diverse people and ideas and has created four different warm-up shirts for players to choose from that support different affinity groups and beliefs. 
At her first spring season practice, Estrada witnessed the Stan State land acknowledgement, a first for her in soccer. 
Her heart is still in social justice causes, but further education or law school will have to wait. 
"I still want to pursue law, but I'm more on the soccer track, now," Estrada said.