Art-Themed Program Set for Wednesday, Oct. 13 in University Student Center
Indigenous Wellness and Resurgence is the theme of Stanislaus State's Sixth Annual Indigenous Peoples Day, but don't expect lectures and panel discussions.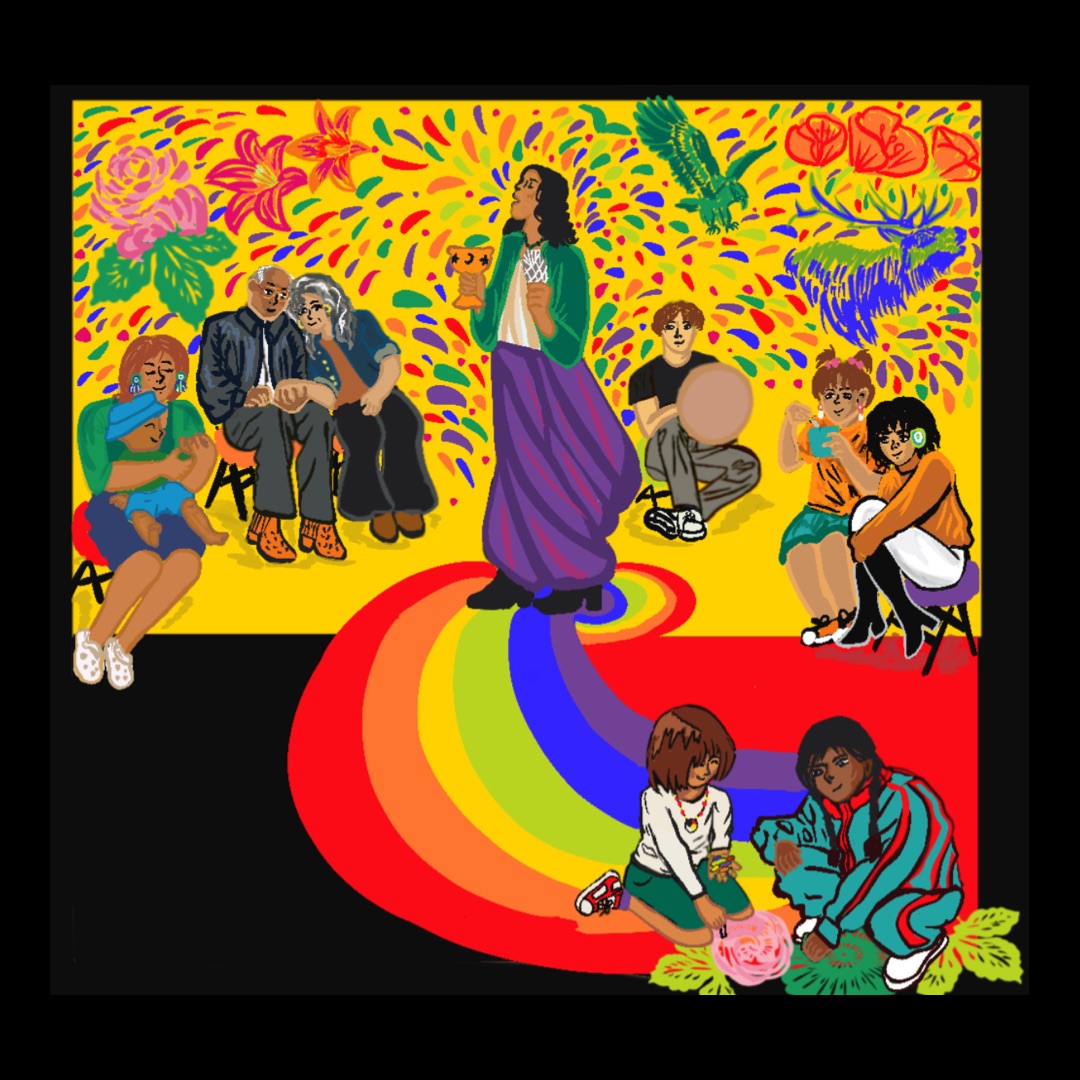 Instead, the celebration from 5-7:30 p.m. on Oct. 13 in the University Student Center will focus on the arts as a form of healing. Displays of visual works created by students and alumni, and more being created by children in attendance will be complemented by performances of poems, stories and songs. The family-friendly event is open to all, including children accompanied by parents or guardians at all times.  
"We worked with local Choctaw relative Chunya Johnson, who is teaching us to weave baskets out of pine needles, make elk drums and sing songs," said organizing coordinator Cueponcaxochitl Moreno Sandoval, associate professor of Ethnic Studies. "Chunya taught us a song about mosquitos. It's the first time I've had an appreciation for mosquitos. They're such pesky insects. But there's this whole teaching around appreciating ecology and the need for mosquitos. We sing that song beautifully. I see it also as a metaphor for appreciating some of the challenges we experience in life." 
The world has been through challenges for two years as we've endured a global pandemic, but organizers of the first in-person Indigenous Peoples Day since 2019, including students, alumni, faculty and others on campus, opted for a celebration. 
"Art is transformative," said alumna Patricia Zamora, part of the planning committee. "That's my work, and it's really community-rooted, because that's where my heart is." 
Zamora was born in Livingston and graduated from Stan State in 1983 with a Bachelor of Arts in Political Science, the only one-of-nine siblings to obtain a college degree. She splits her time between San Francisco, where she works for the Community Arts Stabilization Trust helping artists find and stay in work and living spaces, and Livingston, where she turned the one-acre parcel on which she grew up into a community space called Seven Generations, a nod to her Mexican ancestors' lineage in the town. 
Zamora, who first connected with Moreno Sandoval by attending a virtual Indigenous Peoples Day program, has opened her space to Stan State's Indigenous Students in Activism Club as well as the indigenous students' organization from UC Merced. They've weaved baskets and made drums together. She also held a community Dia de los Muertos event and invited community members to create altars. 
She has bigger plans for the space, one that brings together community to create and bond over a shared appreciation for culture, heritage and traditions. 
Something not unlike the ideas behind this year's Indigenous Peoples Day celebration at Stan State. 
"I hope those who attend maybe have more curiosity if they see themselves, have curiosity to learn more about their roots and traditions," Zamora said. "Also, there's a possibility to continue to connect, build bridges and work together. It's about what they take away, and what they can add to." 
The event will include a land acknowledgment ceremony and opening remarks from President Ellen Junn. The land acknowledgement is a tradition at Stan State gatherings, recognizing the unceded land of the original residents of the region. 
"You always respect and acknowledge those who came before," Zamora said.