University Honors Couple During Commencement, with Son Ryan Accepting Citation on Behalf of his Father, One Year After his Passing
For years, Benjamin "Ed" Fitzpatrick and his wife Bertha were regulars at Stanislaus State basketball games. While they were ardent supporters of athletics, they also were known for breaking racial barriers, championing the merits of education and creating opportunities that uplifted people and communities.
On May 28, Stanislaus State and the California State University awarded their highest honor, the Honorary Doctorate of Humane Letters, to Bertha Fitzpatrick and her late husband Ed during the morning Commencement ceremony honoring the Class of 2021.
"Ed's and Bertha's experiences and stories of perseverance espouse the California State University's and Stanislaus State's humane values of diversity, equity, inclusion and social justice," said President Ellen Junn of the Fitzpatricks, for whom the University's indoor sports facility — the Ed and Bertha Fitzpatrick Arena — is named.
"In addition, Ed was the first Black person to serve on the University's Foundation Board," Junn said. "With a large majority of first-generation college students at Stanislaus State, we see the continued need to find champions like Ed and Bertha Fitzpatrick who represent success in overcoming social and economic injustices."
The Honorary Doctorate of Humane Letters is the highest honor conferred by Stanislaus State and the CSU Board of Trustees. To be considered, honorees must have achieved excellence in areas that embody the CSU's ideals and objectives, performed meritorious and outstanding service or their life's achievements and serve as an example of the CSU's aspirations. 
Ed Fitzpatrick was a schoolteacher before he shifted to a career in the automotive industry in 1968. Over time, the Fitzpatrick Dealership became one of the most successful Black-owned car dealerships on the West Coast. The Fitzpatricks established a legacy of advancing diversity in the automotive industry and promoting opportunities for minority and underrepresented populations.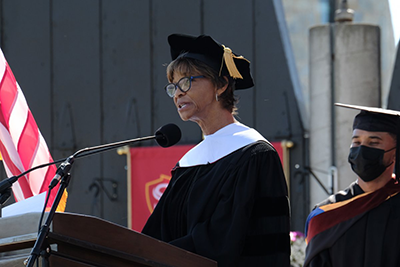 Their successes, however, were not achieved without overcoming challenges that included segregation and being denied equal access to education. During her acceptance speech at the Commencement ceremony, Bertha Fitzpatrick talked about growing up in the segregated town of Wiggins, Mississippi, and being a first-generation student.
"Just like many of you, Ed and I were the first in our families to earn a college degree," she said. "I understand very well the challenges many of you faced and the sacrifices it took for you to get to this point."
Bertha Fitzpatrick graduated in 1965 from an all-Black school for first through 12th grade students. Her father worked as the head cook for a community college near her hometown, but Black students weren't allowed to enroll. So, she left for Chicago to further her education. Two years later, when the community college in Mississippi decided to admit a handful of Black students, Bertha Fitzpatrick was one of them.
Then, a faculty member at the junior college made an offer that forever changed her life. He offered her and all of her siblings an interest-free loan to pay for college. Fitzpatrick accepted and enrolled at the University of Southern Mississippi where she earned her bachelor's degree.
"I share that story because it is an example of the kind people who were in our midst despite the oppression that surrounded us," she said. "Kindness and a generous giving spirit made a huge difference in my life that caused a ripple effect that continues to this day.
"The success Ed and I achieved in business and in life made it possible for us to give back and open doors of opportunity for others. To the Class of 2021: As you start the next phase of your journey, I encourage you to continue to open doors to education and opportunities for others. I promise you; the return is priceless."
The Fitzpatricks' son Ryan accepted his father's honorary citation on his behalf.
"This honorary doctorate is an incredible tribute to him and a fitting legacy," Ryan Fitzpatrick said. "Even in business, he was always looking to elevate those who were unseen. He was in an industry where minority representation was lacking. As such, he made it a point to create opportunities for others and was adamant about creating a playing field that was level."