Stan State Students Paired with Faculty and Staff to Foster Support and a Sense of Belonging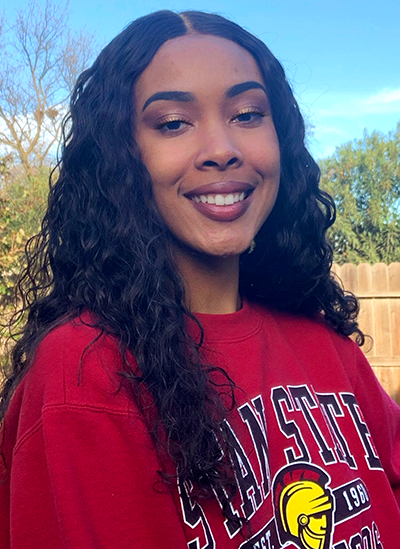 Stanislaus State senior Samantha Johnson works in the Warrior Cross Cultural Center and saw the plans and creation of the Male Success Initiative to improve college outcomes for men of color.
She wanted to do something to benefit fellow women of color.
"My experience at Stan State, and what I've been through, I just wanted something for Black women on our campus," Johnson said.
It's not that the sociology major has had a bad experience. It's just that the Stockton native was surprised to find so few Black students who share and understand her life experiences.
So, last fall, she enlisted Alliyah Johnson (no relation), the current president of the Black Student Union (BSU), and within a few months they created Sistas In Support, which will establish one-on-one mentorships between Black women students and Black women faculty and staff.
Supported by the Black Faculty and Staff Association, the program launched Feb. 23 with "Hot Cocoa Convos," an informal virtual event where students, faculty and staff got to know one another and talk about their experiences being Black women at Stan State.
They have also created an Instagram account and anyone interested can email Alliyah Johnson.
"This program was created to provide Black women at Stan State support and a sense of belonging," Samantha Johnson said. "It is meant to serve as a community between students, faculty, staff and administration and to network and make connections. What I'm hoping is Black women know there's a presence of Black women on campus, and this can be their home away from home."
It was a different home for Samantha Johnson, who lived in diverse Stockton, but similar to Alliyah Johnson's Discovery Bay community, and Brentwood, where she attended high school.
"When I applied to college, it didn't matter what college, I automatically assumed I would see more Black people than I had growing up," said Alliyah Johnson, a junior psychology major who chose Stan State because of its nursing program, its location in a small city and the beauty of the campus. "When I got here it wasn't that there weren't Black people. It's just that we rarely ever see each other. I definitely felt underrepresented."
Each found a circle of friends and faculty and staff who looked out for them. They met in the on-campus residences, where Samantha was a resident assistant and she and her friends introduced Alliyah to the BSU.
By the time Samantha asked Alliyah to help her organize Sistas in Support, Alliyah was BSU president.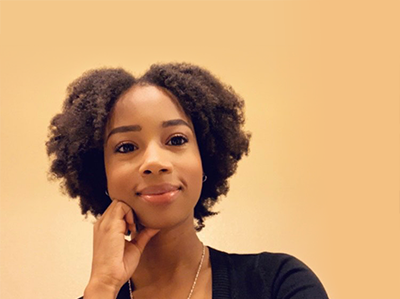 They reached out to Neisha Rhodes, director of presidential initiatives. Rhodes set up a meeting with the director of a similar program at CSU Dominguez Hills.
"We want these programs to be institutionalized," Rhodes said. "We find students who want to do it on their own, but once those students graduate and leave, the program isn't sustained. We're trying to find a way to institutionalize it and get some support for it so it will last when students, faculty and staff transition on."
Rhodes also directed the pair to Jenell Thompson, Stan State Title IV-E child welfare project coordinator, lecturer in the Department of Sociology and the vice president of the Black Faculty and Staff Association (BFSA).
"There was no way I could say no. This is what we do," Thompson said. "We make time, because it's important."
Thompson, a San Francisco native, experienced a similar sense of isolation more than 30 years ago as a UC Davis freshman. She survived the new experience of living with a small Black population by being embraced by faculty and staff who were committed to student success, and through events, sororities, fraternities and organizations that focused on the Black community and Black culture.
UC Davis's Black population was 3 percent when Thompson was a freshman, she said. Stan State's is 2 percent according to Rhodes.
The number of Black Stan State faculty and staff is low, too. There are fewer than 20 full-time African American women faculty and staff members, Rhodes said, but 10 have expressed interest in being mentors, including Thompson and Rhodes.
"I think we're going to find it goes both ways, that it really nourishes faculty and staff and helps students in a way they haven't been helped before," said Rhodes, who graduated from CSU Dominguez Hills and worked there 15 years. That campus had a larger Black population than Stan State.
The credit for the mentorship program largely goes to Samantha Johnson, but she is grateful to others.
"This idea never would have come about without previous Black students who paved the way, such as creating a BSU on campus," Samantha Johnson said. "This is an extension of what they did. The idea is just doing more for our students of color."
This will help.
"Programs like this are critical for us and the work we do as faculty, staff and administrators, because we have to be connected and know and understand our students in order to provide services for them," Rhodes said. "We need to know and understand what our students' experiences are like, so we can improve them and develop policies, processes and procedures that help support their success."
Thompson sees another value in mentorship.
"It is critical to the success of our students," she said. "And it creates bridges for future students to be interested in Stan State."