Note: This article is part of the StanGrad series highlighting Stanislaus State students who are part of the Class of 2017. Read more StanGrad profiles.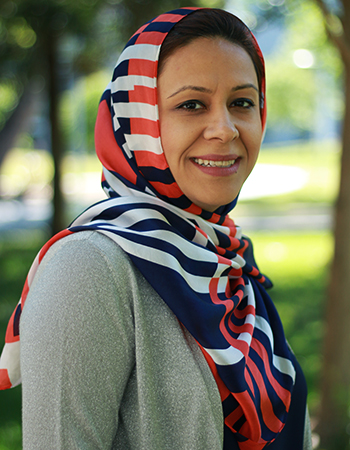 Shokoufeh Jashnani earned a Bachelor of Science in Nursing from her native country of Iran, but she sought out Stan State to help her achieve her ultimate professional goal of becoming a nursing instructor, for which she needed a master's degree.
"In order to advance my degree, I decided to become a student in the U.S.," Jashnani said. Not only did Jashnani take volunteer nursing jobs while she worked on her English and studied for the nursing license exam (which she passed), she held a full-time position as an RN in a local, long-term acute care facility while she worked toward her master's in nursing.
The whole time, Jashnani focused on her English skills.
"She has struggled to write at the level required by our masters program," Dr. Carolyn Martin said. But Jashnani persevered. "She never let her writing and language barriers get in her way. Instead, she utilized University resources and continuously fought to improve her writing."
She was nominated to be the School of Nursing Graduate Standard Bearer for the 2017 Commencement.
Working as an RN and pursuing her degree simultaneously gave Jashnani a fresh outlook on learning. She was able to immediately see the benefits of her education and apply some of the concepts she was leaning as a student toward her work.
"To students who are not working as a nurse, this might not apply yet, but they will see the benefit later when they are starting to work in nursing," Jashnani said.
Even though Jashnani is far from her hometown, she doesn't intend on leaving the region anytime soon. She notes the nationwide shortage of both working nurses and nursing educators.
"No matter what kind of degree you get in the field of nursing, it is going to be used in hospitals, universities and colleges," she said.
Her specific goals are to be a clinical instructor at the university level, or to become a nurse educator in a hospital.
"I do not plan to leave this region anytime soon, and I encourage all students to do the same."
---
#StanGrad File
Degree/Credential
Master of Science in Nursing with a concentration in nursing education
What memories stand out most from your time at Stanislaus State?
"I have lots of good memories from Stanislaus State, but the best one was the time I attended the Western Institute of Nursing conference at Disneyland in 2016. This conference taught me how important it is for someone to gain knowledge and learn new ideas in the field of nursing. Additionally, this conference was a great opportunity for me to connect with my peers and professors."
Which faculty or staff member had the greatest impact on you, and why?
"Dr. Carolyn Martin supported me in every way she could and helped me with a lot of patience and kindness in my master's program. I do believe without her support I would have not have been able to achieve what I have in my master's program. I learned a lot from her and she has truly become my role model. When it comes to teaching and caring for students, she was one of those professors that did not quit until she knew you understood the subject very well. I also would like to thank Dr. Marla Seacrist for her help and patience."
What advice would you give to current and future students?
"Since I was not a native English speaker, and I was a little shy at the beginning, I had to work harder. I recommend to future students: Don't let little things discourage you. You will overcome all these obstacles quickly. Think positive and believe in yourself."