Capital Planning and Facilities Management Receives Sustainability Leadership Award
The Capital Planning and Facilities Management team's work was recognized at the Sustainable Facilities Forum on May 25. Geng Liu, Stan State's energy manager, accepted the Sustainability Leadership Award on behalf of CPFM for their work on the campuswide LED lighting conversion and Student Center roof photovoltaic array. 
The LED lighting conversion entailed the custodial team replacing 11,650 T8 fluorescent 32W lights with 12W LED lights across campus. Liu credited the custodial team's diligence and coordination for the successful completion of the massive project. They came before classes and office hours to switch out lights, seamlessly transitioning spaces' energy efficiency and quality of light.  
Electricians followed up to repair or replace bad or noncompatible ballasts and address minimal campus concerns with flickering lights and humming fixtures. Liu said the success of the project was due to the ongoing teamwork among the project lead, the different crews and campus community. 
The LED lights consume one-third of the energy of the fluorescents they replaced. The completed light conversion creates a savings of 1,063,158 kilowatt-hours (kWh), enough energy to power 99 average American homes for a year. This adds up to a savings of $127,579 in energy costs annually.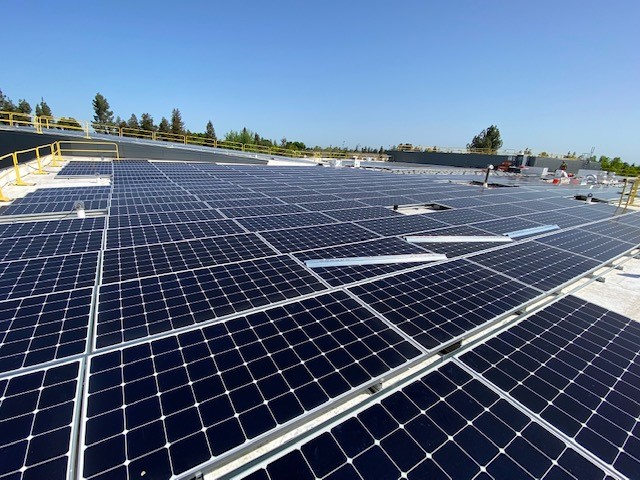 The solar panel installation on the Student Center produces approximately 759,557 kWh annually, a carbon footprint equivalent of 146 tons, enough energy to power 71 average American homes for a year. The project has an estimated energy savings of $91,147 annually, not adjusted for future rate changes. The Student Center solar project was approved and funded by Student Center construction funds.  
The Sustainable Facilities Forum's annual Leadership Awards recognize state and local government, schools and college/university projects in California. The projects must have a measurable benefit to the natural or human environment.  
CPFM was invited to present at the Modesto Chamber of Commerce's inaugural sustainability symposium, "From the Ground Up" on Wednesday, June 29. Stan State's Julia Reynoso, associate vice president of capital planning and facilities management, will present on water conservation systems.