Mary Roaf and Sarah Bissonnette come from opposite ends of the world, have unique life experiences and teach in different disciplines, but they share a passion for Stanislaus State students and teaching. Both were honored with the 2021 Elizabeth Anne B. Papageorge Faculty Development Award, which is named for the Emeritus Professor of Education, recognizes and encourages outstanding achievement, primarily, but not limited to, teaching, by a probationary faculty member at Stan State. 
Sarah Bissonnette
Assistant Professor of Biology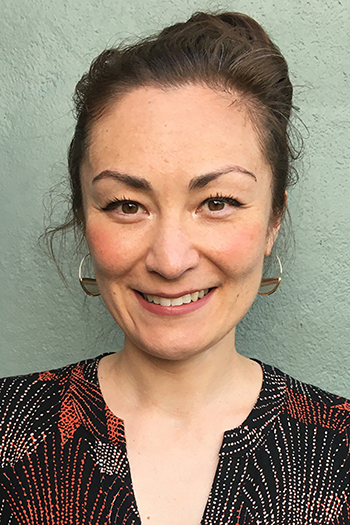 The biological sciences professor, the daughter of a Japanese American mother and French Canadian father who met in Japan and raised their two children there, moved to the United States as a college freshman and has pursued educational pursuits ever since. 
A graduate of UC Berkeley, she considered teaching high school through an Oakland-based program similar to Teach for America, but when she was accepted to Massachusetts Institute of Technology for graduate school, she went to Boston, earned her Ph.D. and did post-doctoral work at UC Berkeley and San Francisco State University, where, she said, "I had my most formative educational experience, by far." 
She researched biology education, studying to what extent students apply their molecular biology knowledge to real-world problems, like cancer. 
"Do students draw from their formal academic knowledge, or do they draw from their more intuitive knowledge?" Bissonnette said. "The work I did at San Francisco State changed my mind about what could be done and what research was." 
Her time at San Francisco State also introduced her to the California State University system and a faculty position in the biological sciences department opened at Stan State in spring 2017. 
"It felt like they had written the job description for me," she said. "They wanted someone with expertise in biology education and/or molecular biology research and someone to teach Biology 1, which is exactly the class I'd been teaching at San Francisco State and exactly my research expertise." 
As a child, Bissonnette was infatuated by cells and the proteins inside them, "little machines that make everything run," and in high school dreamed of finding a cure for AIDS. 
"I wanted to help people," she said. "Then I realized in my research career, I probably wasn't going to find a cure for AIDS. The basic research I was doing was more about the fundamental mechanisms of biology than how it directly impacts or helps people. 
"Because I always came from, 'how can I help the most people,' at a certain point I realized that the way I can do that is to be the best teacher I can be. My driving aspiration is not making discoveries, the way it is for other scientists. I found the most value in helping other people do that." 
She not only leads students in research projects — a collaborative study with Psychology Professor Victor Lueveno for biology and psychology students is waiting for a return to campus — she also is helping future educators. 
She's invited former students to serve as learning assistants in her lectures to help students in those courses work through problems and questions using a discussion-based active-learning style. 
"It's great practice for those who want to teach," she said. "I have one former learning assistant who wants to be a high school biology teacher. Another who wants to be a community college professor. Another who wants to be a biology professor at Stan State. It's great to have current undergraduate students thinking about how to be better teachers." 
It something Bissonnette understands. It's something she strives for every day, because Stan State students, she said, deserve nothing less. 
"It's such an honor to win this award, but I was conflicted, because it's been such a hard time for so many of our students. So many of our students work 20, 30, 40 hours a week to support their families, and employers and families sometimes think because it's remote learning, it's not really college and they can watch their classes any time. This semester my students have struggled the most. It's important for all of them to know their grades this year don't define them. They are going to be defined by how they got through this, how they use this experience to demonstrate how strong they are."  
Mary Roaf
Assistant Professor of Ethnic Studies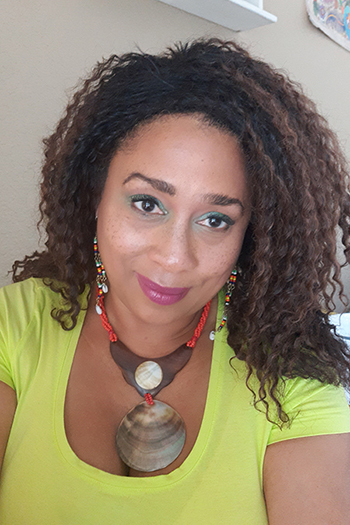 That she would end up not only on the Stanislaus State faculty teaching ethnic studies but honored with the Elizabeth Anne. B. Papageorge Faculty Development Award is not something Mary Roaf could have imagined. 
"I really appreciate that Stan State has built the opportunity for non-tenured faculty in the first five years of their tenure here to be recognized," Roaf said. "It is an award designated for teaching. 
"To me, that includes all the different aspects of what I do to contribute to my teaching. It's looking at what I'm doing in the classroom as well as looking at my other service." 
Though completing her third year at Stan State, Roaf has fully lived the life of an educator, starting as a seventh-grade teacher in 1993 and working in K-12 schools as a teacher and administrator in Washington, D.C.; Philadelphia; her home state of Arkansas and Arizona. She collaborated with Johns Hopkins University while working with Valley of the Sun United Way, a nonprofit organization in Arizona, intervening with potential sixth-through-ninth grade pushouts based on research that showed those to be the most critical years to graduating from high school. 
"I never intended to be a full-time academic," Roaf said, "I intended pursuing the terminal doctorate degree to inform national education policy and I kind of created my own pathway. I pursued a doctorate of applied anthropology and education, because I was coming with so much experience when I decided to start my graduate education journey." 
It led her to a teaching post at Northern Arizona University and in 2018, to Stan State. While teaching always has been and will be her priority, her contributions to Stan State don't stop there. 
Roaf is the events coordinator for the Black Faculty and Staff Association, a space where she feels "fully seen, fully heard, fully understood and fully supported." She was invited by Vice President of Student Affairs Christine Erickson to be on Stan State's team in the CSU Middle Leadership Academy, which chose Black student recruitment, retention and success as its mission for the 2020-21 academic year. 
Roaf and her ethnic studies colleagues have met since the fall with an ad hoc committee to best implement AB 1460, which will require all incoming freshmen beginning in fall 2021 to take an ethnic studies course to graduate. 
Roaf has planned and spoken at many workshops, including one this spring on graduate education. Some of the participants, graduate students of color, are continuing to meet in support of one another and Roaf said she has much to share with them as a former, long-time graduate student. 
That she finds herself planted in Turlock isn't such a wild stretch, Roaf said. 
"Where I grew up, in Pine Bluff, Arkansas, is similar to Turlock and the Central Valley in many ways," she said.  
"It's agriculturally based. It's largely African American. The migrant workers here are largely Mexican, Filipino and some African Americans due to migration. In my community, I was descended from people who were enslaved to work the land, and they were sharecroppers. My father — who met his wife, a future federal judge, while on an academic/athletic scholarship at Michigan State — was a sharecropper." 
What she found here made her want to stay. 
"It's the students," Roaf said. "What I appreciate is they're very receptive and very hungry to learn. They're very invested in connecting academic intellectual content to who they are and to their lives personally and professionally in really holistic ways. It goes beyond primarily learning content as an academic exercise to earn a good grade and then you're done." 
Learning for the sake of learning is an approach a life-long scholar like Roaf appreciates.