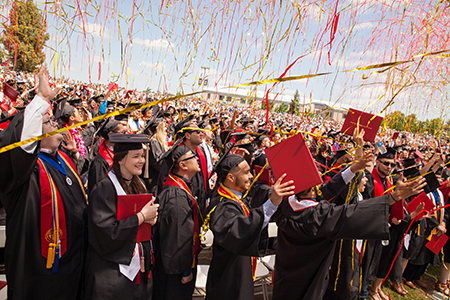 The largest graduating class in Stanislaus State history was honored during three commencement ceremonies May 25-26, as the University renewed the tradition of inviting
keynote speakers
to inspire the graduates.
Addressing all three ceremonies, which honored the 3,022 receiving degrees or credentials, Stanislaus State President Ellen Junn urged the graduates to heed the lessons of their heads, hearts and hands as they go forward in life.
"The head symbolizes the mind," Junn said. "The most successful people believe that their minds will continue to grow. The heart symbolizes gratitude. Recent studies have shown that the act of showing gratitude reaps both psychological and physiological benefits in your life. And your hands symbolize the act of giving back and serving each other with kindness. Find something you love outside of yourself and volunteer."
Brittney Silveira (B.S., Business Administration) received the Geiger-Metzger Student Award for highest undergraduate grade point average. Tatiana Olivera (B.A., English) was given the J. Burton Vasché Award, presented to the graduate who displays the highest standards of leadership, service and scholarship, and Elmano Costa, a professor of teacher education, was honored as Outstanding Professor.
On Thursday morning, graduates from the College of Business Administration and College of Science were addressed by Foster Farms President and CEO Laura Flanagan, and the graduate and credentials ceremony that evening featured George Boodrookas, the dean of advancement at Modesto Junior College. Friday morning, graduates from the College of the Arts, Humanities and Social Sciences and the College of Education, Kinesiology and Social Work were addressed by Robert and Kim Ulrich, a successful Hollywood couple that married shortly after graduating from Stan State.
Flanagan encouraged the graduates to never forget their roots and urged them to speak out.
"Remember where you came from and never forget to continue to nourish your roots because that will allow you to blossom," Flanagan said. "As you blaze your trail I urge you to speak out and let your feelings be known. But always remember that dialogue is better than monologue."
Student speaker and business administration graduate Brittney Silveira, who also received the Geiger-Metzger Student Award, reminded her fellow 2017 graduates that a diploma, while only made of paper, is a ticket to the future.
"This paper represents countless hours of studying to make it here today," Silveira said. "Sleepless nights, energy drinks and thousands of hours in the classroom, forging some of the strongest friendships we'll ever have."
Boodrookas, who earned his master's and doctorate from Stan State, emphasized the importance of personal stories.
"The stories of others impact and inspire us to act, and if we're attentive we find guidance in our own story and those who help us create it," Boodrookas said. "I used my own story and those of my peers to craft my research study. My story has inspired my work and my research has inspired my story."
Student speaker Alyssa Long, who received her teaching credential, expressed her pride for the accomplishments of her fellow graduates.
"We fought for a dream to become exemplary leaders and to become more in every definition of the word," Long said. "I'm proud of you and I'm proud of us. Now I challenge you to be the more you always wanted to be."
On Friday morning, student speaker Jonathan Walters (B.A., English) drew heavily on his own experiences growing up poor in Southern California.
"I showed up at Stan State with a backpack, a dream and no financial support from my family," he said. "And one of the main things I took from college is that the university experience allows us to understand how to take falls in life and how to get back up."
Robert Ulrich, an Emmy-winning casting director who grew up in Stanislaus County, used lessons from his own career to inspire the graduates.
"I had to follow my heart, which was to be an actor," he said. "I tried for six years to become an actor in New York, and I failed. But I had no regrets because I had tried. The only thing that can stop you from doing what you really want ... is you."
Kim Ulrich, an actress with more than 60 television credits, expounded on the wisdom expressed in the Dr. Suess book "Oh, the Places You'll Go."
"Say yes to the adventure," she said. "Say yes to all the trips. Take the job that scares you and challenges you. You're young. Take chances. Treasure the adventure."
To read more about some special members of the Stan State Class of 2017, visit our #StanGrad page.