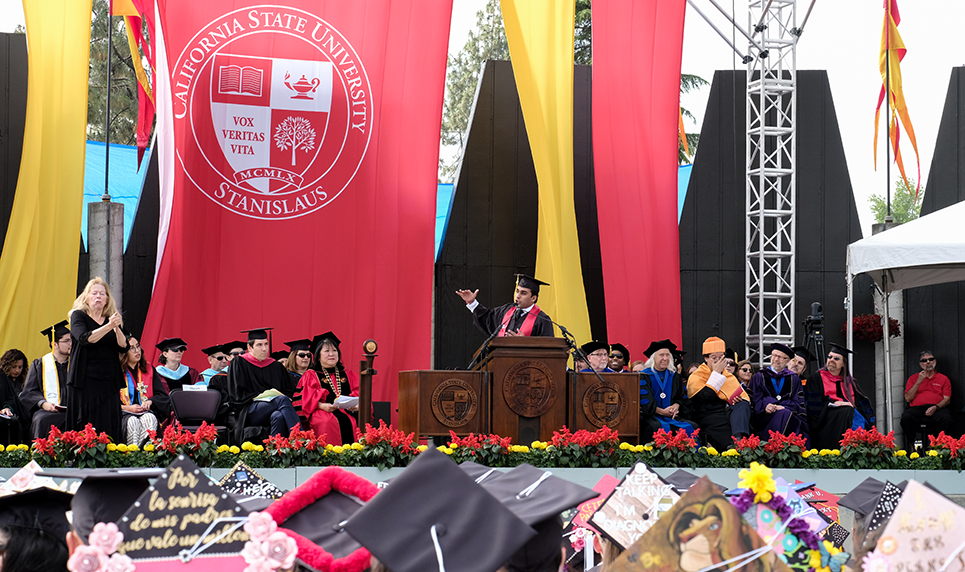 The paths for 3,562 graduates from Stanislaus State converged at the three commencement ceremonies held at the University Amphitheater on May 23-24, and under seasonably cool skies they were encouraged to embrace what they've learned from their journeys so far as they embark toward their futures. 
"The knowledge and skills you have gained in college, coupled with your own very personal journey of struggle, hard work and perseverance, now enables you to tell a very compelling story of your own achievement and accomplishment to share with your future employers," said Stan State President Ellen Junn to the University's 59th and largest graduating class. 
"Be proud. Be honored to say who you are, where you came from, and how you got here! Dream big. Be brave, and don't ever be afraid to talk about what you aspire to accomplish in the future!" 
The importance of supporting education and embracing life-long learning was a recurring theme among the commencement speakers, a group that included Congressman Josh Harder, labor and civil rights activist Dolores Huerta and businessman Edwin Rizo. 
"We know that countries that invest in education offer their citizens the highest standards of living and a more inclusive form of government," said Rizo, a native of Nicaragua who founded and serves as president of Modesto-based Rizo-Lopez Foods. "Similarly, we know that the best way to address poverty and inequalities in our Central Valley is by investing in education, and those among you who will be entering teaching professions and social work have my undying gratitude." 
Huerta, who was raised in Stockton and co-founded the United Farm Workers with César Chávez, praised the students, the region and the California State University system for being a catalyst of change. 
"You are the luckiest graduates of all because you are graduating from a state school here in the San Joaquin Valley of California," Huerta said. "I am so happy I was raised in the San Joaquin Valley. We are so fortunate because we are able to grow up and go to school in a very diverse and ethnically different population." 
Harder addressed the Friday morning graduates from the College of Science and had the honor of awarding a Class of 2019 diploma to his younger brother, David Harder. Congressman Harder, who graduated from Modesto High School and taught at Modesto Junior College before entering public service, encouraged the graduates to stay close to home and make a difference where it's needed most — the Central Valley. 
"Stan State is a magnet school for people who want to work hard and get things done," Harder said. "The Central Valley is about the only place in this state where it's affordable to live and raise a family. It means we're growing fast and that the Valley is going to look much different in 15 years than it does today. I want every one of you to work hard to make your Valley a better place. I want you to stay here and give back to the communities that taught you to work hard." 
During the ceremony on the morning of Thursday, May 23, Dorothy Bizzini received an honorary Doctorate of Humane Letters in recognition of a lifetime of supporting education throughout the region. Bizzini, who with the exception of one year has attended commencement ceremonies at Stan State every year since 1965, told the story of her family losing everything during a 1930s Oklahoma tornado, and the journey of rebuilding through hard work and education. 
"I believe in all of you and I know you can do it," said Bizzini. "Because if someone like me, who woke up one morning to see her world literally blown away, can go on to be a success because of education, then you can too!" Click here for more of Bizzini's story. 
Student speakers Linda Hayden (business administration), Emily Yonan (political science) and Gurjoban Hayer (biological sciences), greeted their classmates with the common tales of college life, mixed-in with some peer-to-peer words of wisdom. 
As is the tradition at Stan State, several awards were handed out during the ceremonies. 
Dr. Kurt Baker, professor of psychology, was honored as the Outstanding Professor for 2018-19. 
Maria Marquez, communication studies graduate and ASI president, and Jenna Pablo, a psychology major with a minor in sociology, were presented with the J. Burton Vasché Award, presented to graduates who display the highest standards of leadership, service and scholarship throughout their college years.  
Scott Contreras, a mathematics major and honors program student, earned the Geiger-Metzger Award, presented since 1970 to the graduate with the highest undergraduate grade-point average in courses completed at Stanislaus State.