Note: This article is part of the StanGrad series highlighting Stanislaus State students who are part of the Class of 2017. Read more StanGrad profiles.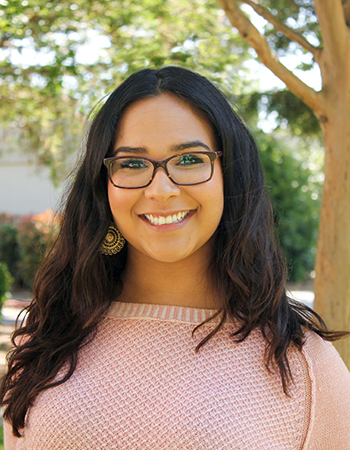 If you ask Raquel Gomez how she found success in agriculture, she'll tell you it's because she decided to be successful.
"Life is about choices and what you make of it. I chose to be successful, so I was. Mind over matter," Gomez said.
There was a time when Gomez thought her Central Valley roots would hold her back, that coming from this area somehow hindered her chances at getting into a horticulture graduate program. When she started looking at her applications, however, Gomez realized how many meaningful experiences she had at Stan State. During her undergraduate studies, Gomez served as Agriculture Ambassador President, attended a USDA conference trip and completed a UC Extension internship.
"If we take a minute to allow ourselves to try — instead of going straight into thinking something is not possible — we can achieve anything," Gomez said. "My plan is rather ambitious but I have no doubt I will attain it. My Stan State degree is only the beginning."
After receiving her master's of science in horticulture, Gomez plans to pursue a doctorate and eventually teach horticulture at the collegiate level.
"It would be a dream come true to be able to come back to my alma mater and give back to the University that gave so much to me. Stan State was the beginning for me and I would love to one day have the opportunity to teach and mentor students here. Although I am moving on to a different school, the Warrior spirit will always be in me."
And Gomez doesn't take that Warrior pride lightly, adding that every Stan State grad should show pride in their Turlock roots, and boast about their experiences at the University.
"Every Stan State grad is shining a light on our University and putting Stan State on the map. Make us proud!"
---
#StanGrad File
Degree/Credential
Dual Bachelor of Arts in Agricultural Studies and Spanish
What memories stand out most from your time at Stanislaus State?
"I have been incredibly fortunate to find my niche within Stan State's Agriculture Department. I think most of all I will remember how well we all worked together and how much we enjoyed what we were doing. I absolutely love my department and that is something that will stay with me forever."
Which faculty or staff member had the greatest impact on you, and why?
"I have two professors that greatly impacted me, Dr. Odeh and Dr. Zavalloni. Dr. Odeh, with his cool demeanor, will give out inspirational/motivational speeches at any given time of the day. He is the person to talk to if you need some direction. On the other hand, Dr. Zavalloni is silly, demanding and passionate. She is a very small woman but she has a huge personality. Her passion for what she does shines through in her work and it is contagious."
What advice would you give to current and future students?
"Get to know your professors and share your career goals with them because they want to see you succeed! Dr. Odeh and Dr. Zavalloni nursed all my insecurities about pursuing a graduate degree and helped me get on the right path. I will be forever grateful to them for all their support and encouragement on my higher education journey."