Day of Activities Inspires Higher Education Goals for Young Men of Color in the Central Valley
They began the day donning new shirts that proclaimed them Future Warriors, they shouted "Go Warriors" with President Ellen Junn, and many of the 41 high school students participating in the Project 1300 Summer Academy left with a newfound appreciation for Stanislaus State. 
The week-long institute, co-hosted by Stan State and UC Merced, is a component of the 1300 Campaign, an initiative that aims to send an additional 1,300 young men of color to the California State University and University of California in the next five years. Stan State and UC Merced announced the partnership earlier this year.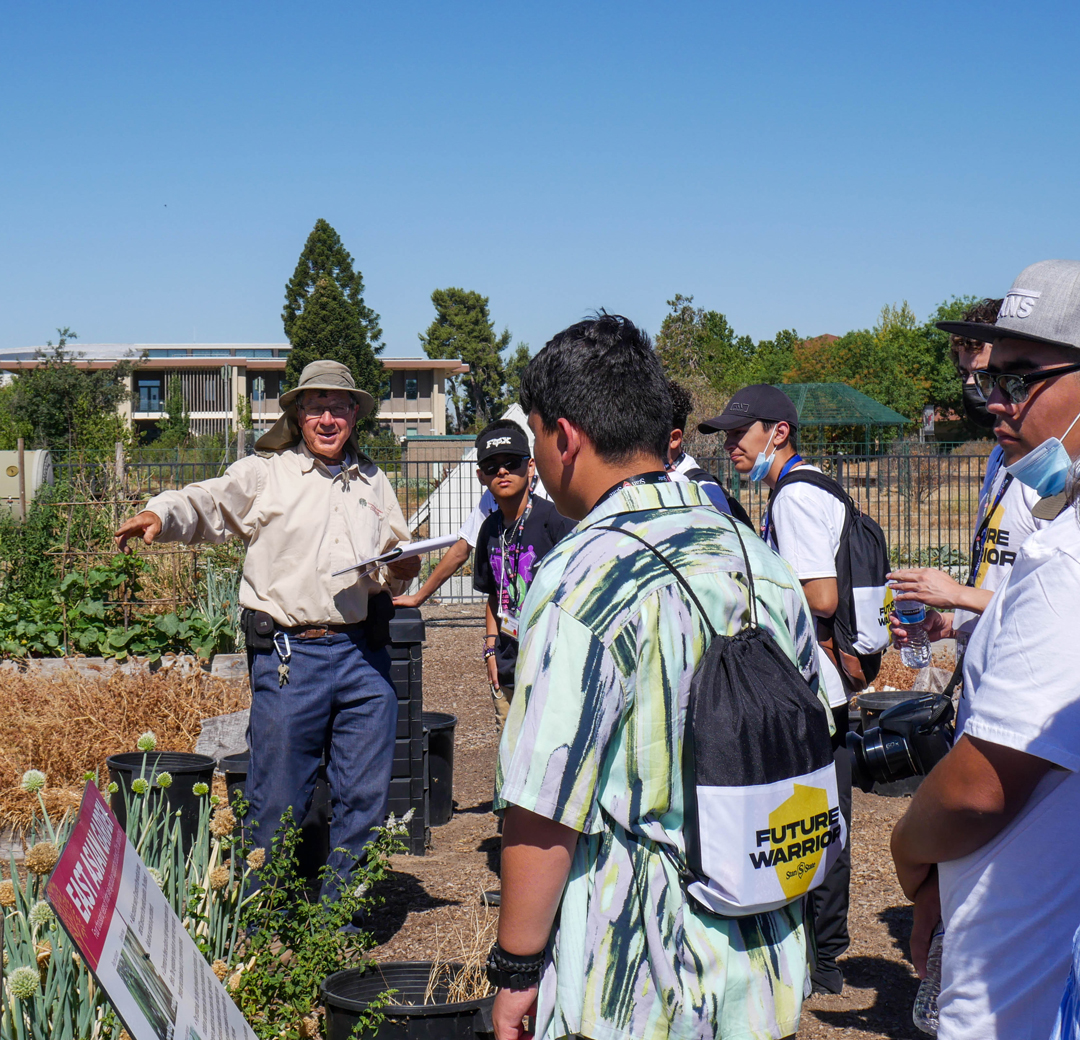 The summer academy with the two institutions, during which the students were housed on UC Merced's campus, included a daylong visit to Stan State on Thursday, June 30. 
Though the visit to the Stan State campus was organized largely by Warrior Cross Cultural Center Director Carolina Alfaro and Male Success Initiative Coordinator Miguel Jimenez, participation from other campus stakeholders made it possible, Jimenez said. 
"We want you to envision yourselves as future college students, future college graduates and, ideally, coming here to Stan State," Junn said during her welcome to students. "We are here to help you do so. We value you and honor you." 
Stanislaus State Stockton Campus Dean Faimous Harrison empathized with students who didn't know what they wanted to do. He didn't know at their age, either. He only knew he wanted to be "more than a statistic." He went to college and found mentors who guided and supported him as he looked to repay his hard-working mom by getting an education. 
The students all raised their hands when he asked if they cared about their families. 
"One thing that's very unique about Stan State is that Stan State is a family," Harrison told them. "Every single person that is part of this institution, faculty, staff, students, any of us, we all want every single student to succeed. We all recognize that your success is the institution's success." 
He encouraged them to take in all they would see and hear, keeping in mind an entire community of support awaited them. 
The morning started with students touring the Stan State Sustainable Garden with the agriculture department's garden specialist Martin Hildebrandt. They also made cells in a biology lab and saw some of the College of Science's live animals, including turtles, snakes and rare axolotl salamanders. 
"I've always loved animals," said Jordan Jackson, who will soon start his senior year at Modesto's Downey High School.  
Jackson hasn't put much thought into college but seeing the animals may have inspired him to pursue higher education and fulfill a dream of working as a veterinarian or zoologist. 
Anthony Aguilar, a junior at Livingston High School, appreciated learning about different biological sciences. 
"I am really interested in environmental conservation and the field of biology," Aguilar said. "I think one of the best ways to do that is to get my education first." 
He's getting encouragement at home and at school. UC Merced has an outreach program to Livingston and other high schools that Aguilar has been involved with. 
His mom is a Stan State alumna who earned a degree in liberal studies and is an elementary school teacher. 
Aguilar was one of the few students in the summer academy who had ever been on the Stan State campus. His brother played in the jazz festival here. 
He and his fellow summer academy cronies got a full tour. 
"It's nice and big, beautiful," said Aidan Ybarra, who is about to enter ninth grade at LeGrand High School. "It's a very nice campus, full of life and enjoyment." 
Artistic and tasteful is how Isiah Ramirez, a junior from Merced's Golden Valley High School described Stan State. 
He was particularly impressed by the outdoor sculptures, part of the campus' art in public places, which isn't surprising given his areas of interest. 
He could see himself studying "video design, filmmaking and singing and acting. Basically, anything artistic," Ramirez said. 
The Project 1300 Summer Academy presents various fields of study to explore, among other things. 
"The biggest thing I will take away from this experience is the new opportunities in life that are open to me," said Ybarra, the soon-to-be freshman at LeGrand. "I see everything that is out there, seeing the classes, seeing what they teach and what they show you." 
Liam Liu, a 10th grader at Merced High, enrolled in the summer academy to be with friends, but after getting to hold a snake and see other critters, he seemed more excited to follow his parents' dream for him to go to college. 
"I thought college would be just more schoolwork, but it's more than that," Liu said.  
College seems more tangible for Alejandro Carbajal, a senior at Pacheco High School in Los Banos, who has thought a lot about college and enrolled in the summer program to learn more. 
"I was thinking college was something that wasn't accessible to me because of the cost," Carbajal said. "Once I started looking into it, I could see how much help you could get. I know it's possible.  
"I can envision myself in college."