The Stan State Leader Anticipates Finishing Seven-Year Tenure with Hard Work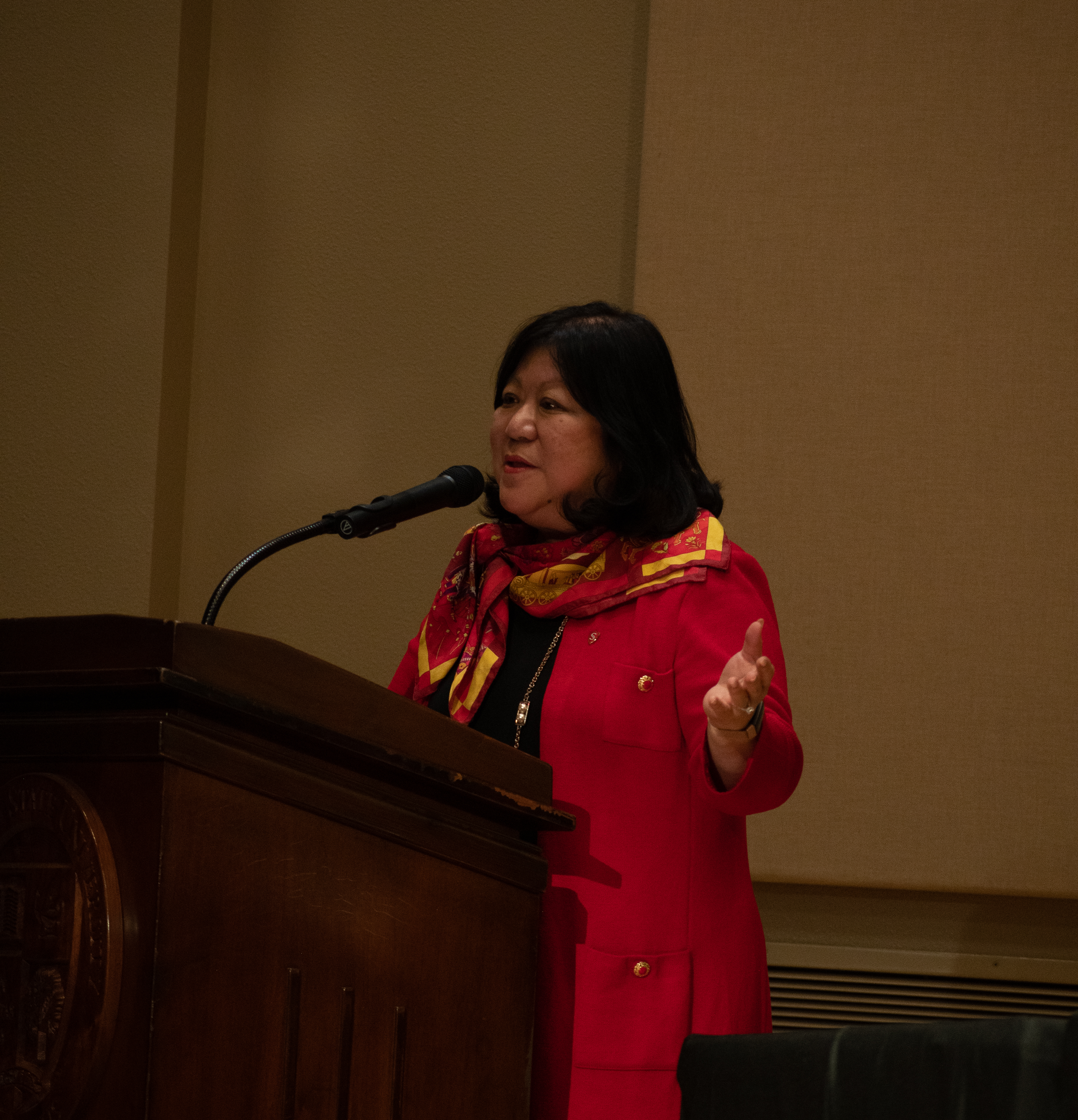 Showing off Warrior colors with her red blazer and red and gold scarf, Stanislaus State President Ellen Junn delivered her final spring address to the campus on Friday, drawing warm applause and a standing ovation from students, administrators, faculty, staff, alumni and community members who gathered in Snider Recital Hall. 
Despite announcing she will step down after the current academic year after seven years as Stan State's president, Junn focused the annual welcome for the spring term, not on herself, but on the University's accomplishments and what lies ahead. 
As she traditionally does, she welcomed members of her Cabinet to spotlight the work going on their respective divisions, but Junn did take a few minutes to reflect on her tenure as Stanislaus State President. 
"It has been the greatest privilege and honor of my life to serve this amazing, remarkable institution for our students, our faculty, our staff and our alumni, who are the heart and soul of our University," Junn said. "During the next six months I will continue to lead Stan State with the same level of commitment and energy and enthusiasm, and maybe even more, because my term is ending. I know you will join with me and our campus leaders to enthusiastically continue our all-hands-on-deck work to support increased enrollment and enhanced student success. 
"We have achieved so many milestones and achievements together in the last seven years, and there's still work to do. I know we will be successful in reaching our goals, because we have an exceptionally talented, cohesive and highly functioning Cabinet and strong visionary leadership teams within each division. Your combined talent along with our outstanding faculty, student and staff leaders will continue to move our campus forward." 
With that she allowed Cabinet members to share details of their unit's undertakings. 
Among the highlights was the announcement that came during the question-and-answer session, that Main Dining is scheduled to re-open in the fall to provide more food options at the Turlock campus. 
Vice President for Student Affairs Christine Erickson drew an enthusiastic response as she talked of increased services and staff at the Stockton Campus and lauded the growth of Basic Needs, which began with a one-person director in 2019. It now has an eight-person staff and has raised $5 million to serve students in need since its formation. 
Provost Richard Ogle explained reorganization plans and said a search is underway for an associate vice president for Academic Affairs who will oversee the programs currently under the Division of Strategic Planning, Enrollment Management and Innovation. Vice President Gitanjali Kaul, currently leading that division, is stepping down to return to the classroom, which explains the timing. 
Ogle also mentioned the hiring of Aubrey Priest as the first executive director of the newly created Innovation and Workforce Development Hub, to be housed in Stockton and shared highlights from each college. 
He noted that a spring address traditionally focuses on big plans for the upcoming semester, but said, "The most important initiative this spring is the daily ongoing opportunity to provide a transformational educational experience for our students and doing that by supporting faculty and staff in the work they love and the work they do well." 
Interim Senior Associate Vice President of Human Resources, Equal Opportunity and Compliance Paul Norris also spoke of reorganization in his department and the establishment of a senior leadership team to provide better service. 
In addition to creating that team, Norris is excited about naming 24 new Title IX Compliance Liaisons, with the goal of having more than 50. 
"They don't coordinate or administrate," Norris said. "They'll act as information beacons for those who need information." 
Information about every department was shared, and Junn took it all in, celebrating those who have served since her 2016 arrival. 
"I am deeply grateful to be a part of our dynamic campus community that moves with compassion, excellence and integrity," Junn said. "I am indebted to the leadership, friendship, vision and dedication of our campus community, board members, advisory members, elected officials, community-based organization leaders, fellow presidents and chancellors, business leaders, K-12 education and social service agencies who have all been vital partners in supporting Stan State and our students. 
"My heart is full of pride at how hard everyone has worked to position Stan State for an even brighter future, even during the darkest days of COVID. I know that all of you will continue to harness your passions and lead the University to even more exciting new heights in the future.  
"My husband, Allan, and I thank you for making this journey a priceless and life-changing experience for both of us. I will always cherish Stan State and everyone who cares about this remarkable campus."