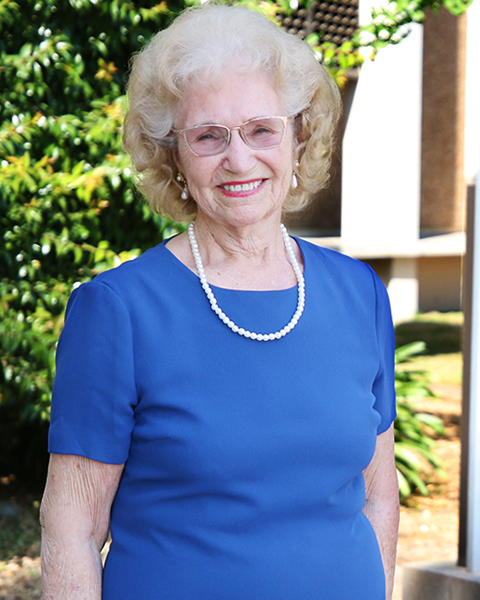 After nearly 60 years of standing to honor Stanislaus State graduates, Dorothy Bizzini will be the person singularly honored during Stanislaus State's 2019 commencement ceremonies.
The long-time Stan State benefactor and supporter of all things academic and athletic, Bizzini — who has attended all but one Stan State commencement since the first on-campus ceremony in 1965 — will be presented with an honorary of Doctorate of Humane Letters.
"I feel completely honored, and I've never had any experience like this," said Bizzini, whose honorary doctorate will be bestowed on Thursday, May 23, during the 9 a.m. commencement ceremony for bachelor's and master's graduates from the College of the Arts, Humanities and Social Sciences. "My four kids are so excited and they're all planning on coming."
A Central Valley native and graduate of Gustine High School, Bizzini is an advocate, humanitarian, philanthropist, former registered nurse and business owner, overseeing Atwater/Merced Veterinary Clinic, Bizzini Investments, Bizzini Properties, and Dorothy Lee Apartments. She is married to Dr. E.W. (Bill) Bizzini, a retired veterinarian. Both were the first in their families to earn a college degree. Bizzini holds a Registered Nursing Diploma from Sacramento Junior College and a B.A. in Nursing Education from California State University, Sacramento.
The Bizzinis have made generous gifts and invested significant time in support of higher education. To date, they have offered million-dollar gifts to Stanislaus State, UC Merced and Merced College. The former Classroom Building at Stan State, one of the original two buildings on campus, was renamed Bizzini Hall in the couple's honor, and they recently agreed to chair Stan State's $1 million fundraising effort for athletics scholarships.
What really has brought Dorothy Bizzini the lasting admiration and gratitude of generations of Stan State alumni, however, is her annual presence at commencement. When asked if there was one single moment from all of those ceremonies that stands out for her, she didn't hesitate to answer.
Years ago, Bizzini noticed that there were eight retired school teachers attending her church, so she organized them into a group to volunteer teaching young Atwater elementary students to read at a church-based afterschool program.
"We had 35 students from one school in that class," she said. "We talked to them about the importance of being able to read and how reading was the gateway to success. Those kids came to our sessions for three years. Those kids could read and they got their homework done."
Four years ago, during a commencement ceremony, Bizzini received the best possible thank you for her efforts in Atwater.
"I always sit on the platform close to where the students walk past," she said. "And one young graduate saw me, walked right up and as he gave me a hug, he said, 'Thanks to you, I can read.' He was one of my kids! I was so proud."
Bizzini's love of education came naturally — through her early years in the Oklahoma Dust Bowl and her Central Valley upbringing.
Their family farm in Oklahoma, including their home, was destroyed in an instant by a tornado. Her father worked jobs at nearby farms to save enough money to move the family to Gustine, where her grandparents already lived. Her father took a job at a Borden plant, all the time preaching the importance of education to his children.
She earned a scholarship to attend Sacramento State and earned her degree in nursing in 1958 while Bill Bizzini studied veterinary science at UC Davis, eventually becoming a veterinary physician and opening his own animal clinic. Dorothy Bizzini assisted her husband as the two were building the practice. Eventually, after hearing an advertisement for a book on how to make money in real estate, she ventured into that field with great success.
Through it all, the Bizzinis never have wavered in their commitment to supporting higher education through their gifts of time and money — in addition to their regular presence at Stan State basketball, baseball and softball games and on-campus track and field meets.
"We're very fortunate to be a part of the University," she said. "When we go to the games I just love sitting there talking to the kids. I'll introduce myself and the kids will recognize our name from the building on campus."
Now, Dorothy Bizzini will have another reason to be remembered at Stan State and across the region, and the Bizzini household will include one more doctor.
"I know these honors have been given to a very distinguished group of people," she said. "For me to be able to receive it is more of an honor than I can understand."