Doctoral Candidate Awarded a Congressional Black Caucus Scholarship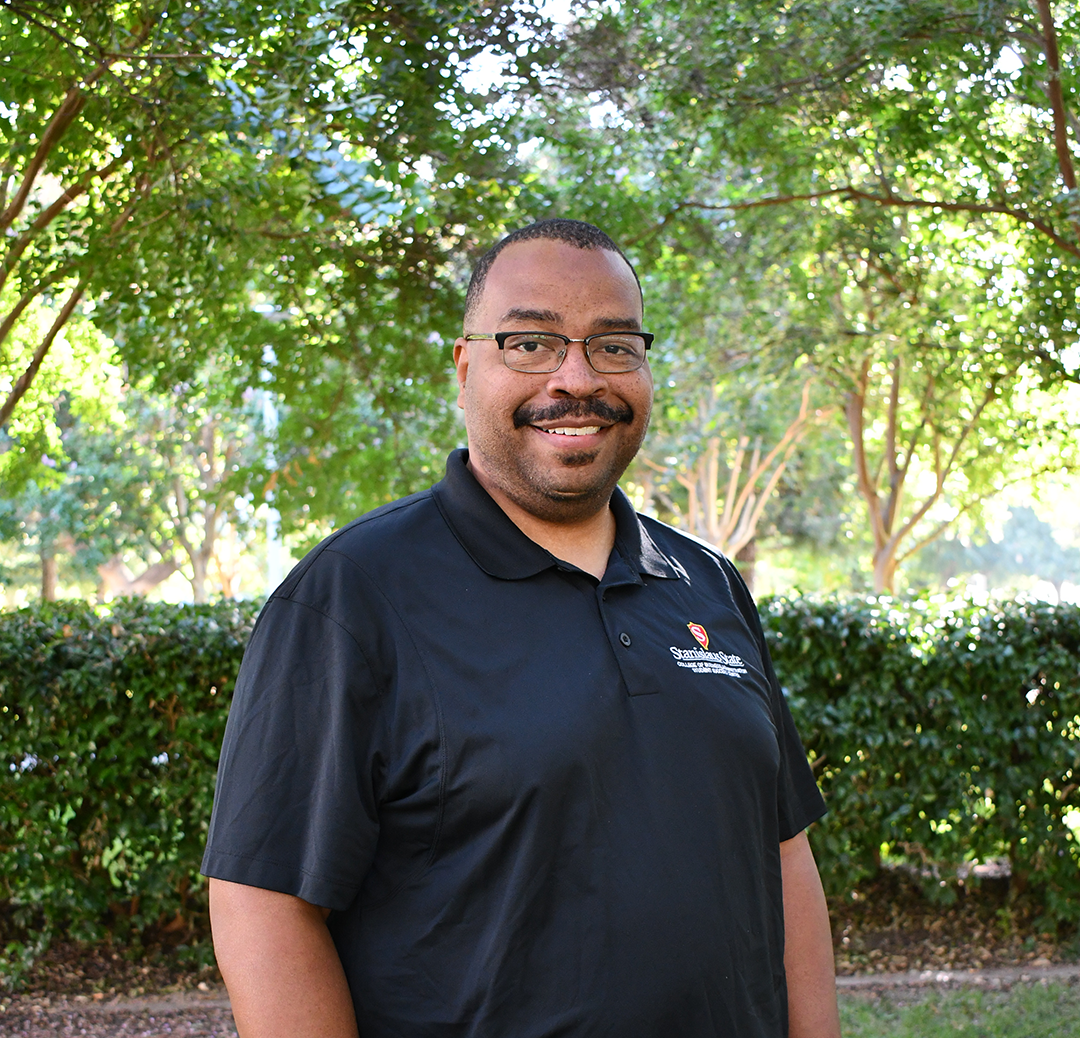 As he pursues a Doctorate of Education in Educational Leadership at Stanislaus State, Paul Gardley Jr. envisions a future in higher education directing an educational opportunity or student support services program, becoming a provost or maybe even a president. 
"There are things I plan to do in the near future that will positively impact student education, whether that's through state policy, education in the classroom or campus policy," Gardley said. "My plan is to put in a positive system change that will last long after I'm here." 
Gardley wants to "get in good trouble" as the late Congressman John Lewis called it, which is only appropriate, as Gardley was awarded this year's Congressional Black Caucus Foundation Stephen Feinberg Scholarship. Lewis, for years, was the face of the Congressional Black Caucus. 
Gardley, a married father of seven children who works at Stan State's Stockton Campus as an academic student advisor for the College of Business Administration, searched and found only three scholarships offered for graduate students like himself.  
"This is the one I wanted the most," Gardley said. "When you see members of your cultural community doing positive things, whether locally, statewide or nationally, you get a sense of pride." 
He wants to be a similar source of pride for others.
"When I look at my entire education, there was a lack of diversity, a lack of African American men that I had an opportunity to be instructed by," he told the scholarship committee in his video application. "When I look at administrators, there's an extremely low percentage of African American men. I want to be the face, the poster child, that when students see me, they see anything is possible." 
Gardley got his first taste of being that poster child after earning a Bachelor of Arts in Communication Studies from Stan State and was hired to run the City of Modesto's Department of Recreation Maddux Youth Center on the west side of town. 
"I was overhearing students talking about suffering academically, suffering from so many different social difficulties they lived with: food insecurity, homelessness, and the list goes on," he said. 
Gardley proposed a tutoring program and providing food for students, understanding many of their problems stemmed from a lack of nourishment.  
It was approved, and students ate snacks as they did their homework and met with employees who helped them establish regular short-term academic goals, then were served a light dinner. 
After six or eight months, Gardley said, students' grades began to improve. Educators and administrators from nearby Modesto High School, which the students attended, dropped by to learn about Paul's Road Scholars, a play on the famed Rhodes Scholars. 
"We come from the streets," Gardley said. "Paul's Road Scholars have a different philosophy and outlook on life. You might look at us as less than others, but we won't look at ourselves that way. We're just as good and can be just as competitive academically, professionally and athletically as anybody else. All we need is an opportunity." 
Bitten by the education bug, Gardley became a teacher's assistant and considered Stan State's credential program. He opted not to pursue the traditional teacher-to-administrator route. 
He moved back to Oakland, where he'd lived until 1988 when he was 12 and his parents bought a home in Modesto to escape the violent crime that was getting too close to their West Oakland home. He earned a Master of Science in Education with an emphasis in educational technology and leadership at Cal State East Bay and worked as a telecounseling coordinator there, reaching out to students and extolling the virtues of the university.  He also spent four years teaching a year-long course the university created to help first-year students become acclimated to college. 
"I talked to them about study habits, about how to manage a budget, about time management, about critical thinking," Gardley said. 
More than that, he was a role model. 
"Students saw themselves in me," he said. "If there's a student from Oakland sitting in my classroom, they see a person from the same city, who can speak the same language, has the same cadence, who maybe looks like their dad, their uncle, their grandfather." 
They'd enrolled in college, because that's what they were told to do, but "they didn't fully comprehend what they were doing," Gardley said. "I explained to them that what they had was an opportunity." 
Gardley credits mentors with helping him take advantage of opportunities presented to him. Not that it was easy. 
Stan State has not yet attracted the population of African American students, faculty, staff or administrators Gardley would like to see. 
"I look at the campus now and see a significant number of women, a significant number of minority individuals in leadership, and that's encouraging," Gardley said. "I also believe Stan State and the California State University system can do better." 
He's inspired by a number of Stan State leaders of color: Stockton Campus Dean Faimous Harrison, Master of Social Work Professor Kilolo Brodie, Disability Resource Services Director Marvin Williams, Director of TRIO Student Support Services Juanita Cruthird, President Ellen Junn, the first Asian American female leader he's ever seen; Dean of the College of Business Administration Terence Pitre and Senior Associate Vice President of Communications, Marketing and Media Relations Rosalee Billingslea Rush. 
Their presence, that change, is long overdue, Gardley said.  
"This is the beginning of the type of change I felt should have happened four or five decades ago," he said. "I can't do anything about four or five decades ago, but I can do something about today and tomorrow. That's my plan."