Business Major Now Pondering Other Career Options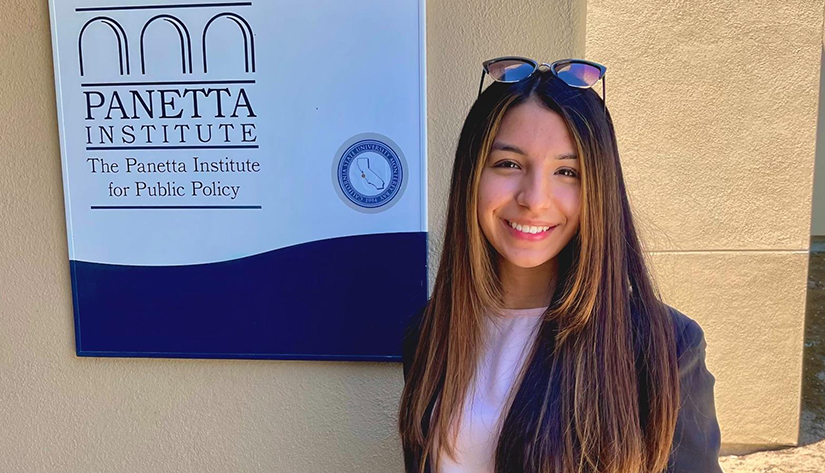 Karen Garcia was homesick after two weeks in Monterey during the introductory  phase for Panetta Institute Congressional Interns. 
The Stanislaus State Business Administration major spent her life in Patterson and the farthest she'd ventured was to San Francisco before she jetted to Washington, D.C. in early September to serve in the office of Congressman John Garamendi (D-CA 3rd). 
By the time she returned home two months later, Garcia, who expects to graduate this month, was pondering international studies. 
"I thought the business world was something I always wanted to go into," said Garcia, a first-generation student. "Now, I've had the opportunity to go into public service on another level, to see world situations. What's happening today needs a lot of work. I want to help make that change and be a part of it." 
When she applied for the coveted internship in the program created by former Secretary of Defense Leon Panetta, Garcia said she wanted to step out of her comfort zone. 
"It was a learning experience," she said. "I saw it as a once-in-a-lifetime opportunity. It was a program fully funded by the Panetta Institute. I knew I would never be able to afford a trip to Washington, D.C., and live there and chase that kind of dream. It was open to all majors, and I was very interested because I've always had an interest in government after being involved in my community. I wanted to see how things worked on a federal level." 
Her government experience was limited to working in the recreation department in the City of Patterson. Her observation of the human resources director there made Garcia want to pursue that type of work, but now she sees unlimited possibilities. 
"I'm graduating in May and applying for the Stan State Master of Business Administration program," Garcia said. "That's my next step. I want to get an international degree with an MBA. There's so much going on in the world and I want to help." 
Garcia landed in the office of Garamendi, Chair of the House Armed Services Committee on Readiness, just as the U.S. withdrawal from Afghanistan began. On her first day, she took calls from constituents. 
"Our office was in contact with the state department, and we helped a lot of individuals evacuate from Afghanistan," Garcia said. "I dealt with a lot of those first calls. It opened my eyes to reality. It was amazing to experience everything as it was unfolding. People would call and be very grateful. And they were very scared." 
The staff, she said, welcomed her, taught her about their roles and trusted her with a variety of duties. 
"They inspired me every day," Garcia said. "I would wake up and be so excited to go to work. It was that kind of feeling of, 'I'm going to wake up today and my work is making a difference.' That was so empowering, and I'm sure more empowering to them." 
Garcia worked in Garamendi's office in the Rayburn Office Building next to the Capitol and had several opportunities to explore the latter. 
A former Panetta Congressional Intern now working in the Capitol gave the interns a tour of the Republican Cloak Room, which Garcia described as a comfortable gathering place near the House floor. There's a Democratic Cloak Room, too. 
Garcia also got to enter the House Chamber when it was out of session. 
"It was beautiful," she said. "And it doesn't look like it looks on TV. In person, it looks so peaceful, so calm. It looks like a place of unity, a place of power. That's how I like to remember it, how I like to think of it. I think about the American Dream when I look at it. It's where so much legislation is passed, where people come together for the people. I'm so glad I got to see it in person." 
Being in the Capitol never failed to move Garcia. The night she arrived in Washington, she walked to the Capitol, sat on the steps and cried, overcome with emotion as light from the building enveloped her. 
She gathered countless memories, enjoyed having family and friends visit to explore other parts of the East Coast and found a mentor in Garamendi. 
"I was inspired by the work he did internationally," Garcia said. "Congressman Garamendi talked to me a lot about the Peace Corps. He served in Ethiopia. Now, seeing the conflict between Ukraine and Russia, it's just heartbreaking. I want to be able to help in whatever way I can. I think that's what I want to do next." 
The sudden lack of clarity about her future doesn't bother her. 
"Without the internship, I never would have seen that part of the world," Garcia said. "I'm thankful for it. It's opened my eyes, and I'm grateful. I love where I'm from and hope to be here for the rest of my life. I love this area. But when you go to a different state, a different area, you see a different way people live, a different perspective on life. I think that's what happened to me. I saw greater issues that are happening around the world and that changed me."