Women's Soccer Quartet Establish New Culture in Championship Season
Growing up in Turlock near Stanislaus State, Daisy Martinez and her dad, Hector, would watch women's soccer games. 
"One day, maybe you'll be the one playing," Hector told the third of his four children. 
Daisy Martinez, who still has ticket stubs from some of those games, made that dream come true and grew up to play for the Warriors. She will graduate in May and spend next season back in the stands, cheering for her former team.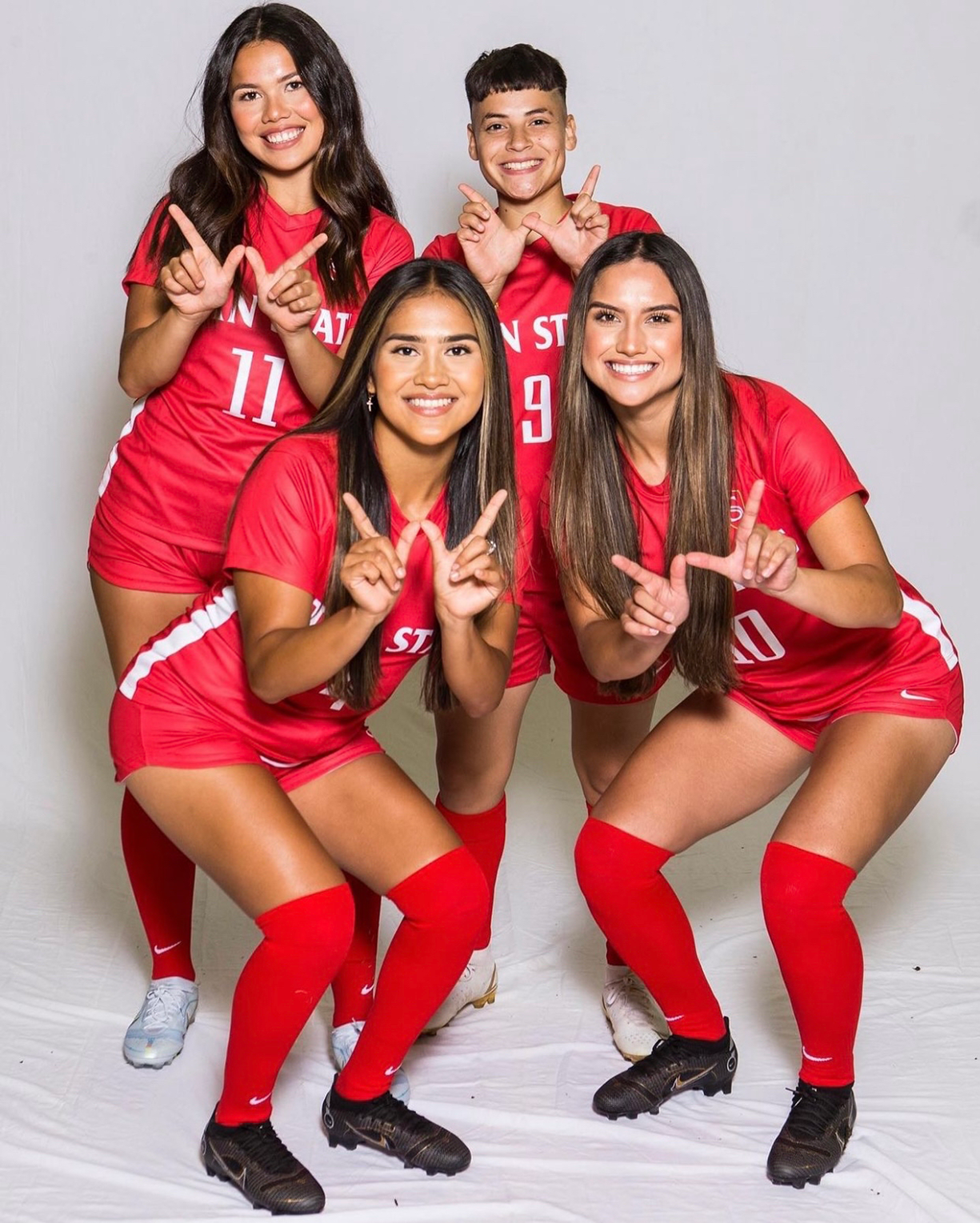 Her presence, though, will still be felt. Martinez, Abby Martinez, Jocelyn Lopez and Jackzeny "Sunny" Mancilla arrived together as first-generation, first-year players in 2019 and while the other three will play one more season — allowed after losing a year to COVID — the quartet may have already changed Stan State women's soccer forever. 
It's not just that they led the team to the California Collegiate Athletic Association co-championship, the team's first title since 2013. They changed the team culture, both in leading new players and supporting its social justice mission. 
"The thing they have in common is they are very good people," Coach Gabe Bolton said. "All four of them are leaders through their personalities. They're all kind people. They're caring. They're just so positive." 
Abby Martinez was elected team captain, just as she'd been at Central Valley High School in Ceres, where she was a teammate of Lopez, and with her club team, where she played with Lopez and Mancilla, who attended Modesto's Grace Davis High. She said having three close friends share in the leadership gave her peace of mind. 
The four were determined to make things different for incoming players. 
"That was one of the hardships we experienced together, which is why we got so connected with one another," Abby Martinez said. "We felt there was a division inside our team our freshman year. We didn't want our freshmen to feel that way. It would mainly be upperclassmen playing against underclassmen when we were freshmen. We never complained. That's how it was. When we became upperclassmen, we said, 'let's not make it that way.' We love our freshmen. We needed to include them, make them better. I don't know if that was their way of making us better, but we knew we wanted to take a different approach to leadership." 
"We wanted to change the stigma that seniors were scary and unapproachable," Daisy Martinez said. 
How could four leaders known as the "Otter Pop Crew" be scary? 
As first-year players, the four would put equipment away in the locker room after practices, and they were thrilled to find a team refrigerator filled with Otter Pops. They would cool off after practice and chat, relishing the frozen treat that somehow their teammates didn't find as enticing. 
Their friendship grew, and when they became the leaders, they reached out to younger players in a way they would have liked. 
"We wanted to create an atmosphere this year where we were positive and supportive of each other, and we established that early on," Mancilla said. "We wanted everyone to root for one another. Establishing that early helped us throughout the season and helped us win our CCAA championship. Showing up and being positive role models is what we did." 
It seemed to come naturally, as did playing soccer, which was in their blood. All four had dads who played, and they watched their dads play or watched soccer on television with them. They gravitated, or were encouraged, to play themselves. 
Only Daisy Martinez didn't play on the same youth soccer team as the others, but they knew of her, and they bonded immediately at Stan State, the school they all chose because it was close to their homes. 
Their connection ran deeper than soccer skills and Otter Pops. They embraced the team's social justice component. The team selects slogans for their warm-up T-shirts, including Black Lives Matter and My Body, My Choice. 
One read "Sí, se puede," an appropriate choice given that during the summer of 2022, when the United Farm Workers stopped at Turlock's Donnelly Park on their march from Delano to Sacramento, the soccer team helped served food and beverages to the organization that created the Yes, We Can slogan in the 1960s. 
"It was heartbreaking but an awesome experience as well," Mancilla said. "I'm humbled and glad I got to be there and be a part of it." 
"My grandparents on both sides were field workers, and I'm sure they were dealing with the same issues if not more," Lopez said. "Seeing them was inspiring. I had to take a minute and have a reset." 
"Going into it I didn't expect to be super emotional," Daisy Martinez said. "We went to be supportive. I didn't expect to have the reaction I did. Once I got there, we were all crying. My teammates were supporting people that come from the same background I did. It was moving to be a part of." 
Descendants of Mexican immigrants, all four have family members who were farm workers.  
As the marchers were leaving, Lopez said, they were cheering the Warriors on. 
"There was a lady burning sage," Lopez said. "The thing I remember her saying, vividly, was, 'You are going to have a good season.' She came across with the sage and we were on a line, and she was saying, 'This is for you to have a good season.'" 
Lopez doesn't know if that's why the Warriors won a conference title, but she doesn't discount the possibility. 
"I'm a firm believer in the law of attraction," Lopez said. "I think when giving out that good energy, it can bounce back in your life. I'm remembering that moment." 
This quartet has created a lot of memories. Though only three will return for the 2023 season, they move forward with great expectations: maybe earn another championship or win the conference tournament and a berth in the NCAA tournament.  
They'll finish their degrees and leave Stan State, but they'll be remembered. Abby Martinez hopes Bolton will tell future Warriors about this team's effort. 
More importantly, she hopes they are remembered for being kind, caring people.